How do we keep this site running? This post may contain affiliate links — the cost is the same to you, but we get a referral fee. Compensation does not affect rankings. Thanks!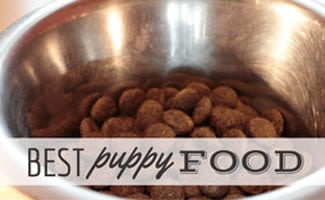 Good puppy food is hard to come by. If we asked you where your pup's food is made or what some of the key ingredients are, would you know? We focus so much on what we put in our bodies that we sometimes forget how important it is to nourish our furry friends with the best food for puppies. Our puppy food reviews cover canned, dry and grain free puppy dog food. And on top of that, ALL of these fit the "natural puppy food" classification, so you know you're giving your pup a good meal.
Puppy Food Requirements
The American Association of Feed Control Officers (AAFCO) sets the nutritional requirements for puppies. On a daily basis, puppies need 21% to 22.5% protein, 8% to 8.5% fat and a maximum of 4% fiber.
Best Dog Food for Puppies
We chose the best puppy food according to type and dog size. Hopefully you'll find the best puppy food brand for your pup discussed below.
Canned | Dry | Grain Free
Best Canned Puppy Food: Wellness Complete Health Natural Wet Canned Dog Food Review
Whether you want to treat your dog to a topping on her dry dog food or give her wet food only, Wellness puppy food is a great solution and one of the most popular puppy food brands. This Wellness dog food can be given to your dog when she's a pup, and you can transition her to adult, and later to senior dog food as she ages. It is available in different flavors too, so that you can add variety to your dog's diet. The canned puppy food has 9% protein, 7% fat and 1% fiber. This puppy pate's main ingredients include chicken, salmon, sweet potatoes, carrots, apples, pears and more.
Pros

Cons

Contains only natural ingredients
Made in North America
Can be eaten on its own or in combination with dry food

Only one flavor for puppies
Pricing
Best Dry Puppy Food
Looking for some dry puppy food for your dog's size? Check out our top picks for small, medium and large breeds below.
Best Small Breed Puppy Food: Natural Balance Original Ultra Whole Body Health Dry Dog Food Review
This Natural Balance dog food was made especially for smaller breeds for ages puppy to adult. Customers rave about how much their pups love this kibble. This puppy chow has 23% protein, 13% fat and 3% fiber. Some key ingredients are chicken, brown rice, oats, potatoes and carrots.
Pros

Cons

No artificial colors or flavors
Gluten free
Made in USA

Only one flavor for small breed puppies
Pricing
Best Medium Breed Puppy Food: Taste of the Wild Grain-Free Dry Dog Food for Puppy
This Taste of the Wild dog food is great for your medium size breed puppy. This grain-free dog food has 28% protein, 17% fat and up to 5% fiber. Some key ingredients include buffalo, lamb meal, sweet potatoes, beef, tomatoes and blueberries. The combination of fruits, vegetables and meats helps provide a well-rounded diet for your dog.
Pros

Cons

No artificial colors or flavors
Grain free
Made in USA

A few people have received molded product
Pricing
Best Large Breed Puppy Food: Holistic Select Natural Dry Dog Food Review
We sifted through some large breed puppy food reviews and found Holistic Select to have the best. This kibble includes probiotics, healthy fiber, digestive enzymes and more to help your pup feel her best from the inside out. This large breed puppy food has 23% protein, 12% fat and 3.5% fiber. Some key ingredients include apples, beef, blueberries, chicken, lamb, potatoes, pumpkin and tomatoes.
Pros

Cons

No artificial colors or flavors
Gluten free
Made in USA

Only one flavor for large puppy breed
Pricing
Best Grain Free Puppy Food: Orijen Grain-Free Puppy Dry Dog Food
If your pup needs a grain free diet, this Orijen puppy food is what we recommend. Customers know that this is a higher priced dog food but say it's worth every penny. Pet parents are pleased with their dog's bowels, lack of gas and overall puppy health. It is made up of 85% poultry, fish and egg and 15% fruits, vegetables and botanicals. This kibble is 38% protein, 20% fat and 6% fiber.
Pros

Cons

No artificial colors or flavors
Grain free
Made in USA
Pricing
Food Is Confusing
Remember to be patient with your pup. Like anything, trying something new the first time is never easy. She may make a mess or need to try it a couple of times to get the hang of eating kibble, but she'll eventually pick it up.
What's your puppy's go-to food?
We are a participant in the Amazon Services LLC Associates Program, an affiliate advertising program designed to provide a means for us to earn fees by linking to Amazon.com and affiliated sites.