This post may contain affiliate links and we'll be compensated if you make a purchase. This doesn't affect rankings. Our review process.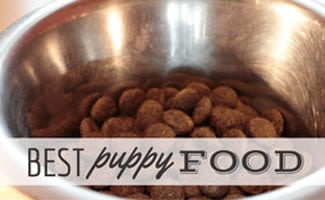 Good puppy food is hard to come by. If we asked you where your pup's food is made or what some of the key ingredients are, would you know? We focus so much on what we put in our bodies that we sometimes forget how important it is to nourish our furry friends with the best food for puppies. Our puppy food reviews cover canned, dry and grain free puppy dog food. And on top of that, ALL of these fit the "natural puppy food" classification, so you know you're giving your pup a good meal. Read on to learn the top rated puppy food by type below in our puppy food comparison.
Puppy Food Requirements
The American Association of Feed Control Officers (AAFCO) sets the nutritional requirements for puppies. On a daily basis, puppies need 21% to 22.5% protein, 8% to 8.5% fat and a maximum of 4% fiber. So the healthiest puppy food should have this mix.
We are a participant in the Amazon Services LLC Associates Program, an affiliate advertising program designed to provide a means for us to earn fees by linking to Amazon.com and affiliated sites.