Rottweilers are majestic and beautiful dogs with a big reputation. They are famous as guard dogs and fiercely protective. These svelte and muscular pups are tough but also affectionate, loyal, and steadfast. They have significant nutritional needs and require diets rich in protein. Rotties can reach 110 to 130 pounds, so proper nutrition is of great importance. Finding the best dog foods for Rottweilers can be a challenge.
We explain Rotties' nutritional needs and feeding requirements, including puppies, seniors, and dogs with allergies, and what nutrients and ingredients benefit their overall health and development. This gorgeous breed has some potential health problems that can be impacted by diet. Lastly, we have researched. Finally, we have researched hundreds of dog food brands and formulas to recommend the best dog food for Rottweilers.
At A Glance: Best Dog Foods For Rottweilers
Note: All of the dog foods we've included in our reviews meet or exceed Association of American Feed Control Officials (AAFCO) nutritional guidelines, are made in North America, and contain no preservatives or artificial ingredients.
Nutritional Needs For Rottweilers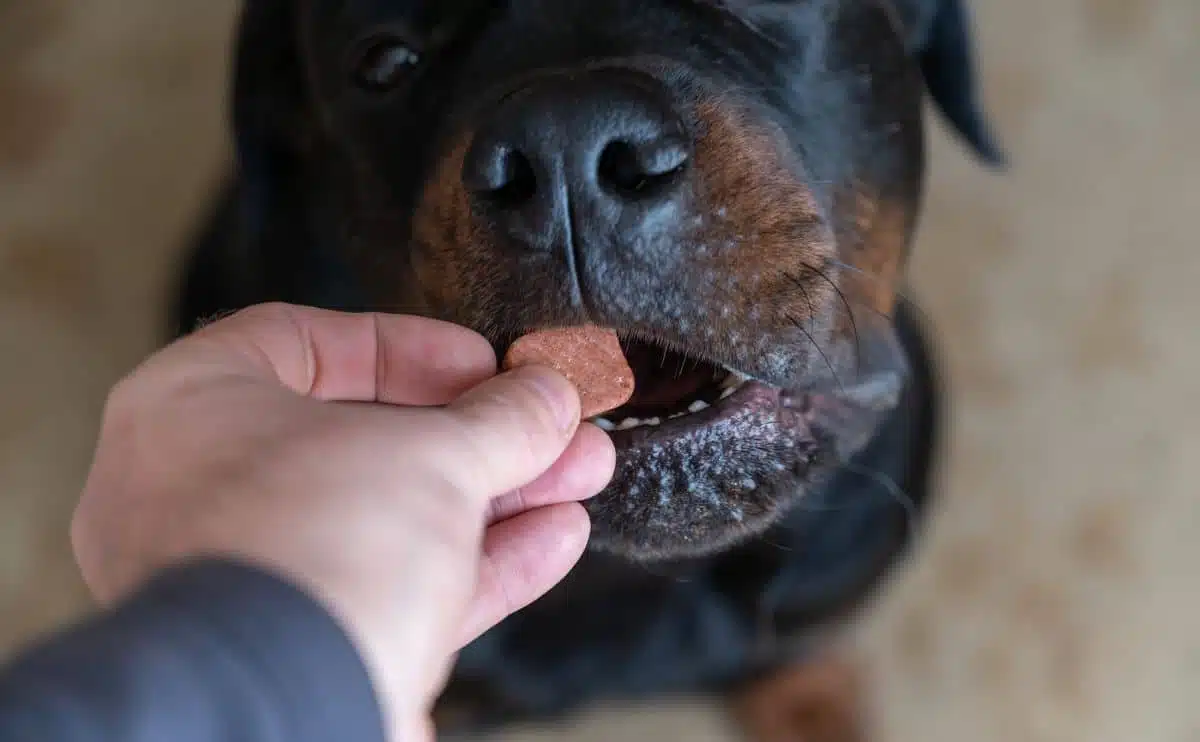 A balanced diet is essential for all dogs, but it is essential for Rottweilers due to their unique nutritional needs. These dogs require a diet high in protein, moderate in fats, and low in carbohydrates, with specific vitamins and minerals to support their overall health. These are big dogs, so protein is critical. However, they do have some food sensitivities that must be considered. For starters, they need at least 2,000 calories every day as adults. Along with that, they can develop allergies, as well as long-term conditions like heart disease and joint dysfunction.
Allergies
Rotties are known to have skin allergies, which can worsen if they eat the wrong diet. Dietary skin reactions can be very bothersome. This breed is prone to skin concerns, including atopic dermatitis, skin allergy, eczema, folliculitis, and seborrhea. Food allergies are more common in Rottweilers than in any other breed.
Food Sensitivities
Rottweilers have several dietary sensitivities, including chicken, turkey, beef, grain, dairy, fillers, food dyes, and additives. In some cases, higher fat levels in their diet can trigger a skin reaction.
Joint Problems
Because the Rottweiler is such a large breed, they are at a higher risk of developing joint conditions, including hip and elbow dysplasia. It is estimated that over a third of all Rottweilers are affected by elbow dysplasia. It is a leading cause of lameness in dogs' front limbs. Along with that, these dogs can develop intervertebral disc disease or IVDD. In Rottweilers, type 2 IVDD is more common. This disease progresses and worsens over time.
Cranial Cruciate Ligament Rupture (CCL)
Cranial cruciate ligament rupture (CCL) refers to injury and tear to the knee. Rottweilers are more likely than any other breed to experience a cruciate ligament rupture. This condition can happen suddenly or slowly develop over time.
Cardiac Concerns
Unfortunately, Rottweilers are prone to several cardiac conditions. These include dilated cardiomyopathy and aortic stenosis. It is imperative that these dogs stay at a healthy weight and do not become obese. Their diets must contain plenty of Omega fatty acids and touring, aiding heart health.
Obesity
Due to Rottweiler's propensity to develop joint issues and a high risk of cardiac disease and malfunction, a healthy diet is imperative. This breed must not be allowed to grow overweight. A healthy diet and regular exercise are vital to this breed's health. Rotties love to eat and are prone to obesity, making maintaining a steady, healthy weight challenging.
Gastric Torsion – Bloat
This condition is incredibly serious and is common among large breeds, including the Rottweiler. It happens when they eat or drink too fast. When dogs eat or drink a large amount very quickly, the stomach becomes too filled and can push on other organs. It can also cause tears and rips in the stomach, respiratory distress, and in severe cases, cause the stomach to twist, which can be fatal. For a food-motivated dog like the Rottie, it is crucial that owners keep them eating at a slow pace. Consider a slow feeder bowl.
Beyond Basic Ingredients
All dog food should include protein, carbs, fat, fiber, and essential vitamins and minerals. But many of the most nutritious premium dog foods are fortified with additional ingredients with significant health benefits for your furry friend. Here are a few things you will want to look for and how they support your pup's health. For your convenience, we've listed these premium ingredients in our reviews.
Fruits & vegetables: excellent natural sources of fiber, vitamins, minerals, and antioxidants to support immune health
Fish oil and/or flaxseed: sources of omega-3 and 6 fatty acids, Docosahexaenoic Acid (DHA), and Eicosapentaenoic acid (EPA) that support brain and eye development and skin, coat, joint, and immune health
Glucosamine & chondroitin sulfate (often from chicken meal*): maintain healthy joints
Prebiotics & probiotics: support digestion and a healthy level of good gut bacteria (often includes dried chicory root, a powerful natural prebiotic)
Taurine: supports cardiovascular, eye, and brain health, immune system function, and benefits many other body functions
L-carnitine: an amino acid derivative that helps the metabolism of fats (particularly beneficial for older, less active dogs)
Organ meats: excellent source of premium quality protein and fat as well as vitamins A, B, D, and E, copper, iron, phosphorus, selenium, and zinc
Chia seeds: rich in plant protein, fiber, antioxidants, omega fatty acids, calcium, potassium, magnesium, manganese, zinc, phosphorus
*A note about meat meal: Quality pet food brands often use meat meal in their recipes, which can be a very healthy source of protein for your pup (as long as the "meat" is named, e.g., chicken meal, lamb meal, etc.). A meal can be made from the meat, tissue, organ meat, bone, stomach, and intestines of the named animal. But meal doesn't include by-products like hair, feathers, beaks, heads, blood, hooves, hide trimmings, etc.
Best Rottweiler Puppy Food
Rottweiler puppies need a diet specially designed for large breeds. This is important due to their need for high protein and enough healthy fat. Food must contain glucosamine and chondroitin to support joint health. Because of this, it is important to avoid the standard, all-breed puppy chow. According to the MSD Veterinary Manual, puppy kibbles need a minimum % protein content of 22%. However, larger breeds like the Rot need a minimum protein level of at least 26% and a minimum fat content of 8%.
Look for healthy carbohydrates that provide energy, fiber, and help keep your pup feeling full. Also, look for vitamins and minerals that will help support development, growth, immune system, and brain health. Elements like docosahexaenoic acid (DHA), eicosapentaenoic acid (EPA), and arachidonic acid (ARA) are amino acids occurring naturally in the mother dog's milk. These amino acids are essential to eye health and brain development.
Orijen Puppy Large Grain Free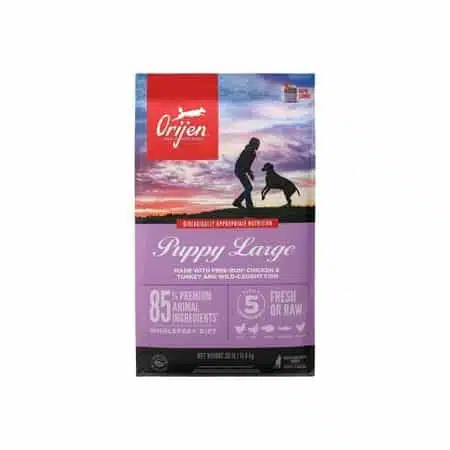 This large breed, grain-free formula from Orijen is a good pick for your young Rottweiler. The first five ingredients are poultry or fish. The recipe contains 85% fresh and raw animal ingredients. Animal ingredients are sourced from free-run poultry and wild-caught fish. This recipe contains vitamins and nutrients, including protein from quality meats and fish, organ meat, and bond. Recipes are developed to mimic what canine ancestors ate in the wild. This is a nutrient-dense formula to support a large breed's whole-body development.
First 5 ingredients: Chicken, turkey, salmon, whole herring, chicken liver
Formula highlights: Grain-free formula, organ meat, dehydrated eggs, DHA & EPA, pollack oil, pumpkin, butternut squash, collard greens, dried kelp, cranberries, chicory root
Guaranteed analysis: crude protein 38% (min); crude fat 16% (min); crude fiber 4% (max)
Calories: 451 kcal/cup
Price
Wellness Core Grain Free Large Breed Puppy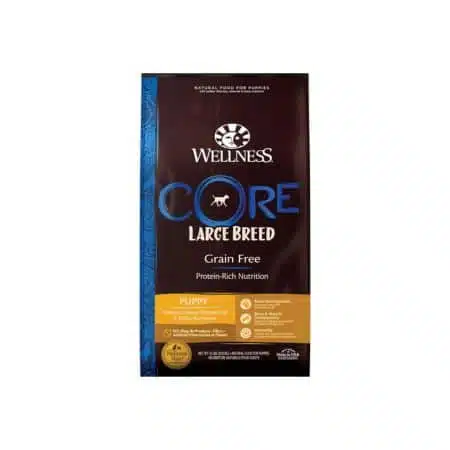 This recipe is formulated for large breeds. It is grain free and developed to support whole-body health. The recipe includes DHA, Omega fatty acids, antioxidants, glucosamine, calcium, phosphorus, and more. The formula promotes whole body health while maintaining a healthy weight, muscle tone, and beautiful coat. Contains no corn, wheat, soy, gluten, or grain. This is a high-protein, natural formula.
First 5 ingredients: Deboned chicken, chicken meal, peas, dried ground potatoes, turkey meal
Formula highlights: Ground flaxseed, chicken fat, salmon oil, vitamin E, bananas, spinach, broccoli, carrots, parsley, apples, blueberry, kale, includes taurine, zinc, chicken root, DHA & EPA (from real fish & flaxseed), taurine, glucosamine, chondroitin
Guaranteed analysis: crude protein 35% (min); crude fat 14% (min); crude fiber 5.5% (max)
Calories: 483 kcal/cup
Price
Nom Nom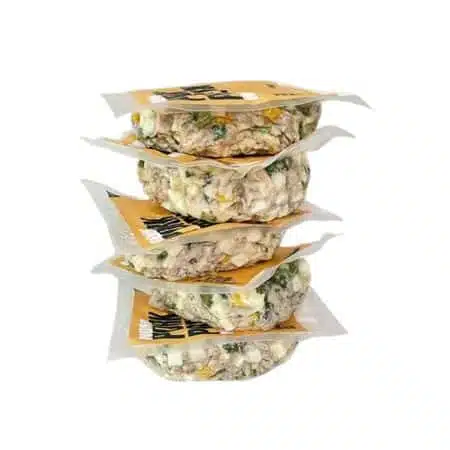 Because Rottweilers suffer from food sensitivities and allergies, sometimes fresh, human-grade meals are a good choice. While a growing puppy does need to kibble, they also need wet or fresh food mixed in. Nom Nom is a fantastic choice for Rottweiler puppies. The company offers a wide variety of recipes, including grain and gluten-free. This is a subscription delivery option. Owners can order half-meal portions for dogs 40 pounds and over. Puppies will appreciate the freshness of the ingredients and the gentle cooking methods. Nom Nom cooks every meat and vegetable individually and then mixes them together prior to packaging. This food looks and tastes delicious. Owners can choose from beef, chicken, pork, and Turkey recipes. Below we break down the Beef Mash recipe.
First 5 ingredients: ground beef, russet potatoes, eggs, carrots, peas
Formula highlights: whole food ingredients, fish oil, taurine, sunflower oil, vitamin E, niacin, B12, low processing, omega fatty acids, DHA &
Guaranteed analysis: crude protein 8% (min); crude fat 4% (min); crude fiber 1% (max)
Calories: 182 kcal/cup
Price
Varies depending on your dog's weight, health, and age. For example, a 2-year-old, 20-pound Poogle, selecting the beef mash recipe is $39.38 per week.
Full Review Of Nom Nom Dog Food
Best Dry Dog Food For Rottweilers
Dry dog food is an essential staple of almost every pup's diet. However, for the Rottie, not just any dry kibble will do. Remember that this breed is sensitive to grains and has digestive issues throughout their lives. They also need high-quality, natural animal proteins. Adult Rottweilers need kibble with a protein content of at least 23%.
Look for ingredients like flaxseed and fish oil that support brain health and keep this breed's dense, soft coat thick and full. Taurine is necessary to help support heart health
.Be sure to read the ingredients of any food you pick. Below are some of our top choices of dry kibble for the majestic Rottie.
Merrick Backcountry Raw Infused Grain Free Large Breed Recipe Freeze Dried Dog Food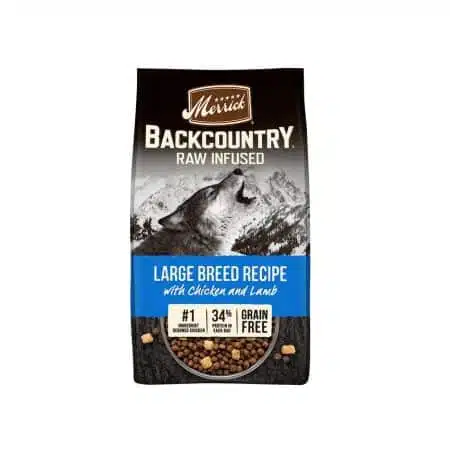 This high-quality dry kibble is formulated to mimic an ancestral diet. This raw-infused, grain-free, freeze-dried, raw-coated kibble includes raw dog food bites for a boost of protein and meaty flavor. This is highly digestible and uses real chicken as the first ingredient. It also uses duck and lamb. It has high levels of omega fatty acids to support skin and coat health. Includes omega fatty acids, glucosamine, and chondroitin to support joint and hip health. Grain, wheat, gluten, corn, and soy free. It is formulated for sensitive digestion.
First 5 ingredients: Deboned chicken, chicken meal, turkey meal, sweet potatoes, potatoes
Formula highlights: Organ meat, salmon meal, chicken fat, duck, lamb, chicken liver, sunflower oil, chicken liver, taurine, glucosamine, chondroitin, prebiotics, and probiotics
Guaranteed analysis: crude protein 34% (min); crude fat 17% (min); crude fiber 3.5% (max)
Calories: 386 kcal/cup
Price
I and Love And You Nude Superfood Red Meat Medley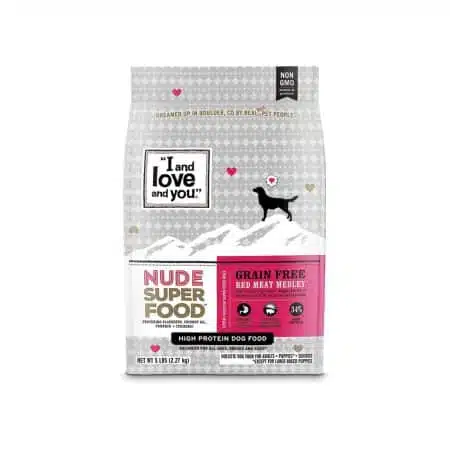 This food is a limited ingredient, premium dry kibble. Though it is not specifically for large breeds, we make an exception for this one as it is of very high quality and meets the protein and fat needs of a big-bodied Rottie. Nude Food recipes use real quality meats and fresh vegetables and fruit. Recipes are grain-free and high in protein.
First 5 ingredients: Beef, beef meal, menhaden fish meal, dried peas, dried chickpeas
Formula highlights: Bison, sunflower oil, flaxseeds, coconut oil, dried chicory root, taurine, potassium chloride, turmeric, grain-free
Guaranteed analysis: crude protein 34% (min); crude fat 14% (min); crude fiber 4% (max)
Calories: 374 kcal/cup
Price
American Journey Large Breed Adult Chicken & Sweet Potato Recipe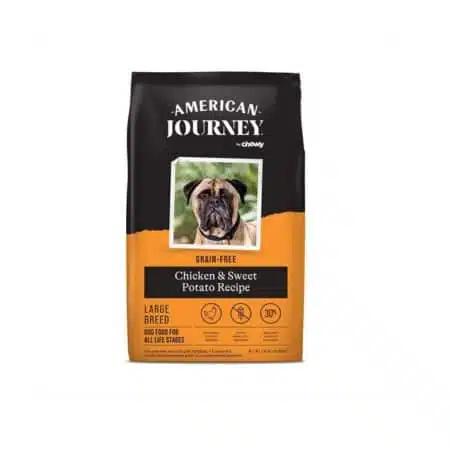 This dry kibble recipe is perfect for large breeds like the Rottweiler. Kibble is larger, Impact with nutrients, including glucosamine and chondroitin, to support joint health, as well as a natural fiber for digestion, antioxidants, and no unneeded corn, soy, wheat, or poultry by-product meals. This is a grain-free recipe, meaning it will be easier to digest for this sensitive breed. The formula is balanced to support bone health, and the larger kibble gives dogs a tasty, fulfilling crunch. The high protein content is perfect for this large, bodied breed. Also available in salmon and sweet potato flavors.
First 5 ingredients: deboned chicken, chicken meal, Turkey meal, peas, chickpeas
Formula highlights: sweet potatoes, dried beet pulp, chicken fat, menhaden fish meal, flax seed, salmon oil, blueberries, carrots, salt, taurine, antioxidants, and probiotics
Guaranteed analysis: crude protein 30% (min); crude fat 12% (min); crude fiber 5% (max)
Calories: 370 kcal/cup
Price
Best Dog Food For Rottweilers With Allergies
Rottweilers with allergies need to avoid dog chows that contain high levels of foods they are sensitive to. These include beef, dairy, eggs, chicken, soy, and wheat gluten. Fresh food options may be best in some cases, as they use top-quality ingredients and contain no artificial additives or unnecessary elements. These limited ingredient formulas are cooked slowly and purposefully to maintain as much nutrition and flavor as possible.
The Farmer's Dog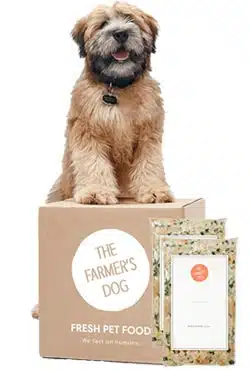 The Farmer's Dog is a top pick for Rotties with allergies but also for dogs of any age. Recipes use only the highest quality, fresh, human-grade ingredients. Recipes use whole food protein, fruits, and vegetables. There are no fillers or artificial additives. No grains, corn, soy, or preservatives either. The Farmer's Dog will personalize your dog's meal plan for his specific life stage and dietary needs. Owners create a personalized profile, and the team creates a specialized meal plan. This is very beneficial as they take the hard work out of it to ensure Rotties of any age and life stage get the perfect nutrition and portion size.
The Farmer's Dog uses recipes developed by board-certified American College of veterinary nutritionists, and all meals meet AAFCO guidelines for all life stages. All meals are prepared in USDA-certified kitchens and are made fresh to maintain whole food and nutritional integrity. Recipes come in beef, chicken, turkey, and pork. The chicken recipe is a very popular choice.
First five ingredients: chicken, chicken liver, broccoli, cauliflower, brussels sprouts
Formula highlights: developed by board-certified American College of Veterinary Nutrition experts, the dog profile takes 15+ different health issues into account, personalized plans,
Guaranteed analysis: crude protein 11.5% (min); crude fat 8.5% (min); crude fiber 1.5% (max)
Calories: 590 calories per pound
Price
Full Review Of The Farmer's Dog
Spot & Tango UnKibble
Spot & Tango makes an excellent dry food option from human-grade ingredients. Their UnKibble has 100% fresh, whole food ingredients found in fresh frozen meals. They offer three recipes: beef & barley, chicken & brown rice, and cod & salmon. The cod and salmon recipe is grain free. However, all recipes are delicious, very high quality, and quite tasty.
Recipes have no additives, fillers, or artificial preservatives. They are high in protein, with plenty of good fat. Meat is the first ingredient in every recipe, regardless of protein. Meals are flash-frozen and use eco-friendly packaging. Non-GMO vegetables and fruits are formulated to aid in digestion and support immune system health. The company does have grain and gluten-free fresh food options, which may be preferable for your Rottie. We break down the cod and salmon UnKibble recipe, which is a grain-free formula.
First 5 ingredients: Cod, salmon, sweet potatoes, pumpkin, sunflower seeds
Formula highlights: All-natural whole food ingredients, carrots, spinach, parsley, kelp, flaxseed oil, pumpkin, spinach, B12, antioxidants
Guaranteed analysis: crude protein 27% (min); crude fat 17% (min); crude fiber 3% (max)
Calories: n/a
Price
Starts at $1.00 per day. The specific cost will vary depending on age, activity level, weight, health, and plan picked."
Personal Experience
"While I do not have a Rottie, I own a large Pitbull mix named Daisy. She is about 75 pounds and is close to 11 years old. I tried this food for her, and she loves it. Daisy has had some food allergy issues and is a picky eater. In particular, she has lost interest in her kibble. The UnKibble is now her favorite food. She cannot get enough of it. She scarfs it up fast and looks at me for more. Even when I mix this in with regular kibble, she loves it. Since starting UnKibble, she has had more energy and less smelly bowel movements. This is probably the best quality dry food we have ever tried."

Danielle D, Canine Journal
Ollie Fresh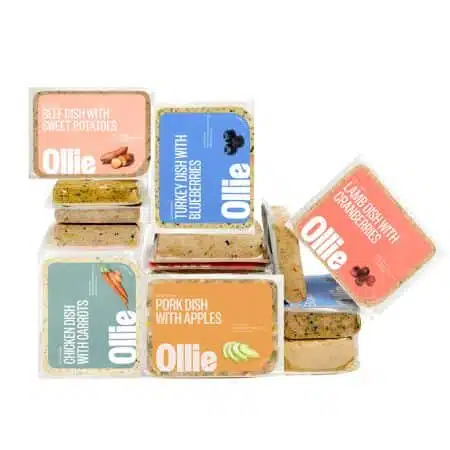 Ollie is another fresh, human-grade dog food company. Pet parents choose from four delicious recipes. Meals are all-natural, using fresh ingredients with no preservatives or fillers. Plans are formulated based on a dog's age, breed, activity levels, allergy, and ideal weight. All human-grade meals in the United States contain no soy, corn, or wheat. Meats are sourced from family-run farms in the U.S. and Australia. Meats come from family-run farms in Australia and the U.S. Every recipe meets AAFCO guidelines.
Ollie offers four protein-packed fresh recipes: beef, chicken, turkey, and lamb. The fresh Turkey recipe includes blueberries, kale, carrots, and pumpkin. They are loaded with meat, fiber, vitamins, antioxidants, and minerals, including beta-carotene, potassium, and more. Along with fresh meals, Ollie makes baked kibble which some dogs may prefer.
First five ingredients: turkey, kale, lentils, carrots, turkey liver, oats
Formula highlights: nutrient recipes made with organ meat, all-natural, boost digestion, energy, immunity, skin and coat, and overall health.
Guaranteed analysis: crude protein 11% (min); crude fat 7% (min); crude fiber 2% (max)
Calories: 590 kcal per lb.
Price
Varies, starts at $8.00 per day
Best Food For Senior Rottweilers
When your Rot reaches the age of six or seven, he is considered a senior. Switching him to a large-breed senior kibble is essential as he no longer needs the same calories and fat as a younger dog. Because older dogs are less active, and Rotties are prone to obesity, this is very important. Look for higher levels of glucosamine and chondroitin to support aging joints. Taurine and L-carnitine are important for metabolism and heart health.
Now Fresh Grain-Free Large Breed Senior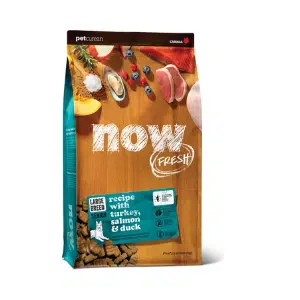 This is a high-quality formula developed specifically for large-breed senior dogs. It is minimally processed to provide balanced nutrition. It contains ingredients like pumpkin and probiotics to help support digestion. Added L carnitine supports heart health as well as helps burn fat. This recipe has no grains or meat by-products. Contains New Zealand green mussels as a source of chondroitin, supporting healthy mobility and joint and hip health. Includes over 20 superfoods like blueberries, spinach, and pomegranate to provide antioxidants, vitamins, and minerals.
First 5 ingredients: Deboned turkey, potatoes, peas, whole dried egg, potato flour
Formula highlights: New Zealand green mussels, flaxseed, apples, deboned salmon, deboned duck, sweet potatoes, coconut oil, carrots, broccoli, dried chicory root, loaded with vitamins and minerals, glucosamine, and chondroitin
Guaranteed analysis: crude protein 25% (min); crude fat 11% (min); crude fiber 5.5% (max)
Calories: 376 kcal/cup
Price
$108.68 (25-lb bag)
Chicken Soup for the Soul Mature Chicken, Turkey & Duck Recipe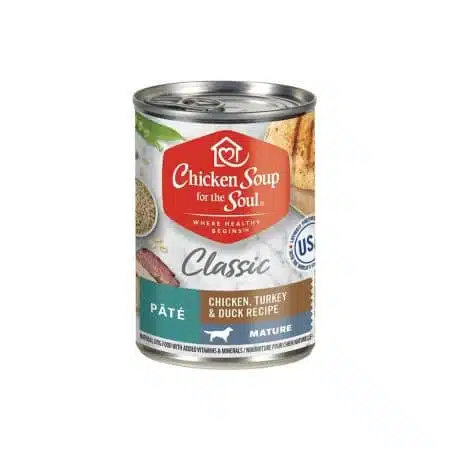 This is a canned food developed specifically for aging dogs. The recipe uses real chicken as the first ingredient, as well as turkey, duck, and salmon. No byproduct meals, corn, wheat, or soy. It also contains no artificial colors, preservatives, or flavors. Formulated to support and maintain lean muscles, taste great, and be easy on the stomach, developed to support healthy digestion, healthy skin and coat, lean muscles, immune system health, and the overall needs of an older pup. It does contain rice. However, this can provide extra stamina for your aging pup. Has 78% moisture.
First 5 ingredients: Chicken, chicken broth, turkey broth, turkey, chicken liver
Formula highlights: Organ meats, ocean whitefish, salmon, duck, carrots, ground flaxseed, ground barley, dried kelp, apples, cranberry, vitamin supplements, prebiotic fiber, antioxidants, Omega three and six fatty acids
Guaranteed analysis: crude protein 7.5% (min); crude fat 4% (min); crude fiber 1% (max)
Calories: 483 kcal/cup
Price
Nulo Freestyle Senior Grain-Free Trout & Sweet Potato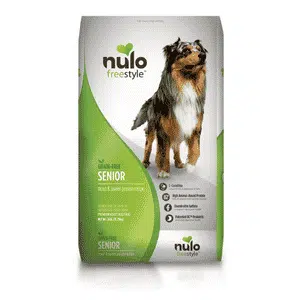 This senior recipe is made specifically to support aging dogs. It contains 82% protein from animal sources, L carnitine to support metabolism, chondroitin sulfate for hip and joint health, and a patented probiotic formula. The recipe contains no egg or chicken protein and is formulated to support strength, weight control, immune system health, and skin and coat health. It has no hard-to-digest chicken protein and no grains. Calcium and phosphorus help maintain strong bones.
First 5 ingredients: Deboned trout, turkey meal, salmon meal, yellow peas, sweet potato
Formula highlights: chicken fat, lentils, dried chicory root antioxidants from fruits, calcium, chondroitin, glucosamine, grain-free, no gluten, high protein
Guaranteed analysis: crude protein 30% (min); crude fat 12% (min); crude fiber 5% (max)
Calories: 396 kcal/cup
Price
JustFoodForDogs PantryFresh Beef & Russet Potato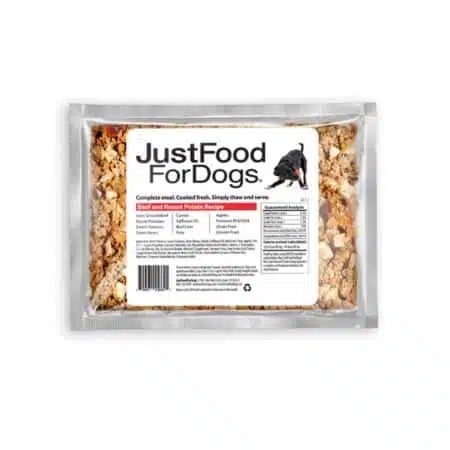 This is a fantastic, shelf-stable option for 100% human-grade meals. This recipe is gluten and grain free. Includes beef and beef liver. A fantastic choice for fussy eaters, as well as an aging Rottweiler. These are fresh food recipes made in shelf-stable pouches. These can be stored unopened on the shelf and stay good for up to two years. They must be refrigerated after opening. These meals contain no additives, preservatives, growth hormones, or feed-grade ingredients. The company also makes health-specific formulas, including renal support, as well as a recipe for joint and skin, among other conditions.
First 5 ingredients: Ground beef, beef heart, russet potatoes, carrots, sweet potatoes
Formula highlights: organ meat, rich in iron and zinc, vitamins B12 and B6 from beef, green beans, safflower oil, egg whites, apples, cod liver oil, and the JustFoodForDogs nutrient blend, human grade ingredients, top nutrition, no allergens come or hard to digest ingredients
Guaranteed analysis: crude protein 6.5% (min); crude fat 6.5% (min); crude fiber 2% (max)
Calories: 450 kcal ME/12.5 oz
Price
View Full JustFoodForDogs Review
Should I Consider A Hip & Joint Supplement?
Rottweilers are a large breed prone to joint and hip problems due to their hefty weight. Owners may want to consider adding a daily joint supplement to their dog's regime. There are many different supplements to choose from, so it is important to speak with your veterinarian before adding any to your dog's diet. The best supplements work to maintain healthy joints, provide supportive care, and improve stiffness, inflammation, and pain. Because allergies and food sensitivities are common in this breed, owners may also want to consider an allergy supplement. These work to help with itching and come in many different varieties, including chews, oils, and vitamins. Additionally, owners may want to investigate other allergy relief treatments.
Make sure to observe your Rottie when they eat, and be aware that these pups can become obese quite quickly. This is bad news, so make sure you are feeding them the proper amount of food daily and an age-appropriate formula.
Tagged With: Comparison, Food Delivery