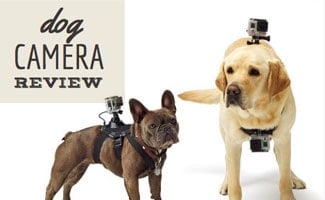 How would you like to see the world from your dog's point of view? These doggie cameras allow you to do just that.
Find a pet cam that can directly attach to your dog, or get a stationary camera that serves as a pet monitor to watch and film your dog's movement throughout the day. With so many high-tech options, how do you choose the best to meet your needs? Read our pet cam reviews to find out.
Article Overview
Dog Collar Camera vs Dog Monitoring Camera
We all miss our pups while we're away from the house, and you have two options for keeping tabs on them while you're gone.
Both types of doggy cameras have their benefits. Have fun watching the world through your dog's eyes, and know that it's safe at home when you're away. If you hate leaving your dog home alone for long periods of time, you both can feel more connected with an interactive pet cam.
Find The Best Home Security System For Pet Owners
Best Dog Collar Camera Reviews
Looking for a camera to hook onto your dog's body so you can see what they're up to all day? Check out these pet camera reviews to get the inside scoop on what it's like to be a dog.
GoPro Fetch Dog Harness | Uncle Milton
Winner: GoPro Fetch (Dog Harness) Review
View on Amazon
If you already have a GoPro camera, a dog harness could be a cool mount to purchase. Put the harness on your dog and hook the camera to it to see what your dog sees. The GoPro Fetch dog harness can have the camera mounted on your dog's back or chest. This is the best camera if you're looking for a true dog body camera.
GoPro cameras aren't cheap; they range from $129 to $500, so buying one solely for the use of recording your pet may be out of the question. However, if you already have a GoPro and you want a camera to record your dog, the harness is a great mount to use. Either way, this is our favorite pick for the best dog cameras.
Pros

Cons

Machine washable
Durable
Quality brand
Camera has add-ons like a waterproof case to make this pet cam water-safe

Pricey once you add in the cost of the camera in addition to the harness
Dogs can wiggle out of the harness, and you could lose an expensive camera
Straps can come undone when dogs shake
Doesn't fit smaller dogs as well as larger dogs
Pricing & Tech Specs
Price: $39.00 (harness only; camera sold separately)
Dogs must weigh 15-120 pounds
GoPro In Action
See the GoPro Fetch Dog Harness in action. This dog shakes quite a bit, and the camera stays mounted well.
Uncle Milton Nat Geo Wild Review
View on Amazon
If you're looking for a camera dog collar, Uncle Milton Nat Geo Wild Pet Camera hooks onto your dog's collar and snaps photos of your dog's whereabouts. You can set the doggy cam to take pictures every 5, 10, or 15 minutes. Typically, photos taken in the dark with any camera aren't as high quality as those taken in the light. This camera may be a fun gadget to play with, but if you're looking for a dependable, quality doggy camera, you might want to look at another device.
Pros

Cons

Inexpensive

Auto-interval settings (1, 5, and 15 minutes)

Stores up to 40 pictures

No video, only photos

May be too large for a small dog
The clasp doesn't stay on
Seems to be designed as more of a toy than a high-tech gadget
Pricing & Tech Specs
Price: $9.99
2 AAA batteries

640 x 480 pixel resolution for 4″ x 6″ prints
Doggie Camera Reviews
Below are reviews of pet surveillance cameras that allow you to watch your dog when your dog is in range. These cameras don't film from your dog's perspective or act as a dog collar with a camera and speaker, but rather allow you to see what they're up to during the day while you are away. You can even interact with your dog with several of these WiFi pet cameras.
Use Your Home Security Camera As A Doggie Cam
If you own a home security system, your security camera can do double-duty as a "pet cam." If you don't have a security system, we recommend Frontpoint Security. Not only can you keep an eye on your pup while you're gone, but you can also protect them, knowing that professionals automatically handle hazardous events such as fire, break-ins, or carbon monoxide poisoning.
Furbo | D-Link | Frontpoint | Motorola Pet Scout66 | Nest Cam | Pawbo | PetChatz | PetCube | Petzi Treat Cam
Winner: Furbo Review
View on Amazon
Furbo is the best pet camera that dispenses treats. You can store up to 100 pieces of your dog's favorite treats so you can play fetch while you're away. Furbo has two-way audio and takes photos and video of your dog throughout the day. It also has barking detection and notifies you so you can calm your dog.
Additionally, each Furbo Dog Camera includes a 90-day free trial of Furbo Dog Nanny, a cloud recording service. It records 24 hours of events and sends you activity alerts.
Pros

Cons

Good HD video quality
Easy to install and hook up to WiFi
Interactive features: two-way audio, treat dispenser, bark alerts
iOS and Android app
Includes 90-day free trial of Furbo Dog Nanny

More expensive than other pet cameras
Tech Specs
1080p HD resolution
View Field: 160°
Night vision
4x zoom
D-Link DCS-932L Review
View on Amazon
D-Link's most popular camera is the DCS-932L Wireless Day/Night camera. This pet video camera must be plugged into an outlet and has a motion sensor so you can record video continuously or when motion is detected. The video is pretty low resolution (640 x 480 pixels), but you can see images clearly, and the audio is good as well. Many customers on Amazon seem to be pleased with their purchase.
Pros

Cons

Decent video quality
Good sound (but only one-way audio)
Motion detection alerts to your phone
Inexpensive
Good customer service once you're off hold
Setup multiple D-Link cameras to see multiple places in your home

Difficult to install for some people (tip: hard-wire the camera to your router completely when connecting, then go wireless)
No interactive features
Apps could use some improvements (iOS, Android, Windows)
Must sign up for mydlink Camera Recorder (added fee to record)
Long phone wait times (best to call late at night)
Tech Specs
Price: $80.00
View Field: Horizontal 45.3°, Vertical 34.5°, Diagonal 54.9°
Night Vision
Frontpoint Premium Indoor Camera Review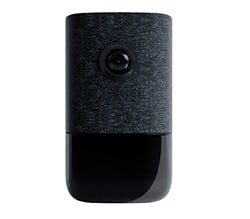 If you're on the hunt for a security system that can also monitor your dog while you're away, we can't recommend Frontpoint enough. Frontpoint is known for its exceptional customer service and has an extensive equipment lineup to help protect your home against intruders.
The Premium Indoor Camera has some high-end features, including a large 180° field of view, digital pan and tilt, and HD video. We love how easy it is to install Frontpoint in any home, and the motion sensors won't detect pets that weigh less than 40 pounds, so you don't need to worry about them triggering false alarms. If you have a dog that weighs more, you can likely change the settings to accommodate your needs.
To use Frontpoint, you must sign up for the Ultimate professional monitoring plan, which costs $49.99 per month. This may not be the best option for those of you just wanting to monitor your dog while you're at work, but if you want a whole-home security system with no long-term contracts, an excellent reputation, and a pet cam option, we recommend Frontpoint.
Pros

Cons

Excellent video quality
Good sound with two-way audio
Motion detection alerts to your phone
iOS and Android apps
Great customer service
Setup multiple Frontpoint cameras to see multiple places in your home (inside and outside)

Requires professional monitoring, which costs $49.99 per month
More expensive than others
Tech Specs
Price: $193.99
View Field: 180°
Digital pan and tilt
Enhanced zoom
Two-way audio
Motorola Pet Scout66 Review
View on Amazon
The Motorola Pet Scout66 is a decent doggie camera at an attractive price point. This pet monitoring camera has good video quality, two-way audio, night vision, and in-room temperature display. It also allows you to sync multiple cameras in your home.
However, if you want motion-triggered recording or simply to record and store video, you'll end up paying a pretty hefty monthly fee for their cloud video recording service. If video recording isn't that important to you and you're on a tight budget, the Motorola Pet Scout 66 is a solid, affordable wireless pet cam.
Pros

Cons

Decent live streaming HD video quality
Easy to install
Free motion-triggered snapshots
Two-way audio
Affordable pricing
Can sync multiple cameras in your home
Good customer service

Only interactive feature is audio
Video cloud storage is an added monthly fee
Audio volume is too low
Many consumers report that the Android and iOS apps have frequent connectivity problems
Pricing & Tech Specs
Night vision
In-room temperature display
Nest Cam Review
View on Amazon
The Nest Cam is a stationary camera that plugs into an outlet. It can be used for security purposes or to keep an eye on a pet or loved one. It has two-way talk, so you can check in on your pup and hear what's happening on her end. Get alerts sent to your smartphone so you can see what she's doing when she enters the room with the Nest Cam. The footage is uploaded to the cloud, so you can watch it any time.
Pros

Cons

Great HD video quality
Easy installation
Built-in mic and speaker for two-way talk
Smartphone alerts when there is activity
Good customer service
Ability to set up multiple Nest Cams to see every part of your house
Overwhelming number of positive reviews on Amazon

No interactive features (other than two-way audio)
Must pay extra to store video (no local storage option)
Sometimes the camera struggles to stay connected to the WiFi
On the pricey side
Tech Specs
Price: $129.99
View field: 130°
Night vision
Pawbo Review
View on Amazon
If you're looking for a less expensive Furbo version, it's hard to go wrong with Pawbo. Pawbo has more interactive features than any other pet cam: two-way audio, a built-in laser dot chasing game, a treat dispenser, and multiple sound effects (cat, birds, etc.). Its live video streaming lets you see what your pup's up to, and you can even record video that automatically downloads into DropBox cloud storage. All you have to do is plug your Pawbo into an outlet, connect it to WiFi, download the app on your smartphone, and you're ready to play remotely with your pup.
Pros

Cons

Reliable, high-quality HD live streaming video with 110° field of view
Best interactive features we've seen, including two-way audio, laser toy, treat dispenser, sound effects
Easy to install and hook up to WiFi
Excellent customer service
Intuitive iOS and Android dog camera app

No motion or sound detection alerts
Expensive
Can't sync multiple cameras
Pricing & Tech Specs
720p HD resolution
View field: 110°
Pawbo+ was released in late 2016 and includes a 130-degree view, up to eight users, and can remotely operate Pawbo accessories.
PetChatz HDX Review
View on Amazon
PetChatz's HDX Premium 2-Way Pet Treat Camera is a unique pet camera that lets your pet call you (if you get the PetCall button). You can call your pet while you're at work or grocery shopping and see their furry face. You can even talk to your dog, and they can talk back (or bark back 😉 ). It also has a treat dispenser, calming aromatherapy, pet games, and entertainment options (sold separately). PetChatz is the only doggy camera in our reviews that has two-way video.
Pros

Cons

1080p streaming HD video quality
Easy installation and compatible with Alexa
Interactive features: two-way audio and video, treat dispenser and dispenses a calming scent
Motion and sound detection alerts
30-day money-back guarantee
Consumers report excellent customer support

Video recording feature only allows you to store 3 videos on the cloud
Unreleased Android app
Tech Specs
PetCube Camera Review
View on Amazon
PetCube is another interactive pet camera that lets you view, talk to, and interact with your dog when you're away from home, all via your smartphone. Like Pawbo, PetCube has an interactive built-in laser toy, but it lacks a treat dispenser. If that's not a game-changer for you, PetCube is an excellent, high-quality doggie camera. PetCube Play is an upgraded camera for dogs with the added features of higher resolution video, zoom, and night vision. PetCube and PetCube Play requires an outlet and WiFi connection.
Pros

Cons

Good quality HD wide-angle video resolution (excellent quality with new PetCube Play)
Interactive built-in laser toy feature you control from your app
Easy installation
Excellent customer service
2-way audio w/ good sound quality
Motion and sound detection notifications to your phone
Easy-to-use iOS and Android apps

Added monthly fee for video cloud storage
Expensive
Doesn't dispense treats
Pricing & Tech Specs
PetCube Camera: View on Amazon
720P HD resolution
No night vision or zoom
PetCube Play Camera: View on Amazon
1080p HD resolution
4X-digital zoom
Night vision
Petzi Treat Cam Review
View on Amazon
The Petzi Treat Cam was innovative in its day, but it hasn't reinvented itself enough to compete with similar products. For one thing, the Petzi Treat Cam is overpriced for the lack of features it has. The video is decent, but the main selling point of the Petzi Treat Cam is as a treat dispenser. Compared to similar pet cams, it's unattractive.
Petzi quickly shoots treats out, so it may frighten some pets. Petzi does have night vision and a jingle sound that brings your dog to the camera, but overall, we don't think it's worth the price compared to other doggie cameras.
Pros

Cons

Decent HD video quality with live streaming
Treat dispenser
Easy installation
Excellent customer service
Reliable apps for iOS and Android

No motion or sound detection
Only one-way audio
Pricey for what you get
Doesn't record video (you can only take a snapshot)
Can't connect multiple cameras
Some customer reports of treats jamming
Pricing & Tech Specs
Price: $129.99
720p HD video resolution
Night vision
Want To Get Your Puppy Fix?
Check out this fun live puppy cam. There's even sound so you can hear them playing and barking.
Dog Tech: What Else Can You Monitor?
Technology is advancing at warp speed all around us and not just for humans. Not too long ago, activity trackers were the new tech gadget for people. Now dogs can have their own activity monitor, and you can view their exercise, sleep, and other stats, too. You and your pup can be healthy together. Happy hunting for the best puppy cam!
Which doggie camera are you barking for?

Sources: [1] News10