To sustain this free service, we receive affiliate commissions via some of our links. This doesn't affect rankings. Our review process.
North Carolina has some great outdoor opportunities for Fido, from hiking in the mountains to dipping your paws in the Atlantic Ocean. Going on adventures with your best friend can create wonderful memories. That is, until disaster strikes.
What if Fido injures his paw while on a trail? Or takes a stumble and hurts his ACL while playing in the sand?
We're not asking you to leave Fido at home 24/7. Instead, we suggest you consider pet insurance to help protect your wallet, so you can have peace of mind if something happens on one of your adventures.
All of our top-ranked pet insurance providers offer coverage in North Carolina. The monthly premium is based on your dog's breed, zip code, pre-existing health conditions, age and other factors.
Article Overview
Most Popular Dog Breeds In NC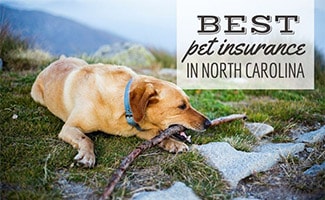 North Carolina's favorite dog breed is the Labrador Retriever.1 Below is a list of the most popular dog breeds in two major NC cities.2
Charlotte2
Miniature Schnauzer
Raleigh3
How Much Does Pet Insurance Cost In North Carolina?
We ran quotes for plans in North Carolina with our best-rated pet insurance providers (see below). We chose breeds based on the list of popular dog breeds above. None of the quotes we ran were for pets with microchips or pre-existing conditions.
Please know that you should expect small annual increases for any pet insurance provider based on vet costs rising or more claims being submitted in the location where you reside. So if you are quoted $30 per month today, that doesn't mean it will stay that price for the life of your pet.
All quotes are from March 2020.
| Company | Deductible | Reimbursement | Limit Amount | Monthly Price | Zipcode | Gender | Breed | Age |
| --- | --- | --- | --- | --- | --- | --- | --- | --- |
| | $250 | 80% | Unlimited | $47.35 | 28208 (Charlotte) | Male | American Pit Bull Terrier | 1 Year Old |
| | $250 | 80% | Unlimited | $38.11 | 28208 (Charlotte) | Male | American Pit Bull Terrier | 1 Year Old |
| | $250 | 80% | Unlimited | $40.72 | 28208 (Charlotte) | Male | American Pit Bull Terrier | 1 Year Old |
| | $500 | 70% | Unlimited | $41.45 | 27609 (Raleigh) | Female | Golden Retriever | 4 Years Old |
| | $500 | 70% | Unlimited | $24.94 | 27609 (Raleigh) | Female | Golden Retriever | 4 Years Old |
| | $500 | 70% | Unlimited | $30.17 | 27609 (Raleigh) | Female | Golden Retriever | 4 Years Old |
| | $250 | 80% | Unlimited | $44.62 | 27411 (Greensboro) | Female | Labrador Retriever | 3 Months Old |
| | $250 | 80% | Unlimited | $38.73 | 27411 (Greensboro) | Female | Labrador Retriever | 3 Months Old |
| | $250 | 80% | Unlimited | $37.28 | 27411 (Greensboro) | Female | Labrador Retriever | 3 Months Old |
We suggest you read our pet insurance reviews to find out why we chose these 3 companies as the best. Keep in mind that coverage details and customer service are important factors too, not cost alone.
We recommend obtaining quotes from at least 3 different companies to compare prices. You can obtain free quotes from multiple insurance companies here.
Which Cities In North Carolina Are Pet-Friendly?
Below are the most pet-friendly cities in North Carolina based on the 100 largest U.S. cities.4Note: We excluded cities that fall outside of North Carolina from our table.
| | Most Pet-Friendly Cities | Pet Budget* | Pet Health & Wellness** | Outdoor Pet-Friendliness*** |
| --- | --- | --- | --- | --- |
| Charlotte | 86 | 67 | 37 | 97 |
| Greensboro | 65 | 15 | 80 | 64 |
| Durham | 63 | 45 | 52 | 89 |
| Winston-Salem | 55 | 28 | 69 | 88 |
| Raleigh | 15 | 19 | 10 | 83 |
*Pet budget was determined by considering vet care costs, minimum pet-care provider rate per visit and dog insurance premiums.
**Pet health and wellness was determined by considering veterinarians per capita, pet caretakers per capita, animal trainers per capita, pet businesses per capita, dog-friendly restaurants per capita, share of pet-friendly hotels, dog-friendly shops per capita, pet meetup groups per capita, doggie daycare and boarding establishments per capita, pet-friendliness of rental markets, average home square footage, share of single-family detached homes, share of homes with one or fewer occupants per room, animal shelters per capita and strength of animal protection laws.
***Outdoor pet-friendliness was determined by considering weather, dog parks per capita, parkland as a share of the city area, walk score, dog-friendly trails per capita and dog shows per capita.
Pet Insurance Story In North Carolina
Below is a real-life pet insurance story from a customer in NC.
Snake Bite
Canine Journal's Chief Dog Officer, Lily, had her own near-death encounter with a venomous copperhead snake.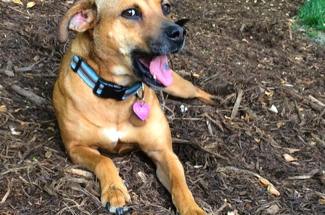 Lily weighs only 35 pounds and her leg had swollen to the size of a Great Dane's leg. She was unable to walk, and it was hard to know what was wrong with her at first. But her pet parents, Alex and Michelle, knew she needed to get to the vet immediately.
Fortunately, because Alex and Michelle had signed Lily up for pet insurance, they didn't hesitate with the care she needed. Anti-venom was estimated to cost $1,500 to $2,000 and they knew they needed to act quickly, so they gave the vet the "okay" and treatment started.
After 2 nights in the hospital and all the treatment Lily required, the bill came out to $1,900. Petplan reimbursed 90% of the total cost and Lily made a full recovery.
Should I Get Pet Insurance?
The status of your pet can change instantly. One moment, he's running around the backyard and the next, he's in excruciating pain. Pet insurance can help you financially during an emergency and shift your focus onto the treatment and recovery of your dog. Learn more about why pet insurance is worth the investment.
Will you get a pet insurance quote for your Tar Heel pup?
Sources: [1] Patch, [2] Patch, [3] ABC 11, [4] WalletHub
Disclaimer: Information regarding insurance company offerings, pricing and other contract details are subject to change by the insurance company at any time and are not under the control of this website. Information published on this website is intended for reference use only. Please review your policy carefully before signing up for a new pet health insurance contract or any other contract as your unique circumstances will differ from those of others who may be used for example purposes in this article.
Disclaimer: The information provided through this website should not be used for diagnosing or treating a health problem or a disease. It is not a substitute for professional care. If you have or suspect you may have a health problem, you should consult your health care provider.
Disclaimer: This website contains reviews, opinions and information regarding products and services manufactured or provided by third parties. We are not responsible in any way for such products and services, and nothing contained here should be construed as a guarantee of the functionality, utility, safety or reliability of any product or services reviewed or discussed. Please follow the directions provided by the manufacturer or service provider when using any product or service reviewed or discussed on this website.