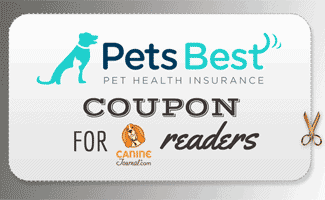 We're always looking for a way to save a few dollars here and there and purchasing pet insurance is no different. Canine Journal has an exclusive discount for our readers that may save you a few dollars on Pets Best pet insurance, leaving money to buy a new toy for Fido. 😉
Visit Pets Best Insurance Website
Current Pets Best Promo Code & Coupons – Exclusive For Canine Journal Readers
Research Before You Buy
We think Pets Best is a good choice, but realize, you may want to know what your options are (which is smart!). That's why we review all the top pet insurance companies to find the best providers for you. Be sure to take a look at our coverage comparison table as well, so you know exactly what's covered when you buy your dog's pet insurance plan.
Why We Think You Should Pick Pets Best
Pets Best covers some things that other top pet insurance providers don't, like exam fees. It also has short waiting periods for illnesses and accidents. Pets Best typically falls in the least expensive price range for pet insurance depending on the breed of your dog, its age and where you live. Why not get free quotes from Pets Best and several other top companies to see how your pet's rate adds up?
There are no age limits, and the company offers two Routine Care plans as add-ons to their pet insurance policy. So if you want annual exams, vaccinations, teeth cleaning, etc. covered, you can add this plan to your Pets Best health insurance policy.
Read Our Pets Best In-Depth Review
Pets Best YouTube Channel
Pets Best's YouTube channel is a great resource for common pet owner questions. Are you wondering why your dog takes so long to find the perfect place to go poop? This vet has the inside "scoop." 😉
Have you gotten a quote from Pets Best? How did it compare to others?