To sustain this free service, we receive affiliate commissions via some of our links. This doesn't affect rankings. Our review process.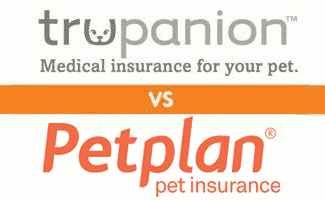 Always take your dog to the vet if you think they are ill or injured. You shouldn't have to choose between your wallet and your pet's health. That's why they offer pet insurance! Sign up for pet insurance, so you don't have to think twice when an animal emergency arises or take money from your savings to pay for your dog's expensive vet bills.
Visit Petplan's Website | Visit Trupanion's Website
TRUPANION FLORIDA RESIDENTS: The plan reviewed here is not available for new customers in Florida. Contact Trupanion to learn more about what is available in your state and read the policy carefully for details.
Policy Coverage
See how Trupanion and Petplan compare side by side to get a quick picture of the similarities and differences.
| | Petplan | Trupanion |
| --- | --- | --- |
| Overall Ranking in our Pet Insurance Comparison | Not Ranked | Not Ranked |
| Blood Tests | | |
| Cat Scans | | |
| MRI | | |
| Rehabilitation | | |
| Behavioral Therapies | | |
| Specialized Exams | | |
| Surgery | | |
| Hospitalization | | |
| Emergency Care | (20% copay at emergency hospitals unless life threatening, which is covered at 100%) | |
| Specialty Care | | |
| Hydrotherapy | | |
| Pre-existing Conditions | | |
| Check Ups, Vaccinations, Spay/Neuter, Teeth Cleaning | | |
| Non-Routine Dental Treatment | | |
| Hip Dysplasia Waiting Period | 6 Months | 30 Days |
| Chronic Conditions | | |
| Illnesses Waiting Period | 15 Days | 30 Days |
| Accidents Waiting Period | 15 Days | 5 Days |
| Hereditary Conditions | | |
| Congenital Conditions | | |
| Diagnostic Treatment | | |
| Alternative/Holistic Therapy | | Extra Fee |
| Prescription Medications | | |
| Enrollment Fee | | $35 ($25 in WA and $0 in MD and MI) |
| 30-Day Money Back Guarantee | | (30-Day Certificate) |
| Claim Limits | $2,500, $5,000, $10,000, $15,000, $20,000, $25,000 or Unlimited | Unlimited |
| BBB Rating | A+ | B+ |
| Underwriter | XL Specialty Insurance Company | American Pet Insurance Company |
| A.M. Best Rating | A+ | Unrated |
| No Exam Required to Set Baseline for Pet's Health | | |
Coverage is fairly similar here; however, we feel Petplan's is slightly better because it covers alternative/holistic therapy at no additional cost and doesn't charge an enrollment fee. We also like that Petplan's underwriter is rated by A.M. Best, whereas Trupanion's is not. Plus, Trupanion has age restrictions — new customers with dogs older than age 14 cannot enroll.

Winner: Petplan
Customer Service & Reputation
Customer service and reputation should be at the top of your list when choosing a pet insurance company. You don't want to be on the phone waiting for someone to pick up to answer your question. You want quick, friendly service, so make sure you consider the customer service history of the company.
Petplan is known for having some of the best customer service in the pet insurance industry. It ran into a small hiccup when it changed underwriters in 2016, resulting in increased premiums for existing customers, but since then, its reputation has recovered.
Trupanion has a history of more service-oriented complaints than Petplan does, which is why we feel Petplan is the winner in this category.

Winner: Petplan
Timeliness Of Claim Repayment
Petplan has a quick average claim repayment of 5 to 14 business days but allows up to 30 days. Trupanion allows up to 60 days to pay its claims. The sooner you can get your reimbursement back, the happier you'll be.
Petplan is the clear winner here with a shorter claim repayment time. However, you should see if Trupanion works with your vet directly via the Vet Direct Pay system that may allow the vet to get paid by Trupanion so that portion of your bill never comes out of pocket.

Winner: Petplan
Price Of Policy
Want to see an example of what you'd pay for Trupanion and Petplan? Check out these quotes comparing the same dog with the same characteristics.
Characteristics considered for these quotes:
Neutered male Golden Retriever, 2 years old
No microchip, multi-pet discount or pre-existing conditions
Residency in Los Angeles, California (zip code 90016)
Quotes from December 16, 2019
| | Deductible | Reimbursement % | Annual Maximum | Price Per Month |
| --- | --- | --- | --- | --- |
| Petplan | $500 | 90% | Unlimited | $73.75 |
| Trupanion | $500 | 90% | Unlimited | $73.84 |
| Petplan | $250 | 90% | Unlimited | $101.43 |
| Trupanion | $250 | 90% | Unlimited | $99.37 |
To see more quote comparisons, take a look at our pet insurance quotes page. You'll find that price quotes between Trupanion and Petplan flip-flopped a lot — sometimes one was more expensive than the other — so it truly is a case-by-case situation on which company has lower premiums. Please note that the quotes on the page linked above are not comparing apples to apples though, since Trupanion only has a 90% reimbursement option.
It's also important to note that Petplan allows for more customization with reimbursement levels and annual limit amounts. So if you're looking for a less expensive plan to cover the basics, Petplan may offer more options.
Combining all of this information together, Petplan is the winner because it came out least expensive more often, and it does not charge a one-time enrollment fee.

Winner: Petplan
Coupons
Petplan
Use coupon code
CYBER20A
to receive
up to 10% off + $35 Visa Gift Card
if you
sign up online
. Alternatively, call
800-237-1123
if you prefer to speak to a person.
Trupanion
Looking for a Trupanion promo code?
Click here
for the best deal we could find.
What If My Dog Has Special Needs?
Many pet insurance providers offer great plans for dogs who need special coverage. Be sure to research the possible conditions your dog and his breed could be diagnosed with so that you get a plan that covers it.
In the meantime, check out this adorable video that celebrates deaf dogs. Be sure to watch until the end. The last clip of Walter and Joe is precious!

What's The Verdict?
In the end, we feel that Petplan is the better of these two providers. Of course, we always recommend getting quotes from multiple pet insurance providers before making your decision.

Winner: Petplan
Of course, there are other options out there besides Trupanion and Petplan. Check out our pet insurance reviews to see how all the best pet insurance companies compare against one another.
Have you experienced an emergency with your pet before?
Disclaimer: Information regarding insurance company offerings, pricing and other contract details are subject to change by the insurance company at any time and are not under the control of this website. Information published on this website is intended for reference use only. Please review your policy carefully before signing up for a new pet health insurance contract or any other contract as your unique circumstances will differ from those of others who may be used for example purposes in this article.
Disclaimer: The information provided through this website should not be used for diagnosing or treating a health problem or a disease. It is not a substitute for professional care. If you have or suspect you may have a health problem, you should consult your health care provider.
Disclaimer: This website contains reviews, opinions and information regarding products and services manufactured or provided by third parties. We are not responsible in any way for such products and services, and nothing contained here should be construed as a guarantee of the functionality, utility, safety or reliability of any product or services reviewed or discussed. Please follow the directions provided by the manufacturer or service provider when using any product or service reviewed or discussed on this website.