This post may contain affiliate links and we'll be compensated if you make a purchase. This doesn't affect rankings. Our review process.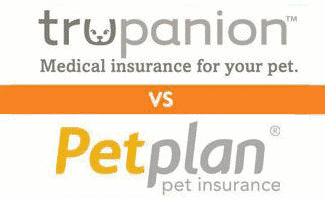 Help! My dog just twisted her knee while out on our walk! I'm scared she needs medical attention but I don't have pet insurance. What should I do?!
Always take your dog to the vet if you think she is ill or injured. You shouldn't have to choose between your wallet and your pet's health. That's why they offer pet insurance! Sign up for pet insurance so you don't have to think twice when an animal emergency arises or take money from your savings to pay for your dog's expensive vet bills.
Trupanion vs Petplan
Petplan and Trupanion appear to offer nearly identical coverage. The biggest difference on first glance is that Trupanion does not give you many options – you have to get 90% reimbursement (which holds a higher premium price than say an 80% reimbursement policy from the competition), while Petplan offers full customization or reimbursement levels, deductible and coverage amounts. However, when you take customer service into consideration it is easier to differentiate between these two companies. Also, if you are looking for a lower monthly premium to pay, you may have more options to consider with Petplan.
Winner: Petplan

When we looked at all the national providers, Petplan comes in as our #3 choice for best pet insurance. What put them so high in our rankings? They offer unlimited lifetime benefits and have a steady reputation. Petplan also has one of the best customer service reputations in the business, and they offer live chat, which is only available from a few pet insurance companies. They pay claims in a timely fashion, typically 5-14 days. If you're looking to cut costs you could save on monthly premiums* but look for a $25 one-time enrollment fee (in most states) to get started.
* Always run quotes with multiple companies to ensure you are getting the best coverage for the best price.
Read our in-depth Petplan Review
How Does Trupanion Stack Up?

So is Trupanion (note this is not spelled Truepanion as some of our readers have suggested) a "true companion" for your pet? Trupanion didn't rank in our top three for Best Pet Insurance Reviews. That sounds like a not so great showing, but it is a tight race in this category since most companies have pretty solid reputations, including Trupanion. Plus, they have a lot of great things going for them. Trupanion has no per-incident caps and no claim limits per pet. If you travel frequently, then you may like that your pet is covered anywhere in the U.S., Canada and Puerto Rico. So, what's not to like? Well, they only offer a 90% reimbursement option which will cost you more until you need to use your insurance (at which time more will be covered than with many other lower reimbursement policies), they charge a $35 enrollment fee and they have a 30-day wait period for illnesses and a 3-day waiting period for accidents. They also have age restrictions so if you are a new customer with a dog older than age 14, it cannot be enrolled in a new policy.
Read our full review of Trupanion
Petplan vs Trupanion Comparison Table
Comparing companies side by side is sometimes easier than reading reviews. So we've taken Petplan and placed them next to Trupanion in this comparison table to show you what they each cover. This will help you see the similarities and differences.
 
Petplan
Trupanion
Overall Ranking in our Pet Insurance Comparison
3rd
Honorable
Mention
X-Rays
Blood Tests
Ultrasounds
Cat Scans
MRI
Rehabilitation
Behavioral Therapies
Specialized Exams
Surgery
Hospitalization
Emergency Care

(20% copay at emergency hospitals unless life threatening, which is covered at 100%)
Specialty Care
Hydrotherapy
Pre-existing Conditions
Check Ups, Vaccinations, Spay/Neuter, Teeth Cleaning
Non-Routine Dental Treatment
Hip Dysplasia
Chronic Conditions
Illnesses
Accidents
Hereditary Conditions
Congenital Conditions
Cancer Treatments
Diagnostic Treatment
Alternative/Holistic Therapy
Extra Fee
Prescription Medications
Enrollment Fee
$25 (in most states)
$35
30-Day Money Back Guarantee

(30-Day Certificate)
BBB Rating
A+
A+
Claim Limits
$2,500-unlimited
Unlimited
Trupanion vs Petplan Quotes
Want to see an example of what you'd pay for Trupanion and Petplan? Check out these quotes comparing the same dog with the same characteristics. Click on the links above to visit each website and get a quote for your dog from each company.
Dog – Golden Retriever Pet Insurance Quote
Characteristics considered for these quotes:
Age: 2 years old
Male
No Microchip
No Multi-pet Discount
No Pre-Existing Conditions
Residency in Los Angeles, California (zipcode 90016)
Quotes from April 24, 2017
|   | Deductible | Reimbursement % | Annual Maximum | Price Per Month |
| --- | --- | --- | --- | --- |
| Petplan | $250 | 90% | Unlimited | $77.18 |
| Trupanion | $250 | 90% | Unlimited | $77.33 |
| Petplan | $100 | 90% | Unlimited | $120.37 |
| Trupanion | $100 | 90% | Unlimited | $99.39 |
What if My Dog Has Special Needs?
Many pet insurance providers offer great plans for dogs who need special coverage. Be sure to research what possible conditions your dog and/or its breed could be diagnosed with so that you get a plan that covers it. It's all about planning for the future! In the meantime, check out this adorable video that celebrates deaf dogs. You'd never even guess they're deaf! Tip: Watch until the end! The last clip of Walter and Joe is precious!
What Are My Options for Pet Insurance?
Of course, there are other options out there besides Trupanion and Petplan. Check out our Pet Insurance Reviews to see how all the best pet insurance companies compare against one another. Still debating whether or not you really need dog insurance? Consider this – your pet is acting strange and seems sick, so you take her to the vet. You realize she swallowed a rubber band. That's what Rusty did and after the initial exam fee, X-rays, surgery, additional tests and overnight boarding his owner was looking at more than $1,300 in vet fees. Can you spare that much money? Most of us can't, that's why pet insurance can be life saving. You don't want to choose between your bank account and your pet's life, do you?
Have you experienced an emergency with your pet before?
Disclaimer: Information regarding insurance company offerings, pricing and other contract details are subject to change by the insurance company at any time and are not under the control of this website. Information published on this website is intended for reference use only. Please review your policy carefully before signing up for a new pet health insurance contract or any other contract as your unique circumstances will differ from those of others who may be used for example purposes in this article.