The lovable Australian Shepherd is a fantastic family companion, and owners want to ensure they feed Aussies the best nutrition they can. After all, a healthy diet is a crucial element to lifelong health and happiness. Aussies need quality nutrition but do not have special dietary needs. Some can have sensitive stomachs, and as a large to medium size breed, they need diets that can support a good amount of weight on their frames.
Aussies are susceptible to a few health conditions, including hip and elbow dysplasia, epilepsy, allergies, skin problems, and eye disease. They are also prone to infections. While these health issues are not directly related to diet, healthy nutrition can be a big part of keeping these conditions at bay. We discuss the nutritional requirements for Australian Shepherds and give you our top picks for the best wet and dry food for Aussies.
At A Glance: Best Dog Food For Australian Shepherds
Nutritional Needs & Feeding Guidelines For Australian Shepherds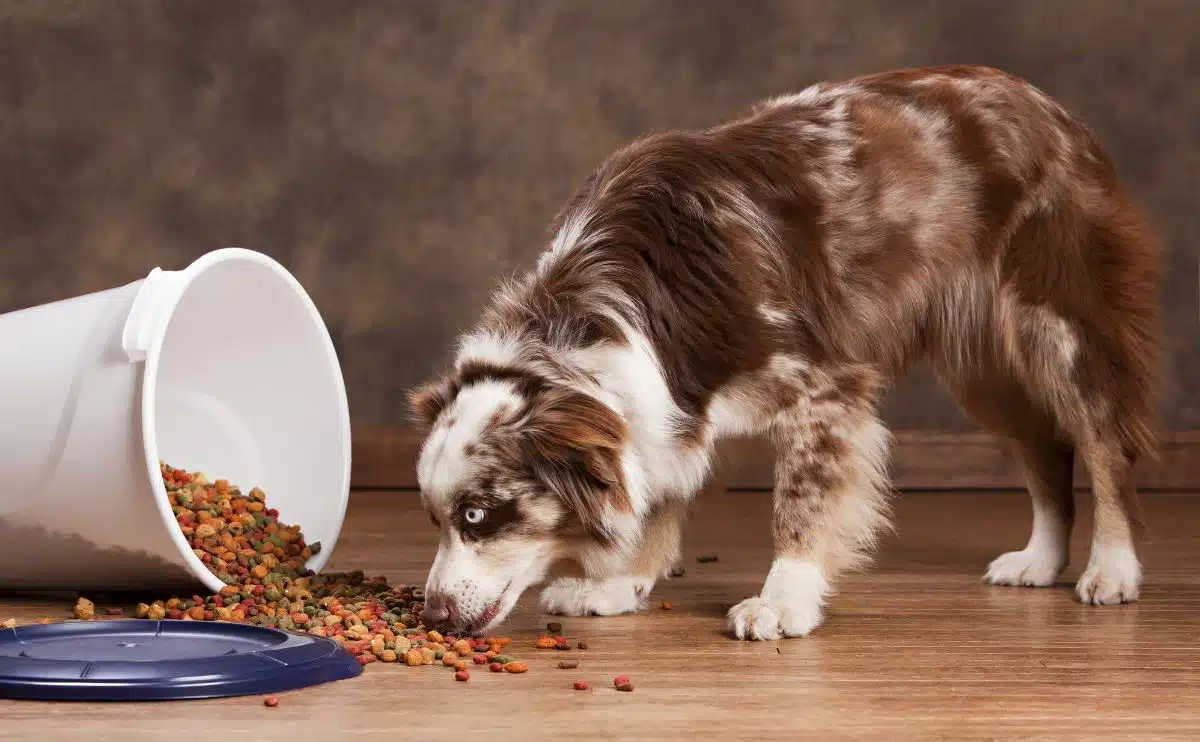 A standard Australian Shepherd weighs about 35 to 70 pounds fully grown. These dogs are relatively healthy and reach between 13 and 15 years. They do come in other sizes. These are the much smaller teacup, toy, and mini-Aussie. Many Aussies are much smaller, weighing between 20 and 40 pounds.
Australian Shepherds have different nutritional needs in different life stages. These three stages are puppy, adult, and senior. Aussie puppies are dogs who are under 12 to 15 months old. Aussie dogs reach adulthood between 12 and 15 months. They are considered adults until they reach between 7 and 10 years when they are considered seniors.
Beyond Basic Ingredients
All dog food should include protein, carbs, healthy fats, fiber, and essential vitamins and minerals. But many of the most nutritious premium dog foods are fortified with additional ingredients that can benefit your furry friend significantly. Here are a few things you'll want to look for and how they support your pup's health. We've listed these premium ingredients in our reviews for your convenience.
Fruits & vegetables: excellent natural sources of fiber, vitamins, minerals, and antioxidants to support immune health
Fish oil and/or flaxseed (omega-3 and 6 fatty acids, including DHA & EPA): brain and eye development, skin and coat health, joint and immune support
Glucosamine & chondroitin sulfate (often from chicken meal*): maintain healthy joints
Prebiotics & probiotics: support digestion and a healthy level of good gut bacteria
Taurine (see above): supports cardiovascular, eye, and brain health, immune system function, and benefits many other body functions
L-carnitine: an amino acid derivative that helps the metabolism of fats and also may benefit dogs with heart disease (it's particularly beneficial for older, less active dogs)
Organ meats: excellent source of premium quality protein and fat as well as vitamins A, B, D, and E, copper, iron, phosphorus, selenium, and zinc
Chia seeds: rich in plant protein, fiber, antioxidants, omega fatty acids, calcium, potassium, magnesium, manganese, zinc, phosphorus
*A note about meat meal: Quality pet food brands often use meat meal in their recipes, which can be a very healthy source of protein for your pup (as long as the "meat" is named, e.g., chicken meal, lamb meal, etc.). A meal can be made from the meat, tissue, organ meat, bone, stomach, and intestines of the named animal. But meat meal doesn't include by-products like hair, feathers, beaks, heads, blood, hooves, hide trimmings, etc.
Best Food For Australian Shepherd Puppy
Australian Shepherd puppies have an increased risk of developing hip dysplasia, and this risk increases if their diet is calcium-heavy. However, not enough calcium is also not healthy. Puppies need high fat and calories to support their rapid growth and energy usage. According to the American Association of Feed Control Officials (AAFCO), large-breed puppies should have dog food containing 2.0 to 4.5 g calcium per 1,000 calories. The MSD Veterinary Manual recommends puppy kibble with a minimum protein content of 22%. Active dogs may need more, around 26%. Always stick to foods that use named meats and named meat meals. This is important as these proteins provide glucosamine which keeps growing joints and bones healthy.
Along with protein, Australian Shepherd puppy food should have about 8% minimum fat content. Omega fatty acids, which are included in fish oil, salmon meal, chicken fat, flax seed, and other additives, are essential for skin and coat health, as well as eye development and cognitive health. DHA is important for cognitive functions.
Wellness CORE RawRev Wholesome Grains Dry Puppy Food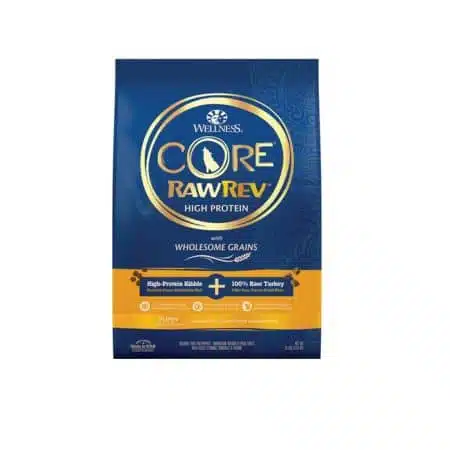 This high protein, well-balanced large-breed puppy formula is an excellent pick for Aussies. Protein comes from deboned chicken, chicken meal, turkey meal, chicken fat, chicken liver, and salmon oil. The recipe includes 100% freeze-dried turkey bites that add savory, meaty flavor dogs love.
This recipe offers high protein, nutrient-rich superfoods without fillers, wheat, corn, or soy. Omega fatty acids, antioxidants, glucosamine, probiotics, taurine, wholesome grains, and more boost the formula. Recipes are developed to support lean body mass, healthy coat and skin, and healthy muscle tone.
First 5 ingredients: Deboned chicken, chicken meal, turkey meal, chicken fat, turkey liver
Formula highlights: contains ground flax seed, salmon oil, broccoli, carrots, parsley, apples, blueberries, spinach, chicory root extract, choline chloride, potassium chloride, vitamin E supplement, taurine
Guaranteed analysis: crude protein 38% (min); crude fat 17% (min); crude fiber 4% (max)
Calories: 438 kcal/cup
Price
Blue Buffalo Wilderness RMR Red Meat Puppy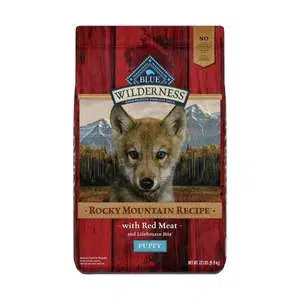 This is a high-protein, red meat-based kibble recipe. This is a great choice for highly energetic pups like the Australian Shepherd. This grain-free formula includes wholesome and nutritious vegetables to provide fiber, extra protein, carbohydrates, and energy. These include sweet potatoes, potatoes, and peas.
Recipes also include Blue Buffalo's exclusive LifeSource bits. These cold-formed kibble pieces are optimized to provide an extra boost of nutrition. It contains DHA and ARA to support cognitive development and eye health. Recipes include vitamins, minerals, and antioxidants, are free of chicken and poultry by-product meals, corn, soy, and wheat, and contain no artificial flavors or preservatives.
First 5 ingredients: deboned beef, beef meal, salmon meal, oatmeal, barley
Formula highlights: includes salmon meal for omega-3 fatty acids, oatmeal, dried egg product, potato protein, chicken fat, flax seed, fish oil, chicken meal, potassium chloride, deboned venison, deboned lamb, alfalfa nutrient content, calcium carbonate, vitamin E supplement, sweet potatoes, carrots come up vegetable juice, blueberries, cranberries, barley grass, parsley, turmeric, dried kelp, and more.
Guaranteed analysis: crude protein 36% (min); crude fat 16% (min); crude fiber 5% (max)
Calories: 428 kcal/cup
Price
Merrick Grain-Free Puppy Plate Chicken Wet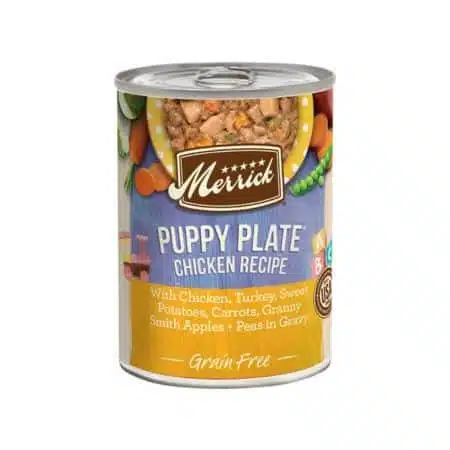 This is the top pick for canned food for the lovable Aussie. This high-protein formula gets most of its animal protein from deboned chicken. This grain-inclusive puppy food works well in combination with high-quality kibble. The recipe contains real apples, sweet potatoes, carrots, peace, and delicious gravy.
Smooth texture and contains DHA to support cognitive development. This is great for all size breeds, easy to digest, and contains no corn, wheat, soy gluten, or grains. Also available in a grain-free beef recipe.
First 5 ingredients: deboned chicken, chicken broth, deboned turkey, sweet potatoes, carrots
Formula highlights: contains dried egg product, flaxseed oil, potato starch, potassium chloride, zinc sulfate, calcium carbonate, salmon oil, flax seed, vitamin E supplement, niacin, vitamin B12 supplement
Guaranteed analysis: crude protein 9% (min); crude fat 5% (min); crude fiber 1.8% (max)
Calories: 395 kcal/can
Price
$43.36 (case of 12, 12.7 oz cans)
Best Dog Food For Australian Shepherd Adults
Adult Aussies do not usually have any special dietary needs and can fare well on almost any high-quality dog. Stick for those formulated for larger breeds if your pup weighs over 50 pounds. You will need to switch to adult dog food around 12 to 15 months. Look for food that has a protein content of around 26%. Aussies will need higher fat and calories than some other breeds, especially highly active ones. Working dogs may consume approximately 1,400 calories daily.
Skin and coat health must be supported throughout adulthood, so make sure any food you pick contains Omega fatty acids, including fish oils, flaxseed vitamin E, as well as other nutrients to support immune system function and overall health.
The Farmer's Dog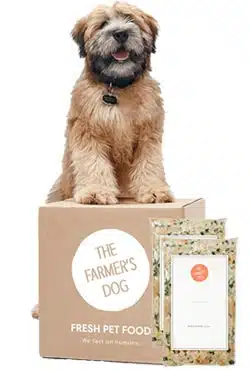 When it comes to providing your adult Australian Shepherd with top nutrition, you cannot go wrong with The Farmer's Dog. This is a grain-free, fresh dog food delivery option. It is on the expensive side. However, if money were not a concern, this food would be a top choice for many dog owners. All recipes include whole food proteins, vegetables, and fruits that are gently cooked and then flash-frozen. They preserve maximum nutritional value, freshness, and incredible taste. Recipes are fortified vitamins and minerals specific to your dog's life stage and breed size.
The Farmer's Dog is an excellent choice for any age group of Aussie and perfect for those with allergies and sensitive stomachs. The farmer's dog is a personalized subscription, delivered directly to your door. They offer beef, chicken, pork, and turkey, all grain-free recipes. Board-certified nutritionists develop formulas. This company focuses not on buzzwords or trends but on whole food, holistic, simple, top-quality nutrition designed specifically for dogs.
Each recipe contains different ingredients, but below, you can find a breakdown of their beef formula.
First 5 ingredients: beef, sweet potatoes, lentils, carrots, beef liver
Formula highlights: human grade and whole food ingredients, Omega fatty acids from fish oil, taurine, fresh fruits and vegetables, vitamins, and minerals
Guaranteed analysis: crude protein 39% (min); crude fat 29% (min); crude fiber 2%
Calories: not available
Price
Starts at $2 a day for small dogs but will vary based on each dog's weight, age, and other health factors. For example, $51.74 per week for a mixed breed male, one-year-old, approximately 40 pounds, healthy size, no health problems or allergies, neutered.
Our readers have access to 50% off your first box. No code is needed; just use this link to apply the discount! You can also visit our dedicated The Farmer's Dog coupons page.
Full Review Of The Farmer's Dog
Ollie Fresh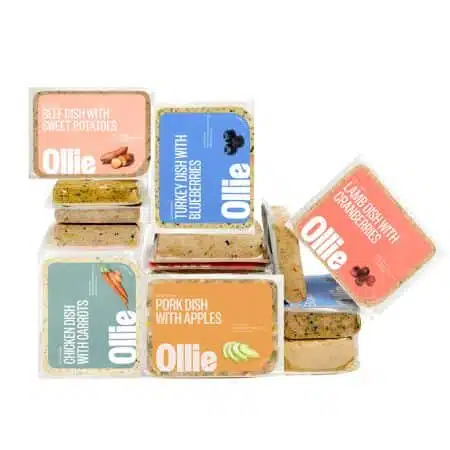 Ollie Fresh offers human-grade meals for dogs designed by a board-certified veterinary nutritionist. These recipes work well for medium-sized to large-breed adults. However, they can be suitable for smaller breeds and puppies as well. These are grain-free options but provide a fully balanced diet. There is one recipe available with grain for owners who want grain-inclusive kibble. Additionally, owners can add rice at home to give dogs an extra boost of fiber and carbohydrates.
Made with fresh meats and contains no bright powdered meals. These are free of BHA and other chemical preservatives and additives. Subscriptions can be customized for weight, activity level, age, and breed of pup.
Ingredients in varied by recipe, but below, we breakdown the turkey dish with blueberries
First 5 ingredients: turkey, kale, lentils, carrots, Turkey liver
Formula highlights: includes oats, blueberry, pumpkin, chia seed, sunflower oil, salmon oil, and vitamin supplements, including E, B2, D3, B6, beta-carotene, and more.
Guaranteed analysis: crude protein 11% (min); crude fat 7% (min); crude fiber 2% (max)
Calories: not available
Price
Subscriptions start at less than $4 a day for small dogs exclusively eating Ollie and can average around $8 a day depending on the dog's size and how much they eat.
Orijen Regional Red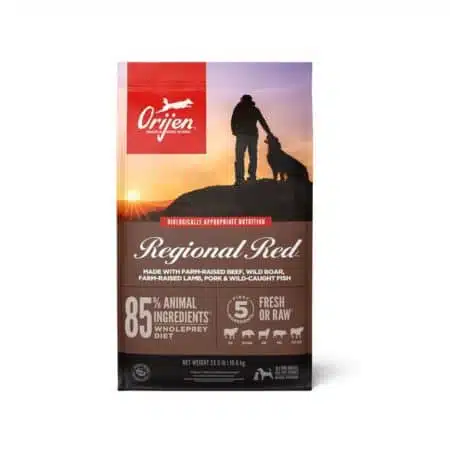 We like this table because it contains 85% quality meat ingredients, giving dogs a reliable source of essential protein, vitamins, and minerals. This is a whole prey diet, meaning they use the most succulent parts of an animal, including the meat, organs, and bones. This nutrient-dense formula is designed to support the digestive, immune system, skin, and coat health.
Farm-fresh and wild-caught proteins are blended to provide a protein-rich, tasty kibble. The first five ingredients are fresh or raw animal sources, and recipes include at least 15 fresh or raw ingredients.
First 5 ingredients: Beef, wild boar, lamb, pork, beef liver
Formula highlights: beef meal, lamb meal, mackerel meal, herring meal, pork meal, whole red lentils, whole Pinto beans, whole herring, pork liver, beef fat, Pollock oil, beef kidney, and tripe, dried kelp, whole pumpkin, whole butternut squash, collard greens, apples, pears, turmeric, and vitamin and mineral supplements
Guaranteed analysis: crude protein 9% (min); crude fat 5% (min); crude fiber 1.8%
Calories: 483 kcal/cup
Price
Best Dog Food For Senior Aussies
When your Aussie reaches around 7 to 8 years old, you must consider switching to a senior kibble. This is important because nutritional needs change, and traditional adult kibbles may be harder to chew. Even as seniors, Aussies require high protein to support their high activity level and keep muscles and joints healthy. They do not use as much energy, so they do not need as much fat. Additionally, it may become more challenging for Aussies to digest high-fat diets as they age.

Senior Aussies who are not highly active need around 700 calories daily. It is vital to support joint and bone health. This can be done with a diet with higher glucosamine and chondroitin levels. Look for foods with named meats, fish meals, fish oils, and other supportive additives.
Spot & Tango UnKibble
This is a fantastic way to give your senior dog raw, fresh nutrition without committing to a fresh diet. Spot & Tango UnKibble is a unique product that offers dogs the best of both worlds.
Owners can pick from three flavors, cod and salmon, beef and barley, and chicken and brown rice. The first ingredient is always high-quality animal protein. Recipes include healthy grains, as well as fresh fruits and vegetables.
"I have personally tried Spot & Tango for my older dog. She is a 70-pound mixed breed who is about 11 years old. Lately, she has not wanted to eat her dry kibble but has also been picky about wet foods. We started mixing Spot & Tango UnKibble in with her regular chow. This has made all the difference. She is now hungry and excited for mealtimes, like when she was a puppy, and has been clearing her plate. Since adding this to her diet, she has had more energy, better nutrition, and much less smelly gas. I can personally recommend this one for senior dogs."

Danielle D. Canine Journal
Ingredients vary by recipe. We break down the beef and barley recipe.
First 5 ingredients: Beef, barley, flax, carrots, green beans
Formula highlights: all-natural ingredients, including beef liver, beef heart, beets, cranberries, pumpkin, riboflavin, and more
Guaranteed analysis: crude protein 26% (min); crude fat 16.43% (min); crude fiber 3.18%
Calories: 4749 kcal/kg
Price
Just Food For Dogs Pantry Fresh
This delicious option is made from fresh, 100% whole food ingredients that are shelf stable. This chow stays good and tasty for up to two years when unopened. It is an excellent alternative to fresh meals but does not take up as much room in the freezer. Recipes are all formulated by veterinarians. Formulas do not use rendered meats, preservatives, artificial colorings, flavors, fillers, or growth hormones. Foods are prepared freshly in kitchens and are all grain free. These are soft, highly nutritious, tasty, and easy to digest.
Along with being tasty, these are high in protein and have a soft, palatable texture, making them easy to eat for senior dogs. For Aussies, the joint and skin support recipe is a good option. It is made with pork loin, quinoa, and kale. There are also options for renal, hepatic, and other special needs.
There are multiple flavors available. Below, we break down the chicken and white rice recipe.
First 5 ingredients: water, chicken, rice, carrots, spinach
Formula highlights: safflower oil, rice starch, cod liver oil, potassium chloride, calcium carbonate, vitamin supplements, folic acid, all human greed ingredients, including chicken thighs, long grain rice, a high calcium, high phosphorus recipe that promotes healthy bone and tissue growth
Guaranteed analysis: crude protein 7.5% (min); crude fat 2.5% (min); crude fiber 1%
Calories: not available
Price
Open Farm Senior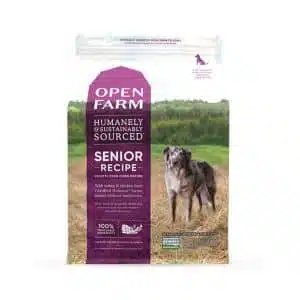 Open Farm offers a high-protein kibble made especially for aging dogs. This recipe is developed to support healthy joints and extended mobility. This is a nutrient-dense, grain-free kibble. Free of antibiotics, hormones, and steroids. The recipe features added glucosamine and chondroitin to support healthy bones and joints. Recipes use 100% traceable ingredients from certified family farms.
This recipe includes ingredients like New Zealand green lip mussels
First 5 ingredients: 100% animal welfare certified turkey, chicken, sweet potato, ocean whitefish meal, field peas
Formula highlights: Garbanzo beans, herring meal, green lentils, coconut oil, flaxseed, pumpkin, salmon oil, red lentils, apples, carrots, dandelion greens, cranberries, dicalcium phosphate, raspberries, taurine, turmeric, green-lipped mussels, and other vitamins and minerals
Guaranteed analysis: crude protein 31% (min); crude fat 12.5% (min); crude fiber 4.5%
Calories: 436 kcal me/cup
Price
Best Dog Food For Australian Shepherd With Sensitive Stomach
Although Aussies are known to do well on most foods, some can develop sensitive stomachs. In some cases, this can be connected to incomplete digestion. Diets too high in protein, fat, fiber, or carbohydrates may cause some digestive discomfort. Additionally, this breed is known to develop an umbilical hernia, while inflammatory bowel disease and megaesophagus are less common but can be seen in the breed.
In some cases, Aussies may need food developed for sensitive stomachs. Limited ingredient formulas, fresh, human-grade meals, and formulas free of common allergens may be required. Any of the fresh options we have already discussed are appropriate for sensitive stomachs, as these are high quality, human grade, and have limited ingredients.
Lucy Pet Formulas For Life Salmon, Pumpkin & Quinoa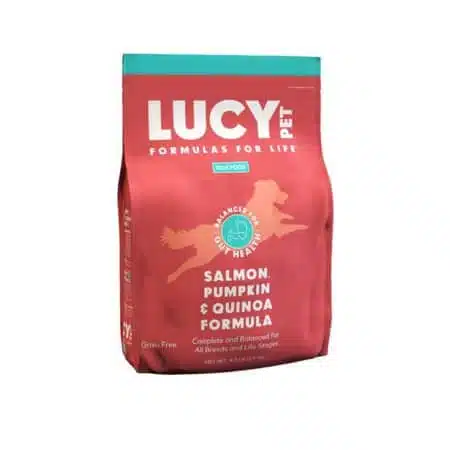 This formula is developed to support optimal digestion and a healthy gastrointestinal tract. Made with salmon, pumpkin, and quinoa, this food is developed to be highly nutritious and easy to digest. Antioxidant-rich formulas are developed for all breeds and life stages.
It contains prebiotic balanced fiber for gut health, antioxidants to support immune function, taurine for vision and heart health, and amino acids for muscle tone. Contains no corn, wheat, or soy.
First 5 ingredients: Salmon, chicken meal, dried chickpea, dried pea, pea starch
Formula highlights: Salmon oil, flax seed, vitamin E, chicken fat, dried pumpkin, quinoa, dried carrots, flaxseed, dried kelp, vitamins, minerals, add more
Guaranteed analysis: crude protein 25% (min); crude fat 14% (min); crude fiber 6%
Calories: 495 kcal/cup
Price
$22.64 (4.5-lb bag)
Nom Nom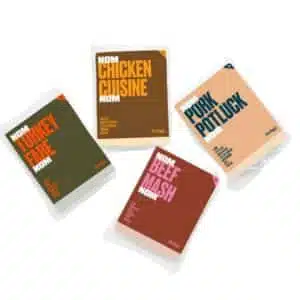 Nom Nom is another highly rated human-grade dog food option. This is an excellent choice for pups with sensitive or picky stomachs. Fresh ingredients, human-grade meats, and vegetables are designed by veterinarians and approved by certified veterinary nutritionists.
Males use all-natural ingredients and are pre-portioned to meet your pup's needs. Owners can choose from 4 recipes: Beef, Turkey, Chicken, and Pork. Pricing is based on a dog's age, target weight, and more.
We discuss in further detail the beef recipe below.
First 5 ingredients: Ground beef, russet potatoes, eggs, carrots, peas
Formula highlights: Squash, spinach, sweet potato, taurine, fish oil, sunflower oil, vitamin E supplement, niacin, potassium chloride, and more
Guaranteed analysis: crude protein 8% (min); crude fat 4% (min); crude fiber 1%
Calories: not available
Price
Around $2.50 per day, costs vary depending on your dog's size, weight, age, and the meal plan you choose.
If your Australian Shepherd has digestive issues, working with your veterinarian to determine the underlying cause and develop an appropriate treatment plan is vital. In some cases, a prescription diet may be necessary to manage their condition.
Best Dog Food For Mini Aussie
Mini Australian Shepherds need high-quality dog food with high protein content but less than their larger standard-size counterparts. Remember that many Aussie puppies have different nutritional needs than adults and seniors. These smaller-sized dogs are incredibly active, so they need a diet that can sustain their high energy expenditure.
As with any other sized Aussie, look for foods with named meat ingredients, are high in protein, and provide a balanced blend of nutrients, vitamins, and minerals to support whole body health. A smaller-sized kibble is also recommended, as large-breed kibble tends to be bigger and sometimes harder to chew.
Instinct Raw Boost Small Breed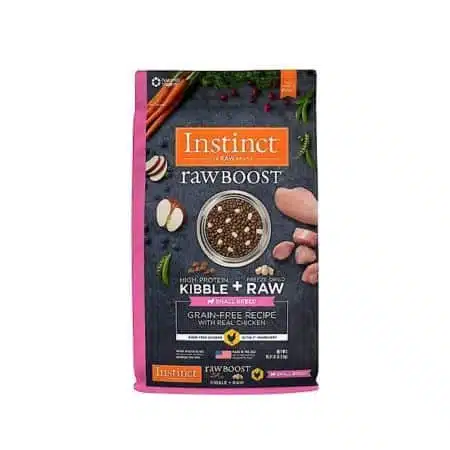 This tasty kibble is explicitly formulated for small-breed canines. It features high-protein kibble mixed with freeze-dried raw protein. It uses cage-free chicken, imbalance with calcium and phosphorus to support strong bones and teeth. Natural probiotics and antioxidants support digestive health, while glucosamine and chondroitin support joint health.
This recipe uses no potatoes, grains, wheat, corn, soy, by-product meals, artificial preservatives, additives, or colors. Dogs appreciate the raw, boosted, meaty taste.
First 5 ingredients: chicken, chicken meal, chickpeas, tapioca, chicken fat
Formula highlights: includes turkey meal, herring meal, freeze-dried chicken, freeze-dried chicken liver, coconut oil pumpkin seed, freeze-dried chicken hard, egg product, vitamins and minerals, carrots, apples, cranberries, dried kelp, salmon oil, and more
Guaranteed analysis: crude protein 35% (min); crude fat 20% (min); crude fiber 4%
Calories: 469 kcal/cup
Price
$53.99 (10-lb bag)
Solid Gold Small Breed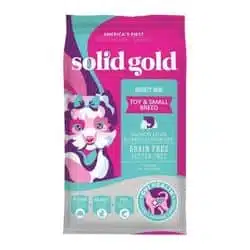 This small breed formula is grain and gluten-free. It is formulated to be easy to chew for smaller mouths, powered by superfoods, and has probiotics for gut health. Additionally, this cute kibble comes in a delightful heart shape. No artificial preservatives, flavors, dyes, corn, or wheat are in any recipes. Packed with antioxidants, fiber, probiotics, Omega 3 and 6 fatty acids, and more.
This formula was created specifically to fuel smaller breeds. Includes Omega six and three fatty acids from natural sources like salmon oil and ocean fish. Supports immune system health and skin and coat, as well as healthy digestion.
First 5 ingredients: bison, ocean fish meal, oatmeal, peas, chicken fat
Formula highlights: pea protein, brown rice, dried eggs, salmon meal, salmon oil, fruits and vegetables, vitamin supplements including vitamins E, C, B12, D3, and more. Includes taurine, as well as other vitamins and minerals
Guaranteed analysis: crude protein 28% (min); crude fat 18% (min); crude fiber 4%
Calories: 415 kcal/cup
Price
Should I Consider A Supplement?
Australian Shepherds are high-energy dogs who are prone to developing conditions like hip dysplasia and arthritis, as well as overworking their bones and joints. You may want to add a daily joint supplement to your pup's regimen, especially for highly active and aging cups. The best canine joint supplements can help reduce the symptoms and severity of these uncomfortable health concerns. Make sure to discuss adding a supplement with your veterinarian before doing so, especially if your pup is on a special diet or medication.
Canine owners may also want to consider pet insurance when their dogs are young. These policies can be helpful, especially for dogs prone to developing conditions like hip dysplasia, arthritis, and more. As dogs age, these conditions can become expensive to treat. Investing in health insurance when your pup is young and healthy Is best, as many policies do not cover pre-existing conditions.
Tagged With: Comparison, Food Delivery