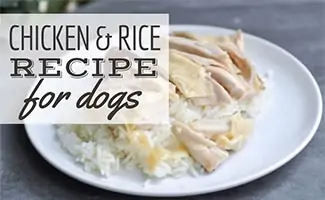 For us humans, chicken noodle soup is a go-to when feeling ill. For dogs, many veterinarians suggest feeding your pup chicken and rice to settle an upset stomach.
How much chicken and rice should you feed your dog to help him feel better? And how should you cook it? We'll help you figure out how to help your pup's ailing tummy with some tips and an easy recipe for boiled chicken and rice for dogs.
Is Boiled Chicken Good For Dogs?
Boiled chicken is an excellent source of low-fat protein, vitamins, minerals, and other necessary nutrients for dogs. It's also often recommended along with rice by veterinarians for dogs with an upset stomach or diarrhea.
How To Boil Chicken For Dogs
There are some definite do's and don'ts when it comes to boiling chicken for dogs. You'll want to use skinless, boneless chicken breasts (white meat is better than dark meat for dogs since it's easier to digest).
Don't season the chicken at all — dogs shouldn't eat too much salt or other spices. While this may not sound appetizing for you, your dog won't complain.
Place chicken breasts in a single layer in a medium or large-sized pot.
Pour in enough water to entirely submerge the chicken.
Cover the pot and boil the chicken for 12-15 minutes over high heat.
Once cooked, dice or shred the chicken into bite-sized pieces for your dog's size.
Personal Experience
I made chicken and rice for my dog when she had an upset tummy. It was really easy to make, and it helped settle her stomach. Now that my family is vegetarian, we keep a can of pumpkin puree in our cupboard if she experiences digestive problems because it can help with diarrhea and other GI issues. – Kimberly A., Canine Journal
Get Multiple Pet Insurance Quotes Instantly
Chicken And Rice Recipe For Dogs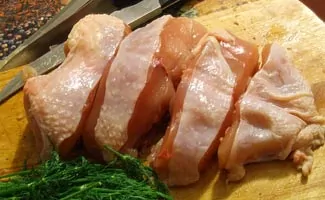 Here's a simple recipe you can make at home for boiled chicken and rice for dogs.
Ingredients
3 boneless, skinless chicken breasts
1 cup uncooked white rice
Water
Instructions
Boil the chicken following the instructions above.
Remove the chicken from the broth.
Boil the rice in a medium-sized pot using either the reserved broth or plain water (don't add salt, butter, or any other seasonings to the rice).
Allow the rice and chicken to cool.
Shred or dice the chicken into bite-sized pieces.
Mix the chicken and rice so that the mixture is roughly 1/3 chicken and 2/3 rice.
Let your pup enjoy his tasty meal!
Optional: If your dog isn't drinking much water, you can add some cool water to your dog's food bowl with the rice and chicken to help him get more fluids in his body.
How Much Chicken And Rice Should I Feed My Dog?
Feed your dog the amount of food he usually eats in a day. For example, for a small dog or puppies who only eat one cup of food per day, give him 1/3 of a cup of the chicken and rice mixture three times per day. For large dogs, you can give them 1 cup of the mixture three times each day.
If you're giving your pup this meal to help with an upset stomach or diarrhea, it's a good idea to give him small portions several times a day to make sure he's digesting his food okay. Be sure to check with your veterinarian to make sure you're feeding your dog the appropriate amount.
Chicken And Rice Dog Food
Although this chicken and rice dog food doesn't have the same immediate effect for your dog as the homemade recipe for an upset stomach, we're recommending it if you want your dog's food to be mainly chicken and rice. One of many brands we recommend is Diamond Naturals Chicken And Rice Formula. This formula includes cage-free chicken, vegetables, fruits, antioxidants, omega fatty acids, and probiotics with no artificial colors, flavors, or preservatives.
If you want healthy, fresh meals delivered right to your door, you may want to check out our reviews of the best fresh dog food delivery services. Several offer chicken and rice recipes, including JustFoodForDogs (JFFD). In this brief video, the founder of JFFD talks about their chicken and rice recipe — their most popular selection.
Frequently Asked Questions
Here are some questions our readers often ask about chicken and rice for dogs.
Can I Feed My Dog Rice And Chicken Every Day?
It's not a good idea to limit your dog to just homemade chicken and rice because it's not a complete and balanced diet. Dogs need additional vitamins, minerals, and other nutrients that chicken and rice don't contain. A commercial chicken and rice dog food could be okay to feed your dog every day as long as it's complete and balanced.
Will Chicken And Rice Help My Dog's Diarrhea?
Yes, this blend is an ideal bland food that can help dogs with diarrhea. Make sure you give your dog boiled white meat chicken with the skin and fat removed. And long-grain white rice is best for dogs with diarrhea (avoid brown rice). Feed your pup two parts rice to one part chicken in small portions until your dog recovers.
Why Is My Dog's Poop Yellow After Eating Chicken And Rice?
Yellow dog poop after chicken and rice is fairly common and shouldn't be a cause for concern. However, if your dog continues to poop yellow after eating other foods, you may want to contact your veterinarian to make sure there isn't an underlying cause, like a parasite.
Can Chicken And Rice Make A Dog Constipated?
No, this meal typically don't cause constipation in dogs as long as you're giving your pup white meat and white rice. Brown rice can be harder to digest and could possibly cause constipation.
Is Chicken And Rice Good For Dogs With Pancreatitis?
Yes, this recipe for dogs with pancreatitis is not only safe but is one of the recommended diets for this health condition. Dogs with pancreatitis need low-fat, easily digestible food. So boiled white chicken breast and white rice is a good option.
What Other Foods Can Dogs Eat?
If you give your pup human food on occasion, you may be wondering what foods he can have. There are several foods that are very toxic for dogs, some that are difficult for dogs to digest, and others that can cause choking or intestinal blockages. See our article on which foods are and aren't safe for dogs.
Tagged With: