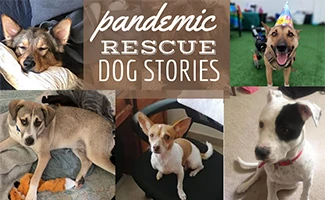 The 2020 COVID-19 pandemic has seen an increase in pet adoptions across the world. As people quarantined at home, they've looked to furry family members to fill their life with joy and companionship. Studies show that pets help people cope with anxiety and loneliness, especially among those living alone.
During the COVID-19 U.S. lockdowns of Spring 2020, the ASPCA saw a 70% increase in adoptions in April compared to 2019, and 73% of pet parents say that having a pet helped them stay sane during lockdown1.
Read these uplifting stories from readers who rescued dogs during the COVID-19 lockdown, creating happier homes with their new furry family members.
Pandemic Rescue Stories
Huckleberry, Canine Caravan Rescue (Atlanta, Georgia)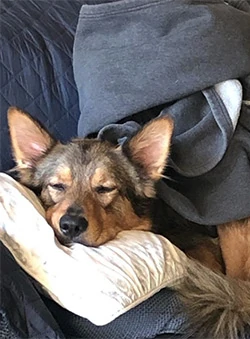 "Our foster fail has easily been the best part of the pandemic for us and has so quickly become a part of our family. We can't imagine life without him. As I type this on the couch, he's snuggled up using my knee as a pillow (though I can't imagine how that's comfortable, I've seen enough pics and learned from experience that a dog's position of repose doesn't always make sense to people).
When (the Coronavirus) quarantine began, I heard about shelters needing fosters as they couldn't safely have as many staff and volunteers caring for them. (I hate to think of the alternative!) By the time we looked into it, many area shelters either had no dogs available to foster or none that met our apartment breed restrictions and our own personal ones (must love other dogs and kids since there are many in our extended family – obviously, we were preparing for foster failure).
I reached out to a friend that I knew was very involved in the rescue community, and she alerted me to several dogs up for foster through Canine Caravan Rescue. This Atlanta-based rescue pulls pups from high-risk shelters. They find local foster homes until they are either adopted or ready for a "caravan" to the Northeast, where they have shelter contacts to help place the pups there.
I saw pics and a video of a pup on Facebook. He was playing with another pup, so we thought that was a good sign for Shadow and our other family dogs. I reached out, went through the approval process, and a few days later, we met at local doggie daycare (yay for a partnership that gave us a freshly bathed pup!). Lucky for us, the rescue said he did not "know" the name the shelter had given him and we were free to change it. It took a bit, but by that night, we decided that he was our Huckleberry.
Huckleberry is a German Shepherd Dog mix (see him on Instagram) – heavy on the mix. When I first posted pics of him on social media, I almost immediately had adoption inquiries. The same was the case when my husband and I took him for walks and people asked about him. We made excuses and put people off at first, but we quickly knew that there was no way that we could send Huckleberry to another home, no matter how loving it was. We had lucked out with (in our opinion) the sweetest, cutest, most fun ball of fluff.
Our first wedding anniversary was in May. With our work being affected by the pandemic, we agreed that our anniversary gift to one another was adopting Huckleberry. With the traditional first-anniversary gift being paper, we thought his adoption papers were the best version of this gift possible!
We feel blessed that it worked out so that he could make his way to us."
– Jennifer Dunaway, JD Public Relations
Felicia, Lucky Dog Rescue (Chapala, Mexico)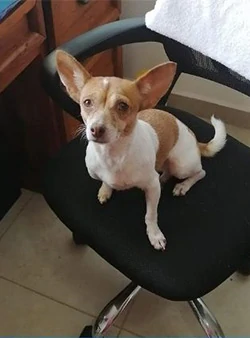 "I volunteer at a dog shelter here once a week and see my fair share of abandoned and stray dogs come in, get healthy, and get adopted out. Volunteering here is my happy place.
This one little peanut (Chihuahua) kept getting adopted and then returned. She didn't seem to be a good fit for anyone really. She was scared, codependent, and a little aggressive. I couldn't handle her being in the cold shelter at night alone anymore, so I grabbed her and took her home with me.
She's been here for five months now, and she's the most ridiculous, cute, and funny little critter I've ever owned. She sits on my lap all day while I work from home on the computer, and playtime with her is throwing this ridiculously ugly shoe (it has to be that one) for 15 minutes.
Though I've never been a Chihuahua lover, this girl has stolen my heart. At the shelter, her name was Penny, but I renamed her Felicia because of her attitude!! But she normally just gets called Bum or Boo. She answers to just about anything, especially the cheese wrapper."
– Iva Ursano, Canadian ex-pat living in Mexico, Amazing Me Movement
Luna (Aarhus, Denmark)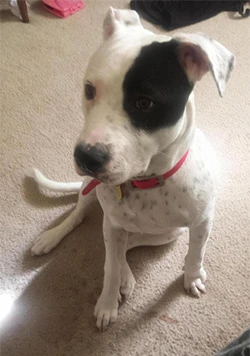 "Our family recently rescued a dog from negligent owners down the street, and so far, the poor thing is still scared and confused. She was chained up outside in a small kennel with barely any food, water, or shade to keep cool and out of the sun.
Our other two dogs are over the moon about their new play pal, even if she's still shy and timid. The previous owners had no objections to us asking to take the dog and acted as if she was a nuisance, even though she is only 6 months old.
It's been two weeks since we rescued her and got her checked by the vet. Other than malnourished and dehydrated, she's in good health and now caught up on her shots.
As far as we can tell, she is a pit bull mix, and it seems like she will stay relatively small. Her personality is slowly starting to show as she gets used to us as her new family. We've named her Luna, as she's almost pure white with light gray freckles everywhere.
Now she is part of the family, we are happy to have rescued her, and she really helped lift everyone's spirits over the past few months during these difficult times."
– Daniel J. Mogensen, Founder and Lead Developer at Kodyl
Cash (Da Nang City, Vietnam)
"We decided to foster (and eventually adopt) a special needs dog right before our first lockdown here.
Before telling you about our pup Cash, I think it's important you know a bit of what it's like for dogs here in Vietnam. We live in Da Nang, a lovely tourist spot on the beach. While we enjoy our life here, it's not so great for dogs. There are a lot of strays on the streets, which means a lot of dogs get hit and injured by motorbikes and cars. It's also culturally acceptable to eat dogs here. With the economy plummeting due to the (COVID-19) outbreak and jobs dwindling from a lack of tourists (the borders here are closed), it's increasingly common to hear about people's pets, both dogs and cats, being stolen for the meat trade. Thieves usually incapacitate the animal with a taser or poison before taking their bodies.
Needless to say, this is not a happy place to be a street dog. Cash had a hard run of luck early on. He was hit by a motorbike when he was about a year old. As a result, he is paralyzed from the waist down. When we got him from the shelter, it had been about 6 months since the accident. He had a large abscess on his rump that we cleaned and cared for. We were also able to get a volunteer to make a wheelchair for him so that he can get around more easily.
He was pretty paranoid and on edge when we first got him. I think it was because he spent so much time on the streets and in the shelter fighting for what he needed to survive. He didn't like other dogs or strangers near his food or bed in our apartment, and he would eat his food so quickly that he would sometimes get sick. But he's since gotten so, so much better! He's gained weight, and the large wound from the accident has completely healed. He absolutely loves head scratches, patrolling our apartment while we sleep, and snaking around the beach.
But it's not just his life that has been enriched since he came to live with us. He also makes our home a happier place, and our lockdown is a bit easier with his antics and pure puppy love."
– Bryan Truong, Digital nomad, Co-founder of GameCows
Joey, A New Chance Animal Rescue (New York, New York)
"I just fostered and then quickly adopted Joey – an 8-10 month old Shepherd mix from A New Chance Animal Rescue. Apparently, he was seized from an owner with several other dogs in South Carolina and was driven up to NY. He was so scared when we first brought him to my home, but after about 12 days, he is flourishing and is a beautiful dog. He still hates his crate (something must have happened to him early on)."
– Toby Amidor, MS, RD, CDN, FAND, Owner, Toby Amidor Nutrition, PCAward winning nutrition expert, WSJ best-selling cookbook author
Did you rescue a dog during COVID-19 or know someone who did?
Source: [1] AdWeek
Tagged With: Adoption