To sustain this free service, we receive affiliate commissions via some of our links. This doesn't affect rankings. Our review process.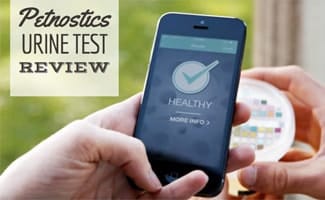 If your pet suffers from bladder infections, urinary tract infections, kidney stones or any other urine-analysis related illness, Petnostics may save you money and time.  Instead of going to the vet before you know whether something is really wrong, the Petnostics urine test strips for dogs can be used to diagnose your pup at home using just a pee cup and your smartphone. You might recognize this product from season 7 of Shark Tank when this idea was pitched by Stephen Chen, the founder of this product. Either way, you will want to learn more about how Petnostics works and how it could benefit you and your furry friend.
Note: We recommend that if you opt to use a Petnostics urine test for dogs and get any abnormal results, please take your pup to the vet for further testing. For example, if your dog tests positive for liver disease, then you should have your vet confirm it asap so you can quickly begin any necessary treatment. Another example is if your dog suffers from urinary tract infections regularly, then this dog UTI test can help you determine when your dog requires treatment. Now, keep reading for our full review of Petnostics and how it could potentially help you.
Key Features
Three step process to analyze your dog or cat's urine: collect urine, seal cup, run diagnostics
Analyze your pet's urine through the Petnostics app
Discover health issues such as UTI, dehydration, diabetes, kidney stones, bacterial infections, liver disease, ketonuria, anemia and proteinuria
Pros

Cons

Less expensive than having your pet's urine analyzed at the vet's office
App lets you forward results to anyone, including your vet
Responsive to customer feedback
The urine collector is very helpful for dogs
Cat litter is convenient for collecting your feline's urine

Single use
Reports of the same test giving different results depending on the angle of the phone and lighting
Must pay extra for the urine collector
Price
Do Customers Think Petnostics Is Easy to Use?
Below are some dog urine test reviews we gathered online to give you an idea of how easy this urinalysis test for dogs is. Note: Both negative reviews are from Android users with complaints about the app so maybe iOS users will have more luck. Or, even better, maybe Petnsotics will fix its Android app!
Positive Reviews
I just followed the directions from the app and was able to get my dogs results quickly. Scanning the strip was painless and gave me a lot of good info. Must have for pet owners! – Skymek1, Google Play 1/30/2017
App works great! I couldn't scan so I went through the manual image process and they came back with a response and my results really quickly! – Brookelynn R., Google Play 1/30/2017
Negative Reviews
Worst part is the scanning process. Doesn't give any information about why it's not able to scan, doesn't let you know when you're close to getting the scan, or when the scan has started. Also, registration is difficult. Never tells you to verify your email. Makes you enter your name again and again, and your pet's name again and again. A very frustrating app. – Vincent C., Google Play 6/24/2016
Didn't work. Scan gave back no useful feedback Super disappointed. I sat for five minutes trying to get the lid to scan and all I got back was "Sorry! Android is unable to process this type of cup at this time". Then why did I even bother getting all up in my dogs business? Would have been worth it if it worked. – Shanon D., Google Play 8/4/2016

Note: We found in our research that there were several complaints of issues with the Android app, however were informed from Petnostics that a newer version released March 2017 resolves those issues and it's now up to par with the iOS app.
Petnostics Demo
Don't Forget the Veterinarian
As a friendly reminder, just because you tested your pet's urine doesn't mean trips to the vet need to stop. In fact, if you find something, this is the time to visit your veterinarian's office asap for further testing and treatment. It's also important to continue going to your pet's annual checkup and participating in any necessary follow-up appointments. Check with your vet to see how often your pet should be seen and consider using Petnostics to give you an idea of your furry pal's health in between appointments.
What results did your pet get when you used Petnostics?
We are a participant in the Amazon Services LLC Associates Program, an affiliate advertising program designed to provide a means for us to earn fees by linking to Amazon.com and affiliated sites.
Disclaimer: The information provided through this website should not be used for diagnosing or treating a health problem or a disease. It is not a substitute for professional care. If you have or suspect you may have a health problem, you should consult your health care provider.
Disclaimer: This website contains reviews, opinions and information regarding products and services manufactured or provided by third parties. We are not responsible in any way for such products and services, and nothing contained here should be construed as a guarantee of the functionality, utility, safety or reliability of any product or services reviewed or discussed. Please follow the directions provided by the manufacturer or service provider when using any product or service reviewed or discussed on this website.