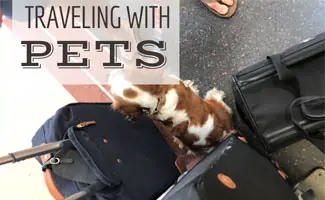 Headed out on holiday and want to bring your furry family member along for the ride? Perhaps you are going to a conference or traveling for work and would like for your pup to keep you company? Whether it's a short road trip or a long-haul flight, here are a few tips for smooth sailing for you and your travel companion.
Before You Book A Flight
First, consider the following when planning your trip with your cat, dog or another pet:
Destination – Is it a pet-friendly spot? Are there plenty of parks, patios and outdoor activities? Familiarize yourself with the local dog laws and find out if Fido will be welcome where you go. Be sure to reference our article on tips for dining out with dogs.
Timing – If you're traveling during peak season, holidays or summer months, you might anticipate delays due to weather or traffic. Also, the time of day makes a difference, so try to leave early to beat the rush and crowds. Experts also recommend traveling during the week rather than on weekends (this way you can avoid office closures and higher traveler volume).
Mode of Transportation – If your destination is within driving distance, the best way to travel with a dog is by car. That way, you can have more flexibility for pit stops. But if driving isn't an option or you prefer other methods of travel, you can take your pet on a plane, train or bus if they meet the requirements (more on that below).
Ground Transportation – Will you require ground transportation once you arrive? Uber or Lyft both allow pets at the driver's discretion. Once you confirm your driver, contact them and ask before you hop into your ride.
Accommodations – Staying with someone you know? Make sure they're willing to host your animal (in addition to you). Hotels, bed and breakfasts, and vacation rentals might allow animals but might charge an additional fee (per night or per stay). Additionally, they could have a weight restriction. Luckily, more places are lenient to letting pooches at their properties (and even cater to them with dog bones and pet gifts upon check-in). Read our article on pet-friendly hotel chains to learn more.
Activities – What's on the agenda for your adventure? Traveling for work and have meetings during the day? If you plan on leaving your dog alone for an extended period, use one of these pet sitting apps to find a reliable walker or doggy daycare in the area who can give you peace of mind while you're out having fun or being busy.
Before You Go
Of course, no one intends to deal with a runaway pet. But should they wander off, it will be much easier to find your pet with an ID tag. Double-check that the contact information is correct including the best way to reach you while you are on the go.
Schedule A Vet Visit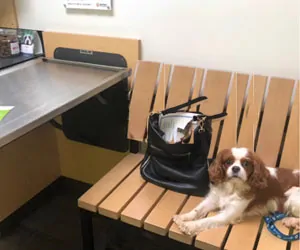 It's always recommended to confirm that your dog is up to date on all of their vaccinations since your dog could come in contact with illnesses while traveling. Carry a hard copy proof of records and medical history with you while in transit.
International travel (or outside the continental U.S.) requires at least one pre-flight vet visit to a USDA accredited vet, who will sign off on the health certificate needed to travel. If crossing any borders, you'll also need to have a vet health certificate stating your pet is fit to fly. Visit the Department of Agriculture's site to check if your dog meets the health requirements.
Additional visits may be needed if vaccine updates are in order, and taking the opportunity to request a full checkup isn't a bad idea, either. Especially if your dog is a senior or prone to genetic complications, having them undergo a comprehensive exam is the best way to identify any underlying issues that may complicate travel.
Pack For Your Pooch
It's easy to forget things when packing for yourself for a trip or vacation, but remember everything your pet might need including:
Bedding or blanket.
A favorite toy or two.
Enough food for the time you plan to be gone — if you have a kitchen or are planning an extended trip, you can make your own dog food.
Bones and treats for rewards.
Leash and collar.
Water dish and food bowl.
Medications (if needed).
Pet Carrier (see next section).
In addition to the packing list above, you'll want to have these items handy in transit.
Reward treats in a clear Ziploc bag (that way you won't get questioned at security).
Reusable water bottle and collapsible bowl (or better yet a dog water bottle with a built-in dispenser).
CBD treats for anxiety.
Small bag of food (if it's a long trip or in case of delay).
Anxiety medication (if needed).
Train Your Dog To Travel In A Carrier Or Crate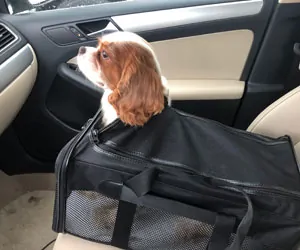 Check the airline's regulations and get an airline-approved pet carrier (usually soft-sided). They'll suggest that your dog can stand up and move around comfortably in it.
We also recommend one with pockets or compartments on the sides to stash their stuff you'll need on the go. And don't forget to put a travel tag with your contact information and your dog's ID on the handle.
Often overlooked or put off until the last minute, carrier acclimation is one of the most important parts of planning your travels. Working to help your dog feel comfortable in their carrier (where they'll be spending several hours) is one of the kindest things you can do for your pet, as building familiarity with this environment will help to reduce their stress levels immensely.
Dogs and cats who see their crate as a comfortable and normal place to hang out are much better travelers. Use treats toys and other training techniques to gradually help them get used to their airline-approved carrying case in the weeks before you fly. You might try shorter car rides to get them adjusted to the feeling. Start with them in the carrier unzipped on the seat, then partially closed and then with the entire flap zipped up. You might even work up to putting them on the floor under your feet.
Flying With A Dog
Keep these things in mind as you get ready to embark on your journey. Most of these tips are for flying, but they can be applied to trains, buses or other methods of travel.
Choose A Pet-Friendly Airline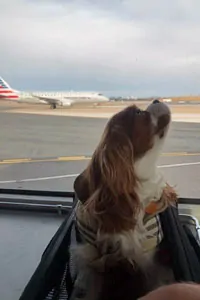 Some airlines are more pet-friendly than others, so do your research before you book your pet's flight.
Our research reveals, these airlines have an established track record and are dedicated to successful pet transportation. Top choices for savvy pet travelers within the domestic United States:
Southwest – Allows up to six pets on domestic flights only for $95 each way.
Jet Blue – Accepts up to 4 small cats and dogs (up to 20 pounds) on domestic flights and some international destinations for $125 each way.
Best airlines for pet travel outside the U.S. and international travel:
KLM – Small cats or dogs can ride in the Economy Class cabin of most flights and Business Class for flights within Europe for a fee of 30 to 200 Euros depending on destination.
Lufthansa – Up to 2 animals (minimum age: 16 weeks) in the cabin for the cost of 50 to 110 Euros per flight depending on the route.
Know The Policies
Pet policies are set by each airline, but most use the following guidelines:
Pet and carrier combined weight can't exceed 20 pounds.
The animal must be in a carrier at all times and fit under the seat in front of you (counts as personal item towards bag policy).
Maximum of two pets per customer (same species in the same carrier).
Passengers with pets may not sit in the exit row.
Pet must be at least eight weeks old and up to date on vaccinations.
You must notify the airline and fill out associated paperwork at least 48 hours in advance of the flight.
If not, they'll need to go in the cargo area. Find out if they have a temperature-controlled cargo area, and if not, consider leaving your pet at home.
Many airlines have established "pet safe" programs, which means they follow specific guidelines for pets, such as using temperature-controlled ground vehicles and following a last on/first off loading protocol.
Note that airlines have been cracking down and will not accept certain types of pets or snub-nosed dog breeds like Pugs or Bulldogs since they have a more difficult time breathing in higher altitudes. Other animals, including reptiles and birds, are frequently not allowed on board either.
Ultimately, the airline's main priority is to ensure the safety and comfort of every passenger.
Select The Right Route
As for routing, sometimes a direct flight makes the most sense. In other cases, it could be better to schedule a layover to give your dog a chance to leave their kennel (under the pet safe airline's supervision) for a bathroom, stretch and meal break. During the booking process, pay attention if there is an option to add on a pet — in most cases, you can pay the fee at checkout.


Notify The Airline Ahead Of Time
Contact the airline ahead of time to ensure that your pup meets the airline's size/weight requirements and fill out the associated paperwork (if needed). There is no FDA standard, and each airline sets its own rules. Therefore, you need to check with the airline before you book. A few airlines ask for up to 30 days of advance notice and have a limit on how many pets per flight.
Locate The Pet Relief Areas
Get to know where the pet relief areas are at the airports you will be traveling to ahead of time (including layovers). Most smaller airports will only have them outside. In this case, if you need to take them out, ensure that you have plenty of time to leave and come back through security. And don't be surprised if your pup is potty shy as there are lots of people passing by which might distract them. Some dogs also may not be accustomed to going on fake grass.
Day Of Travel Preparations
Pets are passengers and should be just as respectful of others as humans are. However, just like you can't control crying babies or kids who kick your seat, you can't control your dog. But bringing a dog on a plane can be a stress-free situation for everyone on board if you follow these tips.
We should note that our advice is based on how to fly with your dog in the cabin (versus checked in the cargo).
Before The Flight
Your travel day can be hectic (especially when adding a pet into the mix). Follow these guidelines to make things less chaotic.
Take your dog potty before going into the airport (or train station). That way they resist the urge to go potty while in transit.
Resist giving your dog larger meals before your flight (if possible) and restrict water intake to avoid accidents.
Get to the airport or train station extra early. Most likely, you'll need to go to the ticket counter ahead of time to check them in (no mobile boarding passes for them, sorry!).
Your dog will go through security (just like everyone else). Prepare to remove their harness, collar and leash and guide (or carry) them through the metal detector.
Fill up your dog's reusable water bottle once you get through security to have plenty of water for them to drink.
If you have the option to select your seat, try to find a location close to the front of the plane so you can de-plane quickly (pay extra; it's worth it). If you have the luxury of a non-packed flight, see if you can request a spot without anyone next to you for a little extra breathing room under the seat.
Check excess bags, so you have enough hands to carry your pet in their carrier along with your purse or other personal belongings. Not accustomed to taking your pet in a carrier? Practice at home. Better yet, get a carrying case on wheels or one that can strap onto your roller bag to make it easier on you (and your back).
During The Flight
Buckle your seatbelts — it's time to take off. You can sit back and relax, thanks to these friendly reminders.
When boarding, notify the flight attendant and passengers around you that you have a pet. That sets expectations in case of any in-flight issues, and any nearby allergic passengers can get a new seat if needed.
Unless they are a therapy dog, keep them in their carrier at all times.
Slip small treats in their carrier throughout the flight to reward them for good behavior.
Pet their head or put your hand next to the mesh so they can sniff your scent and give them security.
After The Flight
Ahhh, you made it! As soon as you land:
Head to a relief area (outside if possible). Even if they don't need to go, your pet can get fresh air and stretch their legs.
Schedule time for a little exercise like a walk or fetch before starting the next leg.
Have fun and give them lots of ear and belly rubs for a job well done.
Traveling By Car With Your Canine
Going on a road trip with your pet? We've got a whole article dedicated to traveling with dogs in cars, including specific gear, safety precautions and more.
How To Minimize Your Pup's Anxiety While Traveling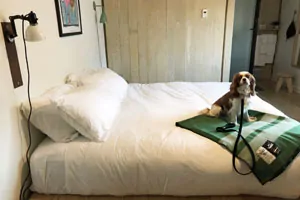 Our pets know when something is up and sense when you're planning to head out of town. Hence their tendency to follow around your suitcase or act strange when you're packing. The anticipation of change and loneliness can turn your pet's normally calm personality into a frazzled Fido.
There are steps you can take as a loving pet parent to minimize your pet's travel anxiety and make life better for the whole family:
Keep your dog on a regular schedule while gone — this includes food and potty breaks.
Limit the amount of travel that you do with your pet — don't overdo it.
Don't leave things lying around for your pet to "dig around in" just because you are away from home. All those new (to them) decorations could look like fun play toys. Keep them out of your pet's reach.
Keep introductions of new friends (pets or people) to a minimum and don't over-stimulate them.
Inspect the area where you plan to walk your pup before taking them out. There may be unlit areas, unsafe sidewalks, broken glass or even snakes or other varmints that could harm your pet.
If your dog has anxiety issues, speak to your vet about possible anti-anxiety medications they could take. We also recommend CBD oil or essential oils to help calm dogs who might be nervous. You might try getting a Thundershirt for them, but only leading up to the trip or once you are getting settled in post-travel (not during transit in case they get tangled up in it).
Video: Pet Travel Tips
Watch this video we made with pet-friendly travel tips.
Should You Get Pet Travel Insurance?
First off, what is pet travel insurance? It is insurance that covers the financial risks associated with your traveling pet from when they are dropped off at the airport to when they are picked up at the end destination. This is generally for pets traveling with a pet relocation service. This policy covers vet bills that arise during the transport period, assuming your policy covers the need in question.
What If Your Pet Is Hurt While On Vacation With You?
So, what if your dog needs vet attention while traveling with you on vacation? This would not be covered by pet travel insurance but by pet health insurance (aka pet insurance), the same policy that would protect them at home. Pet insurance is often purchased to manage the expenses that you cannot plan for when your pet has an unexpected illness or injury. It allows you to make the best health decisions without worrying over the financial impact of your choices since you have been paying a monthly premium to allow you this freedom during a difficult moment. Check out our pet insurance comparison charts to find out how pet insurance could protect your dog and your wallet.
More Tips On How To Travel With A Dog
Moving to a new city or country with your pet? You might consider a relocation service that specializes in pets. They take care of everything for you from start to finish for long and short-distance moves. And, after all the fun, your dog might be dirty and in need of a bath, so check out our dog bathing guide. Ready to jet set with your furrr-quent flyer?
Tagged With: