Owning a Great Dane is an unforgettable experience. These giant-sized dogs are huge sweethearts with big appetites. Feeding one of these big dogs is no small task, especially because not just any old food will do. There are a few things to know about this breed's nutritional requirements that are pivotal to keeping them healthy. Finding the best dog food for Great Danes is vital to keeping these big beauties happy and healthy.
Great Danes have different dietary needs as they age and do best when fed dog food made for large and giant breeds. They also fare well on fresh and human-grade dog foods. Many Great Dane owners agree that premium dog foods work much better for these pups from puppyhood through their senior years. Owners should consider fresh, human-grade options.
Whether a novice Great Dane parent or an experienced pro, there are plenty of options to pick from. Let's get into the details and requirements for feeding these gentle giants.
At A Glance: Best Dog Foods For Great Danes
Note: All of the dog foods we've included in our reviews meet or exceed Association of American Feed Control Officials (AAFCO) nutritional guidelines, are made in North America, and contain no preservatives or artificial ingredients.
Nutritional Needs For Great Danes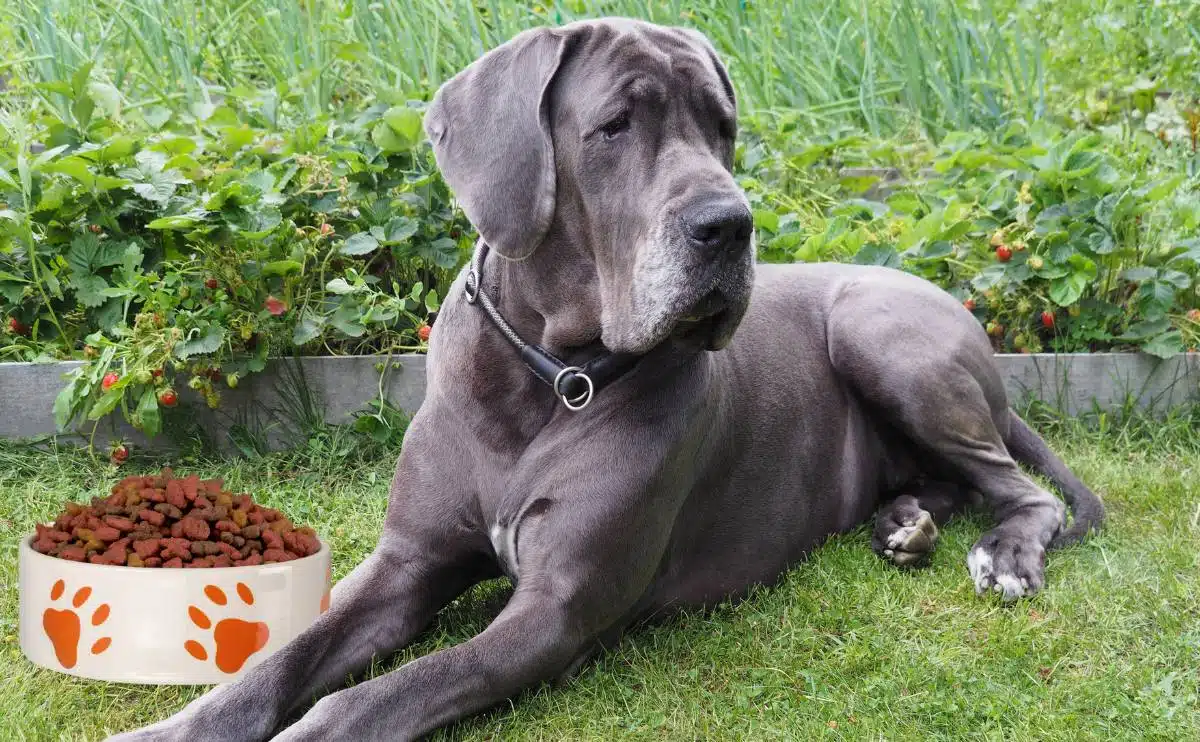 Despite their size, Great Danes are surprisingly delicate, requiring careful attention to their diet and exercise needs. Their large size also means they have distinctive nutritional requirements that differ significantly from smaller breeds. Guaranteeing your Great Dane gets the proper diet is crucial for their health and well-being.
A Great Dane's lifespan is generally shorter than other breeds, typically ranging from 7 to 10 years. Providing the best care and nutrition from puppyhood to their senior years is fundamental for a long, healthy life.
Great Danes need special attention paid to protein, calcium, and fat.
The best dog food should contain high-quality protein as the primary ingredient. Proteins support muscle development and repair and provide the essential amino acids your dog's body cannot produce independently. Look for foods with whole meat or meat meal as the first ingredient. Real meat, fish, and poultry are preferable proteins for this gentle giant. Try to find brands that list two animal proteins within the first three ingredients.
These gentle giants are also prone to heart conditions and joint problems due to their size. A diet rich in omega-3 fatty acids can support heart health, while ingredients like glucosamine and chondroitin can support joint health.
Calcium & Great Danes
Calcium is essential to Great Dane nutrition, but be careful not to give them too much. Calcium is very important with puppies, who cannot regulate their calcium absorption as well. Too much calcium can impact bone health and even cause malformations in the skeleton. It can also lead to long-term health issues like elbow and hip dysplasia and arthritis.
According to the National Research Council (NRC), dogs need 50 mg of calcium per mg of body weight. The Association of American Feed Control Officials (AAFCO) recommends 1.25 grams per 1,000 calories.
How Much Do Great Danes Eat?
There is no other way to say it other than outright, Great Danes eat a significant amount of food. Even in puppyhood, they require a large amount of food in the bowl. Be careful, as it is easy to overfeed these pups. Do not let them free feed, especially as puppies, as they will overeat. This can lead to too many calories, which causes bone and joint development issues.
Larger breeds are also at risk for gastric torsion, also called bloat, which can occur after eating or drinking too fast. The condition can quickly become serious or even fatal. Feeding your gentle giant smaller, more frequent meals and avoiding exercise immediately after eating can help prevent bloat.
Full-grown Great Danes can eat anywhere from 25 to 40 pounds of food a week, depending on size. Males eat more than females, as they are larger and require more energy.
Adult Danes need between 5 and 10 cups of chow every day.
Puppies will eat 2 to 8 cups of food every day. Younger puppies will need three meals a day.
Adults need between 2400 and 3500 calories per day.
Beyond Basic Ingredients
All dog food should include protein, carbs, fat, fiber, and essential vitamins and minerals. But many of the most nutritious premium dog foods are fortified with additional ingredients with significant health benefits for your furry friend. Here are a few things you will want to look for and how they support your pup's health. For your convenience, we've listed these premium ingredients in our reviews.
Fruits & vegetables: excellent natural sources of fiber, vitamins, minerals, and antioxidants to support immune health
Fish oil and/or flaxseed: sources of omega-3 and 6 fatty acids, Docosahexaenoic Acid (DHA), and Eicosapentaenoic acid (EPA) that support brain and eye development and skin, coat, joint, and immune health
Glucosamine & chondroitin sulfate (often from chicken meal*): maintain healthy joints
Prebiotics & probiotics: support digestion and a healthy level of good gut bacteria (often includes dried chicory root, a powerful natural prebiotic)
Taurine: supports cardiovascular, eye, and brain health, immune system function, and benefits many other body functions
L-carnitine: an amino acid derivative that helps the metabolism of fats (particularly beneficial for older, less active dogs)
Organ meats: excellent source of premium quality protein and fat as well as vitamins A, B, D, and E, copper, iron, phosphorus, selenium, and zinc
Chia seeds: rich in plant protein, fiber, antioxidants, omega fatty acids, calcium, potassium, magnesium, manganese, zinc, phosphorus
*A note about meat meal: Quality pet food brands often use meat meal in their recipes, which can be a very healthy source of protein for your pup (as long as the "meat" is named, e.g., chicken meal, lamb meal, etc.). A meal can be made from the meat, tissue, organ meat, bone, stomach, and intestines of the named animal. But meal doesn't include by-products like hair, feathers, beaks, heads, blood, hooves, hide trimmings, etc.
Best Food For Great Dane Puppy
Great Dane puppies have different nutritional needs than adults and senior dogs. Puppies require a diet rich in protein, fats, and calcium to support their rapid growth and development. However, it is essential to avoid diets that promote too rapid growth or have too much calcium, as it can lead to skeletal problems in the future. This breed needs to be on puppy-formulated chow until they reach 18 months old, so pay attention to calcium in the formulas. They also need healthy protein and a good amount of healthy fat to support their growth.
According to the MSD Veterinary Manual, puppy kibbles need a minimum % protein content of 22%. However, larger breeds like the Great Dane need a minimum protein level of at least 26% and a minimum fat content of 8%. Try to find puppy food that uses between 25 and 30% protein and between 12 and 18% fat. Puppies need at least 1.2% calcium in their diet. Between 1.2 and 1.8% is optimal for Great Dane puppies.
The Farmer's Dog Chicken Review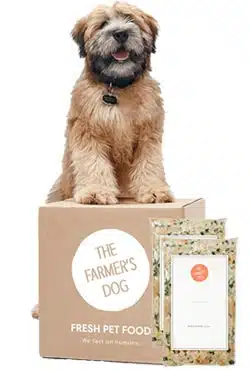 The Farmer's Dog offers top-notch ingredient quality, fantastic flavor, and some of the best nutritional value one can find for dogs. It is a premium, human-grade option that Great Dane puppies will thrive on. Of course, the food is excellent for all ages and is one of our top picks for all dogs. The company offers other protein choices, but chicken is our top pick for these giant puppies. Ingredients are all-natural and human-grade.
No grains, corn, soy, or preservatives. The Farmer's Dog customizes meal plans for specific life stages and dietary needs. Owners create a personalized profile, and the team creates an individual meal plan. The Farmer's Dog uses recipes developed by board-certified American College of Veterinary Nutritionists. All recipes meet AAFCO guidelines for every life stage. All meals are freshly prepared in USDA-certified kitchens. The preparation process preserves whole food and nutritional integrity. Recipes come in beef, chicken, turkey, and pork.
First 5 ingredients: Chicken, Brussels sprouts, chicken liver, bok‐choy cabbage, broccoli
Formula highlights: All natural ingredients, whole foods, no preservatives, antioxidants, fresh fruits and vegetables, fish oil, personalized nutrition plan
Guaranteed analysis: crude protein 11.5% (min); crude fat 8.5% (min); crude fiber 1.5% (max)
Calories: 590 calories per pound
Price
Starts at $2 to $12 per day depending on the dogs' size and products selected
Learn more about The Farmer's Dog coupons here.
Read Our Full Review Of The Farmer's Dog
Wellness Complete Large Breed Puppy Review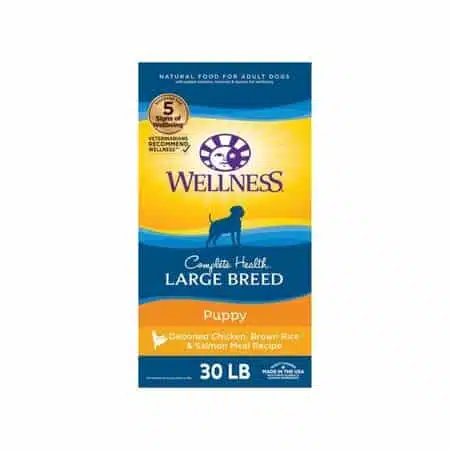 View on Amazon | View on Chewy
Wellness's premium puppy kibble is designed just for the needs of large and giant breeds. Fresh meat is the first ingredient, and the recipe contains plenty of good ingredients to support large-breed pups. Wellness kibble contains 1.3% minimum calcium, so it is a healthy level for large, bodied breeds like the Great Dane. There are no artificial ingredients or preservatives. The recipe contains no GMOs, meat byproducts, or common fillers like corn or wheat gluten. We like that it is explicitly developed to provide healthy support for bigger breeds.
Wellness Complete also makes a canned puppy formula offering holistic nutrition for growing dogs. The wet products include fresh chicken and salmon and plenty of extra moisture.
First 5 ingredients: Deboned chicken, chicken meal, peas, ground brown rice, salmon meal
Formula highlights: DHA, chicken fat, salmon oil, no corn, grain, wheat, or soy, ground flaxseed, blueberries, apples, sweet potatoes, carrot
Guaranteed analysis: crude protein 29% (min); crude fat 13% (min); crude fiber 5% (max)
Calories: 367 kcal/cup
Price
Nutro Natural Choice Large Breed Puppy Review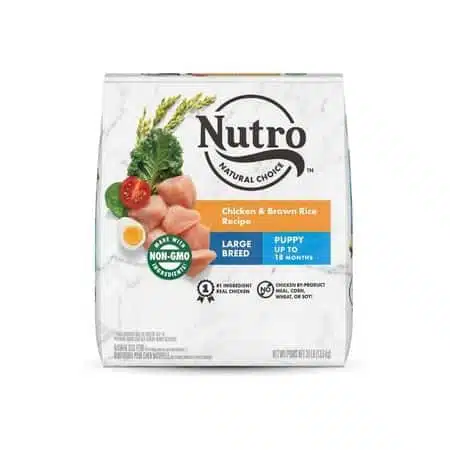 View on Amazon | View on Chewy
Nutro's formula is developed specifically to support large breeds. The recipe includes omega-3 fatty acids, DHA, and 1.2% minimum calcium. The high-fiber, high-protein, human-grade, natural recipe uses all non-GMO ingredients and includes no corn, soy, or wheat. Formulated to support healthy digestion as well as puppy growth and energy.
One thing we appreciate about Nutro's kibble is that it is made specifically for large breed puppies and developed to be fed until they are 18 months old. Great Dane puppies need to be on puppy formula until they reach 18 months, and many others are not formulated for dogs of that age. Ingredients are all sourced from a specially vetted network of farmers and suppliers.
First 5 ingredients: Deboned lamb, chicken meal, Brewer's rice, split peas, rice bran
Formula highlights: Chicken fat, lamb meal, fish oil, chia seed, dried pumpkin, dried kale, and dried spinach, contains glucosamine and conjuration sulfate
Guaranteed analysis: crude protein 26% (min); crude fat 14% (min); crude fiber 3% (max)
Calories: 326 kcal/cup
Price
Best Food For Adult & Senior Great Danes
Adult Great Danes need plenty of calories, about 25 calories per pound of weight. That means they will need between 2500 and 3000 calories every day. Stick to a diet high in protein with moderate healthy fat. It is best to feed your adult Dane scheduled meals of a moderate size. Remember that the breed likes to eat quickly, putting them at high risk of bloat. Adult dog food should contain 1.8% calcium at a minimum. The Great Dane breed is considered seniors at about 6 years old.
Senior Danes have slower metabolisms and may be less active than their younger counterparts. Therefore, they require a diet lower in calories but still rich in high-quality protein to support muscle health. It's also beneficial to include joint-supporting nutrients like glucosamine and chondroitin in their diet. Senior Danes will need fewer calories than adults, between 2,000 and 2500 daily, depending on their activity level.
Spot & Tango UnKibble Review
Spot & Tango UnKibble is a fantastic alternative to traditional kibble and a solid pick for the adult and senior Great Dane. The brand also makes fresh dog food. Both are delivered on a subscription basis. Owners can create custom plans with both fresh and dry food. UnKibble comes in three flavors: Beef & Barley, Chicken & Brown Rice, and Cod & Salmon. The shelf-stable, dehydrated food is tasty, made from fresh, human-grade ingredients, including fresh vegetables and plenty of named meats.
I have personally tried UnKibble for my older, large-breed dog. She absolutely loves it. We were experiencing some picky eating and low energy. Once she started the UnKibble, she gobbled up her food and had plenty of energy. I have even noticed an improvement in her skin and coat health. Below we break down the Beef & Barley recipe.
First 5 ingredients: Beef, barley, flax, carrots, green beans
Formula highlights: Beef liver, beef heart, beets, cranberries, rosemary, kelp, salt, natural preservatives, fish oil, safflower oil, beets, broccoli, carrot, spinach, pumpkin, and more
Guaranteed analysis: crude protein 27% (min); crude fat 22% (min); crude fiber 4% (max)
Calories: N/A
Price
Starting at $1.06 per meal process varies based on recipes and your dog's needs.
Learn more about Spot & Tango coupons and savings here.
Read Our Full Review Of Spot & Tango
JustFoodForDogs Review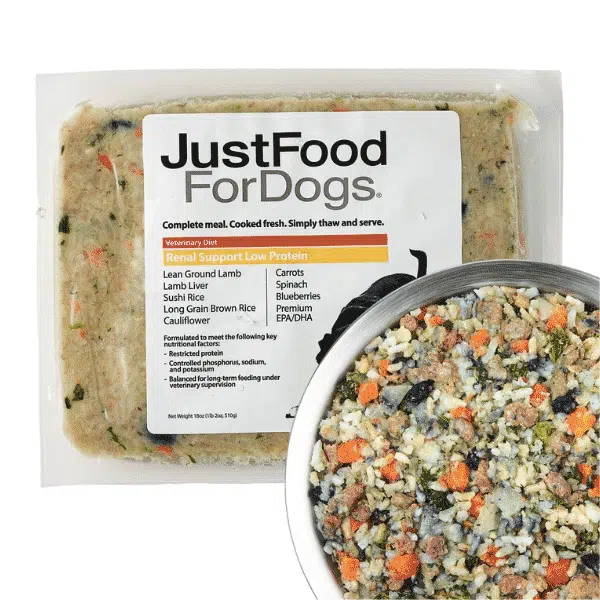 View on Chewy | View on JustFoodForDogs
Premium canine nutrition made with fresh, human-grade ingredients is best for Great Danes at any age. JustFoodForDogs' fresh-frozen option is formulated specifically for larger breeds. Developed to support healthy digestion and is fortified with glucosamine and chondroitin to support joint and bone health. The recipe uses no rendered meats, artificial colors, flavors, or preservatives. Food is gently cooked, retaining maximum nutritional value and flavor. Beef recipe uses beef and brown rice and is high in insoluble fiber to help support healthy digestion. An excellent choice for adults and seniors.
First 5 ingredients: beef, brown rice, beef heart, carrots, green beans
Formula highlights: beef liver, sunflower oil, flaxseed oil, fish oil, calcium carbonate, shellfish shell meal, beef cartilage, organ meats, limited ingredient
Guaranteed analysis: crude protein 9.5% (min); crude fat 10% (min); crude fiber 1.5% (max)
Calories: 56 kcal ME/oz. kcal/cup
Price
Starting at $272.58 (80-oz. pouch case of 7)
Read Our Full Review Of JustFoodForDogs
Ollie Fresh Review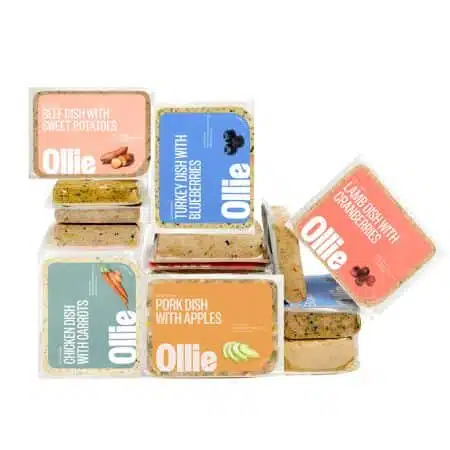 Ollie is another human-grade food company that offers above-average nutrition and quality. Premium food is best for Great Danes of any age, and these fresh, human-grade meals can be served alone or mixed in with your favorite kibble. They offer 7 recipes with all-natural ingredients, no fillers, and no artificial preservatives. Ollie also makes baked kibble, which is another excellent choice. Recipes are created by veterinarians and are purchased through a subscription. Meats are sourced from family-run farms in Australia and the United States. Below we break down the Turkey recipe.
First 5 ingredients: Turkey, kale, lentils, carrots, turkey liver
Formula highlights: Organ meats, chia seeds, sunflower oil, salmon oil, no corn, wheat, or soy, blueberries, pumpkin
Guaranteed analysis: crude protein 11% (min); crude fat 7% (min); crude fiber 2% (max)
Calories: N/A
Price
High Protein Dog Food For Great Danes
Some pups will do better on a high-protein diet. It may be needed to support growth, provide more energy, help with weight, or support aging and health needs. For these pups, look for high-quality animal protein sources.
Raised Right Review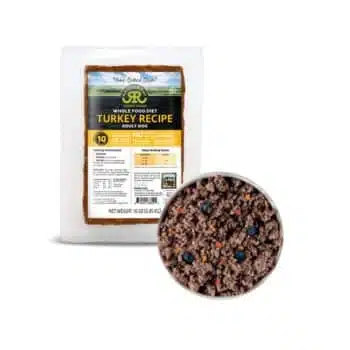 Family-owned human-grade pet food company. Offers formulas for different ages, including puppies. Uses high-quality animal proteins and fresh fruits and vegetables. Includes organ meats and other elements to boost nutrition, like cod liver oil, flaxseed oil, kelp, egg shell powder, and organic spearmint that boost probiotics and other nutrients. Food is all prepared and cooked at a low temperature to retain flavor and nutritional value. Made in a human-grade kitchen with human-grade ingredients. Comes in the original recipe and a pate. Below we break down the Beef & Pumpkin pate.
First 5 ingredients: Beef heart, pumpkin, beef, organic spearmint
Formula highlights: Organ meat, flaxseed oil, eggshell powder, cod liver oil, organic dried kelp, limited ingredients
Guaranteed analysis: crude protein 21% (min); crude fat 6% (min); crude fiber 2% (max)
Calories: 312 kcal/cup
Price
Read Our Full Review Of Raised Right
Acana Meadowland Grain-Free Highest Protein Review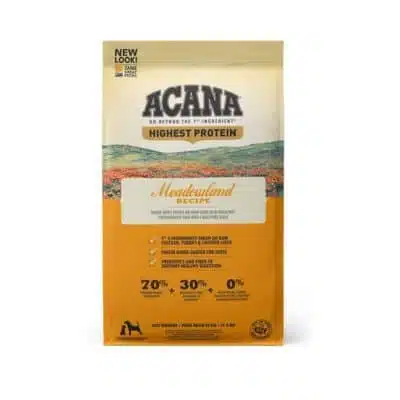 View on Amazon | View on Chewy
High protein, nutrient-dense kibble made from fresh or raw chicken and turkey. It also includes raw veggies and fruit. Kibble is coated with freeze-dried chicken and turkey. The recipe uses 70% animal ingredients. Meats are free-run, wild-caught, and sustainably farmed. Includes 30% vegetables and botanicals. Added probiotics, as well as minerals and natural preservatives. Uses the best quality ingredients from a specially curated group of suppliers. All food is made in Kentucky, in-house. All-natural formulas use no corn, wheat, soy, or gluten. Raw nutrition in a tasty, crunchy kibble.
First 5 ingredients: Deboned chicken, deboned turkey, chicken liver, turkey giblets, chicken meal
Formula highlights: Catfish meal, whole red lentils, whole pinto beans, pollock meal, chicken fat, whole green lentils, catfish, eggs, rainbow trout, fish oil, dried kelp, pumpkin, butternut squash, carrots, apples, whole foods
Guaranteed analysis: crude protein 33% (min); crude fat 17% (min); crude fiber 6% (max)
Calories: 392 kcal/cup
Price
Instinct Raw Boost Review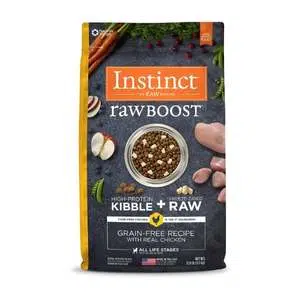 View on Amazon | View on Chewy
Instinct Raw Boost premium kibble features cage-free chicken with freeze-dried raw meat bits mixed in it. It offers the satisfying crunch of kibble mixed with a real meat taste and feel. Includes probiotics and high levels of omega fatty acids to support skin, coat, immune system, and overall health. Potato, grain, corn, soy, wheat, and animal by-product free. No artificial ingredients or additives. Offers that boost of raw, freeze-dried meats and raw coated kibble. Supports energy, vitality, digestion, and weight management.
First 5 ingredients: Chicken, chicken meal, peas, chicken fat, tapioca
Formula highlights: Herring meal, freeze-dried chicken, Menhaden fish meal, freeze-dried chicken liver and heart, carrots, apples, cranberries, blueberries, dried kelp, salmon oil
Guaranteed analysis: crude protein 37% (min); crude fat 20.5% (min); crude fiber 4% (max)
Calories: 508 kcal/cup
Price
Starting at $51.99 ($0.32 / Fl Oz) (10-lb bag)
Do I Need Supplements For My Great Dane?
Great Danes eating a well-balanced diet with complete nutrition will likely not need supplements. There are, however, different situations in which they may need supplements to get the proper nutrient balance in their diet. Some supplements may be taken proactively to help prevent long-term health issues like joint dysfunction and hip dysplasia. The gentle giant often has hip and joint problems, so owners may want to consider a supplement. Glucosamine and chondroitin support joint health as well as help with arthritic pain.
Owners may also want to consider a skin supplement if their giant pup suffers from skin allergies or dry, itchy skin. Allergies are common with Great Danes. Additionally, the breed is known to suffer from separation anxiety and may benefit from calming supplements that help with anxiety.
Always discuss any major changes in your Great Dane's diet with your veterinarian. Discussion should include the addition of vitamins and supplements. If you are concerned about a specific health condition like joint health, allergies, or itchy skin, or are concerned that your dog is not getting enough in their diet. It is best to seek veterinary advice before adding anything or making significant dietary changes.
Tagged With: Comparison, Food Delivery