Yorkshire Terriers, commonly known as Yorkies, are pint-sized terriers that often reach just 7 pounds. These pups stand out for their silky, almost floor-length coats. Tiny in physical size but massive in personality, these little dogs are loving companions who will keep their owners on their toes. As the proud owner of one of these tiny tots, you want to ensure you give your Yorkie the best possible nutrition in every life stage, starting with puppyhood and going into their golden years. There are a few different considerations to keep in mind when picking food for this breed, and it is essential always to pick high-quality dog food to feed your puppy. Picking the best dog food for Yorkies is a big task.
We share the unique nutritional needs of the Yorkie breed and how specific ingredients benefit lifelong health and balance out potential health issues later in life. We have considered hundreds of different dog food brands and formulas to bring you our top picks for the best wet and dry dog food for Yorkies.
At A Glance: Best Dog Food for Yorkies
Note: All of the dog foods we've included in our reviews meet or exceed Association of American Feed Control Officials (AAFCO) nutritional guidelines, are made in the U.S., and contain no by-products, preservatives, or artificial ingredients.
Nutritional Needs & Feeding Guidelines For Yorkies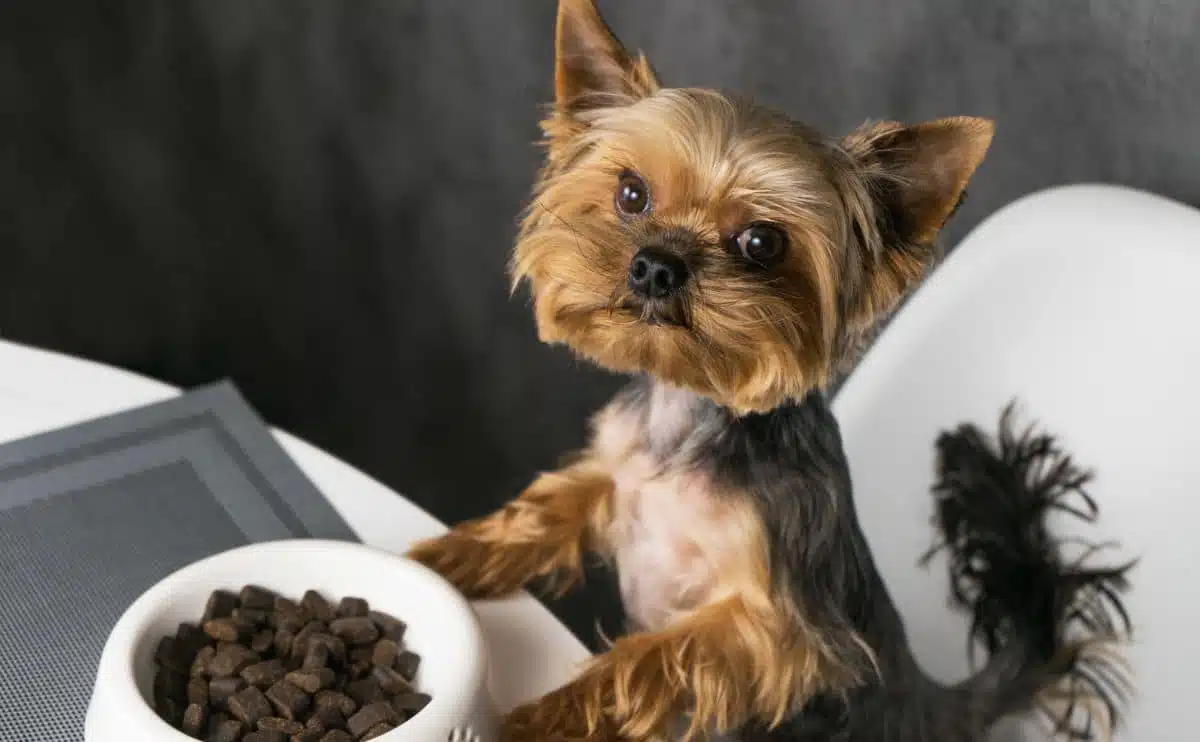 Yorkies require a balanced diet that consists of protein, carbohydrates, healthy fats, vitamins, and minerals. It is important to note that the nutritional requirements of Yorkies may vary depending on their age, weight, activity level, and overall health. Protein is a crucial nutrient for Yorkies as it helps build and repair tissues and supports the immune system. Carbohydrates provide energy, while healthy fats help maintain healthy skin and coat. Vitamins and minerals are essential for various bodily functions, such as bone development and immune support.
Yorkies have a high metabolism and require a nutrient-dense diet to meet their energy needs. They need a diet that is high in protein and low in carbohydrates. Protein should comprise at least 25% of their diet, while carbohydrates should be less than 50%. Fats should make up the remaining portion of their diet.
It is important to avoid feeding Yorkies table scraps or human food as they can upset their digestive system and lead to obesity. Yorkies are also prone to dental issues, so choosing food promoting dental health is essential. Because of their propensity to dental disease and breakdown, Yorkies must eat a diet that includes both wet and dry food.
Poor nutrition can lead to various health issues in Yorkies, such as obesity, dental problems, and gastrointestinal issues. Yorkies are also prone to hypoglycemia, a condition in which their blood sugar levels drop too low. Hypoglycemia can cause seizures, lethargy, and even death.
Another common health issue in Yorkies is liver shunt, a condition in which the liver fails to function correctly. This condition can be genetic or caused by poor nutrition. Choosing a high-quality food that supports liver health and prevents liver shunt is essential.
Beyond Basic Ingredients
The Association of American Food Control Officials (AAFCO) is an organization that sets out guidelines that should be followed for all pet food. It is best to look for products that are AAFCO-compliant.
All dog food should include proteins, carbs, healthy fats, fiber, and essential vitamins and minerals. But many of the most nutritious premium dog foods are fortified with additional ingredients that can benefit your furry friend significantly. Here are a few things you will want to look for and how they support your pup's health. We've listed these premium ingredients in our reviews for your convenience.
Fruits & vegetables: excellent natural sources of fiber, vitamins, minerals, and antioxidants to support immune health
Fish oil and/or flaxseed (omega-3 and 6 fatty acids, including DHA & EPA): brain and eye development, skin and coat health, joint and immune support
Glucosamine & chondroitin sulfate (often from chicken meal*): maintain healthy joints
Prebiotics & probiotics: support digestion and a healthy level of good gut bacteria
Taurine (see above): supports cardiovascular, eye, and brain health, immune system function, and benefits many other body functions
L-carnitine: an amino acid derivative that helps the metabolism of fats and may benefit dogs with heart disease (it's particularly beneficial for older, less active dogs)
Organ meats: excellent source of premium quality protein and fat as well as vitamins A, B, D, and E, copper, iron, phosphorus, selenium, and zinc
Chia seeds: rich in plant protein, fiber, antioxidants, omega fatty acids, calcium, potassium, magnesium, manganese, zinc, phosphorus
*A note about meat meal: Quality pet food brands often use meat meal in their recipes, which can be a very healthy source of protein for your pup (as long as the "meat" is named, e.g., chicken meal, lamb meal, etc.). A meal can be made from the meat, tissue, organ meat, bone, stomach, and intestines of the named animal. But meat meal does not include by-products like hair, feathers, beaks, heads, blood, hooves, hide trimmings, etc.
Best Food For Yorkie Puppy
Picking the best nutrition for a Yorkie also depends on their life stage. Puppies have different nutritional needs. They need higher fat and calories to support rapid growth. Even though they are one of the smallest toy breeds in the world, Yorkies have substantial nutritional needs. Though they do not eat as much as larger dogs, they still need a high-quality diet full of protein, fat, and healthy nutrients to provide energy and promote growth. According to the MSD Veterinary Manual, smaller breed puppies need a kibble that can give them a minimum protein content of 22% and a minimum fat content of 8%.
Although free feeding is not recommended for every breed, for the Yorkshire Terrier, it is. This is because they have tiny bodies and work very hard to regulate their blood sugar level. Providing your Yorkie with free access to kibble always means they can replenish these nutrients and energy whenever needed.
Younger Yorkies under one-year-old need between 1/4 and 1/2 a cup of chow daily, about 55 calories per pound of body weight.
Yorkie Puppies can start transitioning to adult chow between 6 and 12 months. Some owners choose to stick to a puppy chow that meets adult nutrition.
Diamond Naturals Small Breed Puppy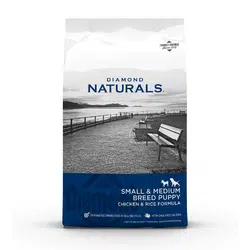 This small breed puppy formula is small and made just for pint-sized pups like the Yorkie. This is especially important due to their propensity for dental issues. Proteins from cage-free chicken, chicken meal, and chicken fat. Contains no hard-to-digest fillers like corn. Developed to provide holistic nutrition. Contains proprietary probiotics. DHA from salmon oil supports brain and vision development. This is a grain-inclusive recipe.
The recipe is formulated for digestive support, with ingredients like egg, fish meal, and superfoods like kale and chia seeds. Provides complete and balanced nutrition for small breed puppies. Also formulated to meet adult needs, so your pup can eat this into adulthood if they like.
First 5 ingredients: Chicken, chicken meal, ground white rice, chicken fat, cracked pearled barley
Formula highlights: Omega fatty acids from coconut and chia seeds, superfoods like kale, salmon oil, antioxidants from blueberries, spinach, papaya, and carrots, (DHA), K9 Strain Probiotics
Guaranteed analysis: crude protein 32% (min); crude fat 22% (min); crude fiber 3.5% (max)
Calories: 453 kcal/cup
Price
Wellness Small Breed Puppy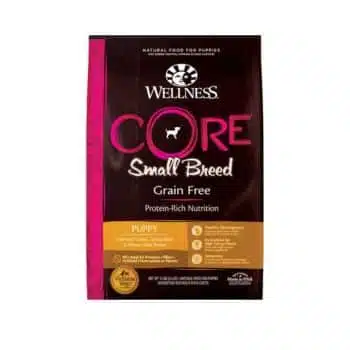 This natural small-breed formula is developed to support complete health and growth. Small in size, so it fits in your Yorkies' small jaws. It is formulated for healthy digestion, bone, and joint health, immune teeth, healthy skin, and coat, and to help keep teeth clean. perfect for the tiny Yorkie, and packed full of nutrients.
Recipe uses high quality proteins, carrots for beta carotene, and salmon oil for DHA. Formulated to promote heart health, and proper development. Nutrient rich to support small breeds. Very effective for doggies with sensitive stomachs.
First 5 ingredients: Deboned turkey, chicken meal, oatmeal, salmon meal, barley
Formula highlights: Antioxidants from blueberries, spinach, and apples. Omega fatty acids from flaxseed, taurine for heart health, sweet potatoes, tomatoes, carrots, rosemary extract, green tea extract, salmon oil, calcium and phosphorus
Guaranteed analysis: crude protein 28% (min); crude fat 19% (min); crude fiber 4.25% (max)
Calories: 489 kcal/cup
Price
Starts At: $19.98 for a 4-lb. bag
Merrick Lil Plates Free Pint-Sized Puppy Plate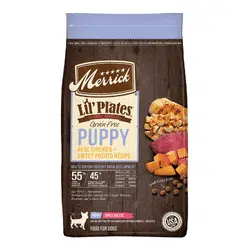 This tasty wet food is formulated for small and toy breeds. As the company says, they offer big nutrition for small breeds. These recipes are packed with proteins from natural animal sources. This is a grain-free recipe. Products are cooked in the United States in company kitchens located in Hereford, Texas.
Delicious meaty morsels in a flavorful gravy. This is a chicken and turkey recipe. However, there are several other flavors, including beef, duck, lamb, pot pie, and surf and turf, to name a few. Puppies love the smooth texture and meaty taste. Cups are the perfect portion size for a Yorkie. It can be mixed with kibble to give an extra crunch.
First 5 ingredients: Deboned chicken, chicken broth, turkey broth, chicken liver, deboned turkey
Formula highlights: Dried egg whites, sunflower oil, salmon oil, potatoes, apples, peas, red peppers, no corn, grain, gluten, wheat, or soy.
Guaranteed analysis: crude protein 8.5% (min); crude fat 3.5%(min); crude fiber 1.4% (max)
Calories: 96 kcal/bowl
Price
Starts At: $25.99 for a case of 12 3.5 oz bowls
Best Dog Food For Yorkies With Allergies
Yorkies can be sensitive to a variety of ingredients in their diet. These reactions often show up as skin irritation or reaction. Dairy, chicken, eggs, soy, and wheat gluten top the list of dietary elements that can be sensitive to the Yorkie tummy. Limited ingredient recipes and fresh, human-grade options work very well for those pups with sensitive stomachs or food allergies.
The Farmer's Dog
The Farmer's Dog is a top pick if you want fresh, high-quality, easy-to-digest dog meals. This company makes pet meals from human-grade ingredients and formulates a feeding plan for each individual pup. Nutrition is top of the line, and components are of such high-quality humans could eat them. Every recipe uses limited ingredients, making it easy to digest and free of pesky allergens. This is an excellent option for Yorkies of all ages, puppies, adults, and seniors.
The Farmers Dog offers four grain-free options: chicken, pork, beef, and turkey. A board-certified American College of Veterinary Nutrition nutritionist develops all recipes. Meals are cooked fresh, flash-frozen, and delivered directly to your door. This is a breakdown of the beef recipe.
First 5 ingredients: Beef, sweet potatoes, cooked lentils, carrots, beef liver
Formula highlights: human-grade & whole-foods, fish oil, and taurine
Guaranteed analysis: crude protein 39% (min); crude fat 29% (min); crude fiber 2% (max)
Calories: not available
Price
Starts At: $2/day for small dogs but varies based on each dog's weight, age, and other factors (e.g., $51.74/week for mixed-breed male, one-year-old, 38 pounds, healthy size, neutered, no health problems, or allergies)
Full Review Of The Farmer's Dog
Learn more about our dedicated The Farmer's Dog coupon page. Our readers have access to 50% off your first box. No code needed; just use this link and the discount will be applied!
BARK Food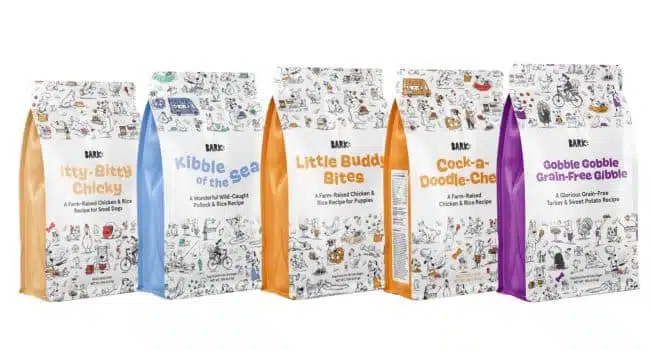 Bark's Itty Bitty Chicky is a small breed formula from BARK Food, a premium delivery kibble option. This small-bite recipe has DHA and is fortified with L-carnitine to support muscle growth and health. It supports the high level of energy many toy breeds have. There are no artificial ingredients. All recipes are made in BARK-owned kitchens. Meats are all sourced in the U.S. All recipes are formulated to meet American Association of Feed Control Officials (AAFCO) guidelines. Kibbles are sized appropriately for varying sizes and breeds of dogs. Recipes also follow WSAVA global nutrition guidelines. Recipes are highly nutritious, flavorful, and rich in animal protein. Each formula contains a minimum of 26% protein and 14% fat.
This is a subscription box service, though items can be purchased individually. Owners can choose their delivery frequency and customize their box with treats and add-ons like flavoring powder. I have tried this recipe with my small breed, and it is a huge hit, very easy to digest, and quite convenient.
First 5 ingredients: Chicken, chicken meal, brown rice, white rice, oatmeal
Formula highlights: Alaskan pollock meal, chicken fat, dried eggs, potato protein, flaxseed, 2.4% omega-3 fatty acids,
Guaranteed analysis: crude protein 26% (min); crude fat 14%(min); crude fiber 3.5% (max)
Calories: 390 kcal/cup
Price
These are subscription prices. One-time purchase fees are slightly higher. Customers who choose a subscription option save 10% each month and enjoy free shipping. An additional fun product, an empty box that smells like dog chow, for $10!
Solid Gold Mighty Mini Small Breed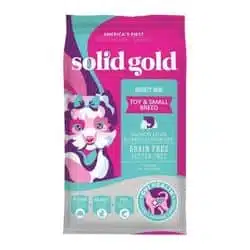 This grain-free kibble is designed just for small and toy-breed pups with sensitive stomachs. A grain-free formula with chicken, chickpea, and pumpkin. It also comes in beef, sweet potato & apple, lamb sweet potatoes & carrot, and salmon, lentil & green bean. Plenty of selection to keep your Yorkie interested. These are single meat source recipes, making digestion easier.
100% grain and gluten-free. Probiotic support for gut health. Includes 20 nutrient superfoods. This tiny-size kibble offers a giant punch of nutrition to support that little dog's energy. No corn, wheat, or soy. They also make a wet meal option just for mini breeds.
First 5 ingredients: Chicken, chicken meal, chickpeas, peas, pea protein
Formula highlights: Chicken fat, pumpkin, sweet potato, dried eggs, ocean fish meal, ground flaxseed, blueberries, cranberries, carrots, dried chicory root, vitamin supplements
Guaranteed analysis: crude protein 30% (min); crude fat 18%(min); crude fiber 4% (max)
Calories: 450 kcal/cup
Price
Starts At: $21.97 for a 4 lb. bag
Best Dog Food For Picky Yorkie
Picky eaters come in every size and breed. The adorable Yorkie is no exception. If you have a pup who is a fussy eater and has dietary sensitivities, there are some excellent choices. Fresh food like The Farmer's Dog is a wonderful choice, tastes great, has high-quality ingredients, and appeals to many dogs with fussy eating habits.
Spot & Tango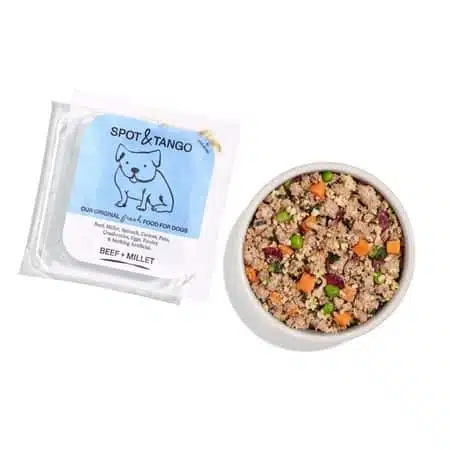 Spot & Tango is a delivery service that offers two options for high-quality pet chow. They have a fresh meal line as well as Unkibble, a shelf-stable signature kibble alternative. This is a great pick for those fussy eaters. Meals are made from high-quality, all-natural, human-grade ingredients. Whole food ingredients and no fillers or artificial additives. 3 fresh recipes and 3 Unkibble recipes. Meal plans are customized to your dog's health, breed, size, and preferences.
We know firsthand that dogs love this chow. It has been tried by a few pups here on the Canine Journal team. My dogs, a large and small breed, both genuinely enjoy it. The Unkibble is a fantastic option and encourages fussy eaters, even when mixed with their regular kibble. A great way to get some fresh taste and nutrition into the bowl.
Additionally, they offer a topper plan, letting owners get a smaller amount of fresh food. Plus, owners can try a 2-week risk-free trial before committing. Below we break down the Beef + Barley Unkibble.
First 5 ingredients: Beef, barley, flax, carrots, green beans
Formula highlights: Beef liver, beef heart, beets, cranberries, kelp, fish oil, pumpkin, blueberry, spinach, vitamin supplements
Guaranteed analysis: crude protein 27% (min); crude fat 22%(min); crude fiber 4% (max)
Calories: 4,426 kCal/kg
Price
Starts At: $1 per day for Unkibble, $2 per day for fresh, free shipping
Nom Nom Fresh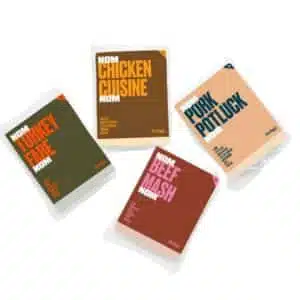 Nom Nom is another fantastic fresh food supplier that can make a huge difference for fussy eaters. Has both grain and gluten-free options. All natural ingredients and recipes are formulated by on-staff Board Certified Veterinary Nutritionists. Simple recipes developed to support health and prevent chronic disease. They offer four meat choices, beef, chicken, pork, and turkey. Recipes are freshly prepared in-house every week. All recipes meet the guidelines of the Association of American Feed Control Officials.
This is a customizable delivery service. Owners can try a variety pack without commitment to see if their pup likes the food. Subscriptions come with personalized health insights for each dog. Below we discuss the specifics of the Turkey Fare.
First 5 ingredients: Ground turkey, brown rice, eggs, carrots, spinach
Formula highlights: Fish oil, Vitamin E supplement, 72% moisture, folic acid, taurine, fresh, limited ingredient recipe
Guaranteed analysis: crude protein 10% (min); crude fat 5%(min); crude fiber 1% (max)
Calories: 201 kcal/cup
Price
Raised Right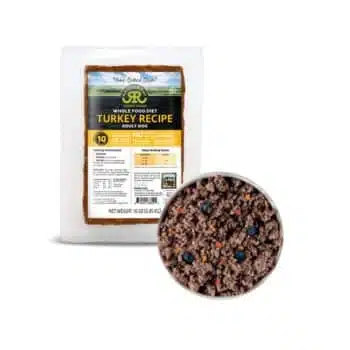 This is another top pick for human-grade, fresh pet meals. Raised Right makes human-grade dog and cat food. This brand uses whole meats and organs from four protein groups: beef, turkey, chicken, and pork. The majority of protein comes from meat sources.
There is a wide selection here, 11 different recipes, more than some other fresh and human-grade options. Puppy and adult formulas are available. Grain-free fresh dog food with no plant protein fillers. Meat heavy, full of top nutrients, and ingredients like flaxseed oil, spearmint, and cod liver oil, to boost omega fatty acids and nutrients. Below we look at the beef recipe.
First 5 ingredients: Beef, beef hearts, carrots, beef liver, cranberries
Formula highlights: Grain-free recipe, full of real meats, flaxseed oil, cod liver oil, spearmint, cranberries, eggshell powder, organic dried kelp,
Guaranteed analysis: crude protein 23% (min); crude fat 9%(min); crude fiber 2% (max)
Calories: 408 kcals/cup
Price
Best Dry Dog Food For Yorkies
Yorkies need high-quality dry kibble to provide them with energy throughout their days. Dry kibble is formulated to provide complete nutrition. Kibble is also pivotal in keeping canine teeth clean (along with regular cleanings). We have covered several top-notch dry kibbles already, but a few more are worth mentioning.
Orijen Small Breed Grain Free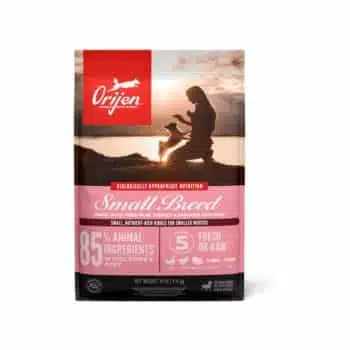 This small breed kibble is packed with protein. The first five ingredients are fresh or raw animal protein. It is made with 85% animal ingredients. High protein supports small breed energy and health. Recipes are packed full of vitamins and essential nutrients. Recipes are developed to give the benefit and nutrition of a raw diet. The whole prey formula uses organ meats and bone.
First 5 ingredients: Turkey, chicken, turkey giblets, whole herring, salmon
Formula highlights: Dehydrated turkey, dehydrated sardine. Dehydrated chicken liver, dehydrated egg, chicken liver, whole eggs, pollock oil chicken hearts, collard greens, pumpkin, New Zealand green mussels
Guaranteed analysis: crude protein 38% (min); crude fat 18%(min); crude fiber 4% (max)
Calories: 473 kcal/cup
Price
Starts At: $27.99 per 4 lb. bag
Nulo Freestyle Small Breed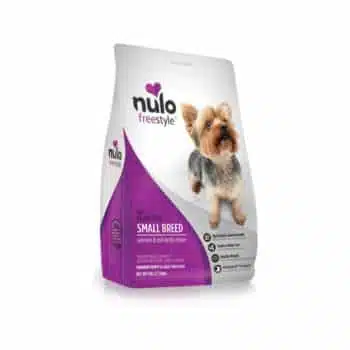 This meat and protein-loaded kibble is perfect for the tiny Yorkie. No egg or chicken proteins, which some dogs do not like. Health-conscious recipes are designed to provide plenty of energy and support a smaller breed's higher metabolism, lean muscle mass, and heart health. Natural fibers help support healthy digestion.
Smaller size kibble for the toy breed also supports skin and coat health and contains a proprietary probiotic. This is a lower carbohydrate, grain-free, and delicious kibble.
First 5 ingredients: Salmon, turkey meal, menhaden fish meal, salmon meal, red lentils
Formula highlights: sweet potatoes, chickpeas, chicken fat, ground flaxseed, dried chicory road, dried apples, blueberries, dried tomatoes, carrots, potassium chloride, vitamin E, and probiotics
Guaranteed analysis: crude protein 31% (min); crude fat 17%(min); crude fiber 5% (max)
Calories: 431 kcal/cup
Price
Starts At: $29.99 for a 6 lb. bag
Best Dog Food For Senior Yorkies
Senior Yorkies need fewer calories in fat than younger dogs. Their metabolism slows down, and they may have trouble maintaining weight, while some dogs may gain weight. Senior dogs need high levels of protein to maintain their muscle mass. Many senior formulas will contain specific supplements like glucosamine and chondroitin to support joint health, as well as others to support digestive and immune function.
Hill's Science Diet Wet Dog Food Adult 7+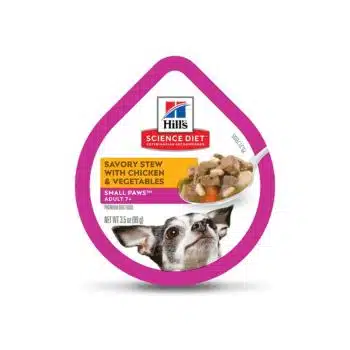 This brand uses science-led nutrition to develop a tasty still from natural ingredients designed specifically to support a senior dog's health. It is made for adult toy and small breeds, age 7 or over. High-quality protein supports lean muscles and uses purposeful ingredients for a flavorful and nutritious smell.
This high-protein formula is easy to digest and supports strong bones and teeth. Uses high-quality protein with delicious and healthy vegetables. An all around healthy choice that supports your senior pup.
First 5 ingredients: Water, chicken, pork liver, brown rice, carrots
Formula highlights: pork plasma, dried beet pulp, chicken fat, chicken liver flavor, soybean oil, flaxseed, niacin supplement, vitamin supplements, taurine, add more
Guaranteed analysis: crude protein 3.5% (min); crude fat 2.3%(min); crude fiber 2% (max)
Calories: 83 kcal/3.5-oz tray
Price
Starts At: $31.92 for a case of 12 3.5 oz trays
Should I Consider A Hip & Joint Supplement?
Small breeds like the Yorkie may need hip and joint supplements well before they reach their senior years. It is essential to do your best to prevent overuse of these joints. This can lead to arthritis and pain later in life. Supplements with glucosamine and chondroitin can help prevent the development and progression of degenerative joint disease. Supplements may also help dogs with allergies. Small breeds like the Yorkie are also prone to patellar luxation, leading to kneecap dislocation.
Make sure to feed your pup appropriately formulated food for whatever stage of life they may be in. Remember that puppies, adults, and seniors have different needs. A Yorkie needs chow formulated for small breeds, and it is crucial always to feed them a softer kibble that is the right size for their mouth. Maintaining dental health with this breed is very important, as it can develop quickly and take years from their life. It may be worth looking into dental insurance for your Yorkie, to help offset the cost and help keep those chompers in top form.
Tagged With: