To sustain this free service, we receive affiliate commissions via some of our links. This doesn't affect rankings. Our review process.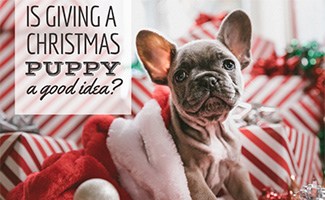 Last-minute shopping has us racking our brains for meaningful gifts. We thoughtfully seek to fill a need, but surprising a loved one with a puppy is like lighting holiday candles with a blow torch, a tad overwhelming.
Even if your widowed mother is an avid dog lover, she hasn't had a puppy in two decades. Putting a furry bundle under the tree might place you permanently on her 'naughty' list.
A Word Of Caution
Before you go and adopt a puppy to give to your loved one, give the reality of this decision a great deal of consideration. A puppy is a living, breathing being that will be with the person for a decade or more beyond this holiday season. Is that something this person is prepared to manage and, more importantly, love?
Perhaps it would be a better plan to talk to the recipient BEFORE you finalize any plans to bring a dog into their life. Make sure it is truly the treasured gift you are hoping to give.
Tips For Giving A Christmas Puppy As A Present
If you have determined a dog is the best gift, here are some tips to help you make sure it is the best gift ever.
Enlist the advice of a parent, spouse or best friend to figure out how best to offer this living gift. They may broach the subject with the recipient and get you some valuable inside information.
Instead of presenting the puppy right away, another approach is to purchase a crate and fill it with bowls, toys, a leash and collar, training guides and other essentials. Place all of this under the tree and enjoy the surprise reaction you seek.
If the recipient has a favorite breed, download and present pictures from breed rescues or at Petfinder. Keep local shelters in mind, too, since they boast a 25 to 40% ratio of purebreds to all-American mutts. Rescue organizations may offer a gift certificate good for adoption if the recipient's application is approved.
Are you considering breeders? Make sure you buy locally and meet at least one of the pup's parents to avoid mass production. Get veterinary referrals and check with local animal control and your humane society to sniff out red-flag complaints. Consider adopting a rescue dog.
Do a little homework on pet sitting and boarding options, veterinarians and groomers. Asking local friends for referrals is a great place to start. Having these resources at hand will help the new owner feel like there is a support system. If the holiday spirit really moves you, offer to watch the dog while they are away, but get ready to pay up; the recipient may book a two-week cruise and leave you holding the poop bag.
Present the recipient with plenty of information on the best tips to raise a dog. Be sure to show them our guide to bringing a new dog home!
Be prepared to accept a polite 'no, thank you' from the recipient. Giving them an out relieves them of responsibility that lasts for ten years or more. Instead, offer a donation in their name to their favorite animal charity.
Pet Ownership Requires Commitment, Love And Money
If this advice sounds like a wet blanket tossed over your gift-giving plans, consider this: thousands of impulsively bought gift puppies will end up in shelters, or passed around from home to home. The novelty wears off, and the responsibility becomes all too real. There is also the financial responsibility that comes with keeping a dog healthy and current on its vaccines, so try not to take the responsible decision too personally.
While the thought will be appreciated, the gift of a Christmas puppy may be more of a burden than a delight, and, sadly, the puppy pays the price.
Have you ever received a puppy as a gift?
Disclaimer: This website contains reviews, opinions and information regarding products and services manufactured or provided by third parties. We are not responsible in any way for such products and services, and nothing contained here should be construed as a guarantee of the functionality, utility, safety or reliability of any product or services reviewed or discussed. Please follow the directions provided by the manufacturer or service provider when using any product or service reviewed or discussed on this website.