To sustain this free service, we receive affiliate commissions via some of our links. This doesn't affect rankings. Our review process.
| | |
| --- | --- |
| 1st | |
| 2nd | |
| 3rd | |
Have you been dying to know what breeds make up your one-of-a-kind pup? Are you concerned about certain hereditary diseases your dog might develop one day?
DNA dog tests are a fun and informative way to get to understand who your pooch is — and to help you develop a better health plan for their future.
How Does Dog DNA Testing Work?
A dog DNA test is easier than you might think! All you have to do with at-home dog DNA tests is order the test online, take a simple cheek swab from your dog, place the swab in the provided container and mail it back in a prepaid envelope.
In just a few weeks, you'll receive a report that includes your dog's DNA results. Depending on the company, you'll see the percentage breakdown of your dog's breeds and risks for developing some hereditary diseases. Some companies also offer parentage testing and purebred and designer dog testing.
Article Overview
What's The Best Dog DNA Test
We've chosen several of the best DNA dog tests on the market and given you detailed information about what you can learn from each one. All of our DNA dog test reviews are at-home cheek-swab tests, but each test differs in the type of results you'll receive.
Embark Review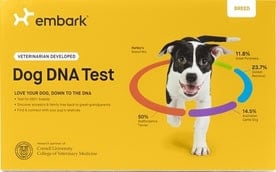 #1
Embark DNA is a comprehensive dog DNA test that screens for breed identification, traits, ancestry and genetic disease risk (for 175 known canine genetic health problems).
Your test results include a detailed vet report to help you and your veterinarian plan the best care for your dog. Embark partners with scientists from Cornell University's College of Veterinary Medicine to conduct ongoing research into dog genetic testing — and you have the option to include your dog's DNA data in their research.
We also like that Embark contributes funding and genetic testing to animal shelters in the U.S. and Nepal. The downside? Embark's dog DNA test cost is higher than competitors, but we feel that the results outweigh the higher price. It is also the official dog DNA test of the Westminster Kennel Club.
Embark also offers a Whole Genome Sequencing kit, which is helpful for those of you who are science fans. This is the only dog DNA company to sequence the entire genome, so you get more data than ever. You will receive updates on your results with the latest research, as Embark continues to learn more about dog DNA.
Pros

Cons

Tests for 250 breeds
Offers 100 times more genetic information than other tests
Genetic mutation testing for over 175 canine health conditions
Results back in 2-4 weeks
Free replacement swab if yours gets damaged
Charitable work with animal shelters
Live chat or email available if you need help interpreting test results
Positive customer feedback that Embark is the most accurate dog DNA test
Website has blog, FAQs and newsletter signup
Ability to get raw DNA data

Expensive for the health test and genome sequencing
Pricing
Coupon
Have multiple pets? Bundle and save when you buy additional Embark Kits:
Save 10% when you buy 2 Breed + Health kits with Coupon Code: MULTIPACK2
Save 15% when you buy 3 Breed + Health kits with Coupon Code: MULTIPACK3
Save 20% when you buy 4+ Breed + Health kits with Coupon Code: MULTIPACK4
Use
this link
to take advantage of these offers and get the best possible pricing from Embark.
Wisdom Panel Health DNA Test Review
Wisdom Panel Health tests for breed identification, traits, ancestry and genetic disease risk.
Wisdom Panel covers more than 350 breeds, types and varieties, including 99% of AKC-recognized breeds and tests for more than 150 disease risks. This company also offers a less expensive Wisdom Panel 4.0 breed identifier test if you are not as concerned with learning your dog's health indicators.
If you want to save a few bucks, you can still find Wisdom Panel 3.0 on Amazon (the earlier version of 4.0), but it only covers 250 breeds.
Pros

Cons

Test covers 99% of 180 AKC-recognized breeds
Comes with 2 swabs, and they'll replace for free if damaged
Charitable partnerships with animal rights groups
Genetic mutation testing for over 150 canine health conditions
Results back in 2-3 weeks (quicker than most)
Phone, email customer service for any questions
Good website resources about canine DNA testing

Expensive
Variety of products is confusing
Pricing
Wisdom Panel Health Canine Breed + Disease Detection (350 Breeds & Disease Detection): $149.46
Wisdom Panel 4.0 Canine Breed Detection (350 Breeds): $84.99
Wisdom Panel 3.0 Canine Breed Detection (250 Breeds): $79.99
Coupon
Wisdom Panel is often offered at a discount from the MSRP price on Amazon.
Read Our Wisdom Panel Breed Detection Test Review
HomeDNA Orivet Dog DNA Tests Review
HomeDNA offers two dog DNA tests, one for mixed-breed identification and the other for health screening. Each test comes with a personalized life plan that you can share with your vet.
Because of the cost of each test, it makes the most sense to choose one of the two (otherwise we suggest Embark for the all-in-one test). If you only want health screening, however, HomeDNA's Dog DNA Health Screen is a better value than Embark or Wisdom Panel.
If you're only looking for breed information, you should consider HomeDNA's Mixed-Breed Dog Identification DNA Test. Although pricier than DNA My Dog, it is far more accurate due to their huge database of recognized and developing breeds.
Pros

Cons

Health screening test is a good value
Genetic mutation testing for over 150 canine health conditions
220 recognized and developing breeds in their database
Health risks classified based on likelihood and impact
Consumers report excellent customer support
Results are emailed within 3 weeks

Expensive (for both tests)
You have to order two separate tests to get both breed and health results
Pricing
$93.49 for Dog DNA Health Screen and Life Plan
$84.99 for Mixed-Breed Dog Identification DNA Test and Life Plan
Coupon
Home DNA is often sold for less than MSRP on Amazon.
Other Dog DNA Tests Reviewed
Although the following tests didn't make our top 3 list, they're popular options you may want to consider.
DNA My Dog | Paw Print Genetics | PetConfirm DNA Test
DNA My Dog Review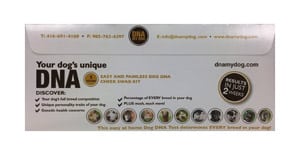 The DNA My Dog breed identification test just doesn't have the bark for your buck to make our top three. Although you get a report on your dog's dominant breeds, personality traits and health concerns (based on breed only), DNA My Dog is mediocre compared to the breed and trait information you get with our top picks.
DNA My Dog has far fewer breeds in its database, meaning you're not going to get the level of accuracy you would with Embark, Wisdom Panel or HomeDNA's Orivet tests. And many reviewers agree that their test lacks accuracy. But if you're on a budget, DNA My Dog is the least expensive alternative.
Pros

Cons

Least expensive test we reviewed
Comes with two swabs and free replacement if they get damaged
Charitable shelter program donates funds to U.S. and Canada shelters
Phone and email customer service for any questions
Get results in 2 weeks

Only 96 breeds in their database
Many customer complaints about their dog DNA testing accuracy
Several consumer complaints about delayed results
Minimal website resources about dog DNA testing
Pricing
Breed Identification Test: $66.99
NEXTGEN Breed Identification and Genetic Age Test: $99.99
Breed Test PLUS Wolf: $88.99
Deceased Dog DNA Breed Testing: $167.00
Breed Identification Test PLUS Full Genetic Screening: $188.99
Breed Identification Test PLUS Health Plan: $99.99
Full Genetic Health Screening: $139.99
Coupon
DNA My Dog often has discounts off of MSRP on Amazon.
Paw Print Genetics Review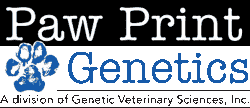 Visit Website
Paw Print Genetics is an excellent choice for breeders or people with purebred dogs who want to test for breed-specific diseases. You can order a single test or a panel of tests to assess the risk of your dog developing or passing on the diseases. Their website allows you to search by breed, disease/trait or symptom.
They also offer parentage tests and a DNA profiling test you can use to ID your dog in the event he gets lost or stolen. Paw Print Genetics has a very limited number of mixed-breed tests, and they don't do breed identification.
Pros

Cons

Analyzes each mutation with two independent methods to provide you the highest accuracy
Offers 155+ genetic mutation tests for health conditions
Genetic counseling available and excellent customer support
Includes Pedigree Report and Genetic Health Certificate
Partners with many dog clubs and associations
Results available in 2 weeks

Can get expensive if testing for multiple diseases (but they offer discounts)
No breed identification tests
Very limited mixed breed tests
Can be confusing to figure out which test(s) to order for your dog
Pricing
Starts at $80 for 1 disease test with discounts for each additional test disease ordered
Starts at $80 for 1 coat color/trait test with discounts for each additional coat color/trait test ordered
$49 Paw Print DNA Profiling test
$30 Paw Print Parentage test (puppy, dam or sire)
$19 Paw Print Clear by Parentage test
PetConfirm Wellness Test Review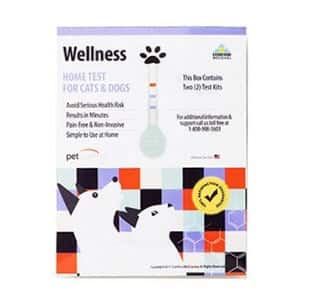 PetConfirm is one of many health-related testing kits produced by Confirm BioSciences (most are for humans). PetConfirm doesn't offer a breed identification test, but its Wellness kit tests for common diseases to better monitor your dog's health.
These tests are best for owners with aging pets and are meant to help save time and money on trips to the vet. However, we don't recommend skipping your dog's annual vet appointment.
These tests are typically purchased in bulk and sold by third parties, so you may not see them at pet stores. PetConfirm also offers UTI tests for dogs.
Pros

Cons

Two swabs included and free replacement
Phone and email customer service
Get results in under two weeks

No information on website about charitable animal work
Several consumer complaints about delayed results
Minimal website resources about dog DNA testing
Pricing
DNA Health Testing & Vet Care
We want to warn you that whatever health results you receive in your dog's DNA test should be taken with a grain of salt. Some pet parents are making life and death decisions based on what could be overstated or misleading health indicators.
For example, research may show that a specific gene mutation may be associated with cancer in Boxers, but that may not mean the same mutation will cause cancer in a Coonhound. However, the mutation would likely still show up on the Coonhound's report, suggesting that your dog is at risk for cancer.
Any health issues that are raised by your DNA test and cause you concern should be discussed with the DNA company for clarification. The top companies all have geneticists and vets on staff who can help and likely set your mind at ease about the true risks for your pet.
Just because your dog has a genetic mutation, does not mean your dog will acquire a disease. You can also speak with your veterinarian about your dog's DNA results but be careful making any major medical decisions based on the health indications from a pet health DNA test. The vet who has examined your dog in person knows more about your pet's health than a DNA test taken by mail.
Dog's Breed Revealed (Video)
Watch as this family finds out their dog's breed and if Sharik is actually a wolf? It's entertaining and informative to see their first-hand experience with Embark.
Dog DNA Test Infographic
Learn more about how dog DNA tests work in this infographic:

Source: CanineJournal.com
To share this infographic on your site, simply copy and paste the code below:
Why I Shouldn't Test My Dog's DNA
Finding out your dog's breed can lead to you learning about what diseases he is predisposed to. This may cause some anxiety for you. You know what you are capable of handling better than we do, but this is something you'll want to consider.
In some areas, certain breeds may be restricted from being owned. If you conduct a DNA test on your dog and that breed is in your dog, you may be in a difficult situation. This could lead to you not being able to buy or rent a home in the area or you may need to relocate. It could even increase your homeowner's insurance in some situations.
You could also get false information. Whether the DNA sample wasn't the best or there was a mix up in the lab, it is unlikely but possible to obtain inaccurate information which could lead you to adjusting your dog's lifestyle unnecessarily.
Pet Insurance Can Help Cover Health Conditions
If you find out your dog is predisposed to a health condition (or multiple), you may want to consider purchasing pet insurance now to help out financially in the event of your dog becoming ill.
So if your dog is diagnosed with an illness, pet insurance reduces the chance of having to choose between his life and your wallet (a.k.a. economic euthanasia). But, you should sign your dog up now before he is diagnosed because if you wait until diagnosis, the insurance company won't cover it because it will be considered a pre-existing condition.
Read our pet insurance comparison to see which companies we recommend and find out what they cover.
How Can A DNA Test Benefit My Dog's Health?
Knowing your dog's breed mix can help you and your vet devise a better health plan for your dog. If you get genetic mutation testing, you'll know your dog has a genetic predisposition for certain diseases he could develop in the future.
Even knowing what breeds are in his mix can inform you about genetic health concerns associated with each breed. Then you'll know to look for early warning signs, and you can take precautionary measures before it's too late.
If you are interested in a DNA test for yourself, check out our review of the best human DNA ancestry tests on our sister site, Exploring Life's Mysteries.
What surprises did you find after having your pup do a dog DNA test?
We are a participant in the Amazon Services LLC Associates Program, an affiliate advertising program designed to provide a means for us to earn fees by linking to Amazon.com and affiliated sites.
Disclaimer: The information provided through this website should not be used for diagnosing or treating a health problem or a disease. It is not a substitute for professional care. If you have or suspect you may have a health problem, you should consult your health care provider.
Disclaimer: This website contains reviews, opinions and information regarding products and services manufactured or provided by third parties. We are not responsible in any way for such products and services, and nothing contained here should be construed as a guarantee of the functionality, utility, safety or reliability of any product or services reviewed or discussed. Please follow the directions provided by the manufacturer or service provider when using any product or service reviewed or discussed on this website.