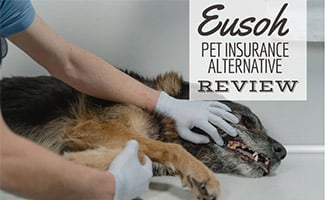 Is Eusoh pet insurance? No, but Eusoh is similar to pet insurance because it reimburses you for your pet's medical, wellness, illness, and routine care expenses. And like pet insurance, Eusoh doesn't cover pre-existing conditions.
So what gives? Is it better than pet insurance, and could it help you pay for your pet's vet care? We answer all this and more in our Eusoh review.
Eusoh
Pros
Reimburses illness, injury, and wellness expenses
30-day money-back guarantee
BBB rating: A+
Offers pre-approval of estimates/procedures in advance of treatment
Multiple forms of customer support: live chat, phone, email, FAQ
Cons
Monthly payment fluctuates but only by a few dollars typically
Doesn't reimburse for spay/neuter, breeding, grooming, supplements, preventative medications, food, dental cleanings, pre-existing conditions, and more
Reimbursement percentage, annual limit, and out-of-pocket amounts aren't customizable
Live chat is slow to respond
Get-a-quote feature is slow
No apps
How Does Eusoh Work? (Video)
Key Features
Eusoh isn't pet insurance (you can learn about your pet insurance options here)
It's considered a pet insurance alternative
Community-based health sharing plan
Pet parents directly fund each other's vet expenses
Monthly payment fluctuates because community vet expenses are unpredictable, but the max you'll pay is $65/month

Any unused contributions roll over to the next month
If there's a month with higher expenses, then the following month's, payment may increase

You choose your vet, pay for the services, submit the invoice and proof of payment to Eusoh via your internet-enabled device, and wait for reimbursement
Eusoh Services List
The list below is what's included in Eusoh's community coverage.
Eusoh doesn't reimburse for spaying/neutering, breeding, grooming, non-prescribed supplements, food, declawing/dewclaw removal, ear cropping/tail docking, medicated baths, nail trimming, dental cleanings, preventative medication (e.g., flea & tick or heartworm treatments), and pre-existing conditions.
Eusoh Pet Care Price
Eusoh's monthly fee consists of two parts.
Eusoh membership fee: $17/month
Care contribution: $0-$48/month

This amount fluctuates each month
Averages $30-$35/month for dogs
Averages $10-$15/month for cats
At the time of writing, the maximum monthly payment for the Eusoh membership and care contribution combined was $65 per month. Billing occurs on the 28th of each month. (Note: this is more than the current average monthly pet insurance premium.
Eusoh also charges a one-time, refundable deposit to set up your account. At the time of writing, this fee was $48.
Your Eusoh membership has the following coverage:
80% reimbursement
$8,500 annual limit
$250 annual out of pocket
No premium
Learn about reimbursement, annual limits, premiums, and other pet insurance costs to know what they are and how they compare to Eusoh.
Eusoh Coupon
Use Eusoh Promo Code
Uninsurance
to get
$17 off the monthly fee for your first 3 months ($51 value)
! Use
this link
to get started.
How Is Reimbursement Calculated?
For each expense you submit, you're responsible for the annual out of pocket ($250) as well as your member share (20%). The community will share the expense of the remaining 80%.
Here's how this equation plays out:
Total vet bill – $250 annual out of pocket – Your 20% member share = Estimated reimbursement
Here's an example of how reimbursement would work for a $1,000 vet bill:
$1,000 (vet bill) – $250 (annual out of pocket) – $150 (your member share) = $600 (reimbursed amount)
Reimbursable amounts are based on the average pricing in Eusoh's Procedure Guide plus/minus a regional variance. So if your dog's procedure costs higher than the national average, then you're responsible for paying any amount over that variance, and that portion isn't cost-shared by the group. The Procedure Guide is only accessible to the Eusoh community, but Eusoh states that it is constantly updated to accurately reflect available procedures and average costs.
Is Eusoh Legit?
Read about what real Eusoh customers have to say about their experiences to help you decide whether or not you think the company is worth using or not.
Positive Reviews
I am so grateful for Eusoh! My dog just had $3100 in vet bills for an oral tumor. My out of pocket with Eusoh was around $560.00 (our wellness plan did pick up some as well). Thank you for helping save Oliver! – Mellissa P., Facebook 1/28/2021
Eusoh has fantastic customer service. I really appreciate knowing my costs for coverage won't rise as my pet ages. And having Eusoh has allowed us to take care of the many unforeseen expenses that have come from adopting a rescue dog. – Sharon L., Facebook 11/9/2020
Negative Reviews
Total Scam. Bills random amounts monthly. Also when you leave (for whatever reason, they take your deposit). – Bryan R., Facebook 9/11/2020
Downplays veterinarians' education. Misconstrues cost of care as being more expensive to insurance companies vs cash clients. – Sarah P., Facebook 8/4/2020
Is Eusoh Better Than Pet Insurance?
According to Eusoh, the monthly price you pay in the community should only fluctuate by a few dollars each month, at most. Currently, the maximum monthly price for Eusoh is $65. Once your price is locked in with Eusoh, you're set for the lifetime of the pet. The same isn't true for pet insurance.
With pet insurance, you're quoted a flat monthly fee for the policy term (one year), and the monthly fee can change each policy term depending on the rising costs of vet care. So, you may be able to get pet insurance for your puppy for around $45 per month for six years. Then, as your dog ages, you may see the monthly price become more comparable to Eusoh's monthly price ($65) or surpass it. Each pet and pet insurance company is truly different, so there's no one-size-fits-all plan.
The other thing that is really different between Eusoh and pet insurance is that you can adjust your pet insurance coverage to fit your budget. Eusoh's coverage details are set with an 80% reimbursement, $8,500 annual limit, and $250 annual out of pocket. Depending on the pet insurance company, you may be able to choose up to 100% reimbursement, unlimited annual limits, and $0 deductible or less than the limits set with the Eusoh policy.
We suggest getting pet insurance quotes from multiple top-ranked companies to see how much pet insurance would cost for your dog and what type of coverage you could get with that price. Having these prices and plans to compare to the Eusoh plan is a helpful way to ensure you find the best fit for your needs. You can also learn if pet insurance is worth it, and read about the best pet insurance, including our top three choices, best price, best wellness coverage, and more.
Would you choose Eusoh over pet insurance?