To sustain this free service, we receive affiliate commissions via some of our links. This doesn't affect rankings. Our review process.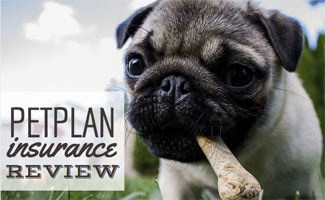 Petplan is among the most reputable pet insurance companies due to its outstanding customer service and excellent coverage. However, competitors have stepped up in recent years, offering more coverage for less money.
Why do we think Petplan still deserves your consideration as a pet insurance provider? Read our review to see why you might choose Petplan, especially if you're signing up as a new customer or adding a new pet.
Visit Petplan's Website | Call: 800-237-1123
Petplan
Pros
No claims credit (15% discount for each consecutive 12-month policy period without a claim, up to 30% max discount)
No lifetime or per condition claims limit
BBB rating: A+ (under its incorporated name, Fetch, Inc.)
Claims are typically paid within 5-7 days although it allows up to 30 days
App available to support claims via iOS and Android
Covers the exam fees for sick visits ($50-$250 on average)
Covers advertising lost pets, losing your pet, cancelled vacation due to pet illness, etc.
Offers a 5% discount for users purchasing their insurance plan online
Your pet is covered when they travel with you in the U.S. or Canada
Cons
No multi-pet discount
For coverage to apply, you must take your dog to the vet within 48 hours of noticing symptoms of an illness or injury
Several policyholders complain that Petplan delays payment on claims (often due to a short upfront waiting period as a new customer) and requires an invoice from your vet
Dogs must have annual health and dental check-ups in order for coverage to apply. Failure to do so may mean your dog won't get insurance coverage until that checkup is done.
Only covers CCL (ACL) on a second leg if the first leg remains healed for 12 months (if your pet received treatment for a cruciate or soft tissue injury to one knee before policy inception, then the other knee is automatically excluded)
Sample quotes were higher than competitors
No wellness plan available
$3.50 credit card processing fee for monthly and quarterly payments
Alternatives To Petplan
While Petplan has a lot to offer, it did not make it into our top 3 picks for best pet insurance providers. Our experts have analyzed over a dozen pet insurance providers. Check out our pet insurance reviews to learn more about this year's top-ranked companies.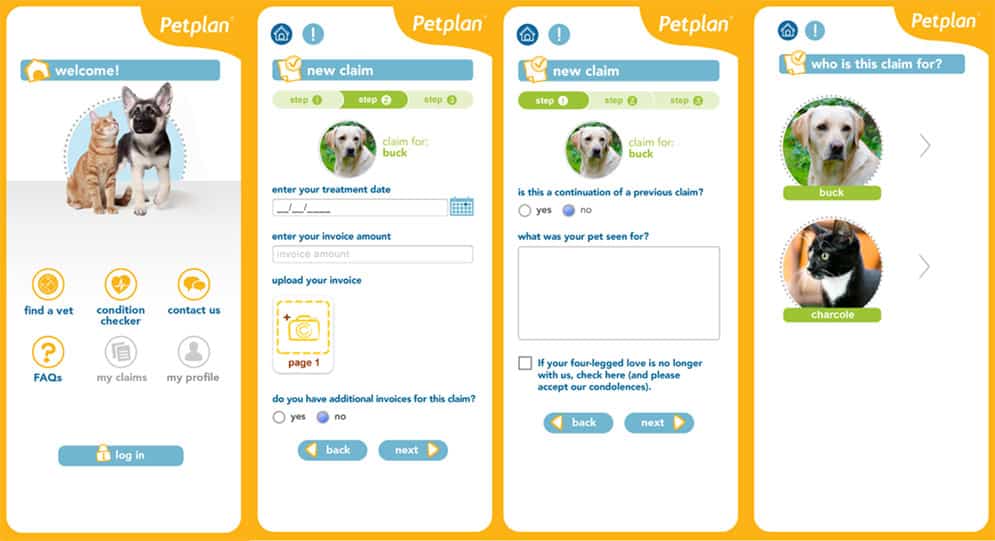 Key Features
Underwriter: XL Specialty Insurance Company
Offers a bilateral exclusion (a condition or disease that affects both sides of the body) for injuries/conditions of cruciate ligaments — if one side were pre-existing the policy would exclude the other if injured
Must submit claims within 90 days following treatment via the mobile app, fax, email or mail
PetVetDirect reimburses the veterinarian directly
Claim repayments may take up to 30 days but are typically paid within 5 to 14 business days for complete claims submitted via the app or online
30-day free look period (similar to a money-back guarantee)
No claims credit: For each 12-month period between renewal offers that your pet goes without a paid pet insurance claim reimbursement, Petplan will apply a 15% No Claims Credit to your policy premium, up to a 30% maximum total credit. So your premiums might actually decline over time.
Policies of $15,000 annual limit or more offer additional coverages:

The cost of advertising and paying a reward for a stolen or lost pet
The reasonable cost of boarding your pet at a licensed kennel or cattery while you're in the hospital as a result of your own sickness, disease or bodily injury
Reimbursement for the price you paid for your pet if your pet is stolen or goes missing during the policy period and is not found
Reimbursement for the price you paid for your pet if your pet dies or has to be put to sleep by a vet during the policy period, as a result of injury or illness
Reimbursement for any travel and accommodation costs you cannot recover if you have to cancel or cut short a vacation during the policy period because your pet is injured or shows the first clinical sign(s) of an illness while you are away or up to 7 days before you leave, and as a result requires immediate lifesaving vet treatment

Discounts available for: animal shelter or humane society, corporate group benefit plan, medical services, strategic partner, veterans and serving military, veterinary clinic staff and students
Note: Walmart Pet Insurance is managed by Petplan. Walmart is not an insurer, but is marketing pet insurance on behalf of Petplan, the company that will service policies. If you wish to get a quote for a Petplan policy, we'd recommend buying directly through Petplan to eliminate the middle man.
Exam Period
Petplan requires vet exams to establish your pet's baseline of health.
Must occur within 6 months before or 30 days after enrollment for any age animal
If your pet hasn't had a vet exam within 60 days prior to the policy's effective date, any medical condition(s) observed or recorded during the next vet exam will be excluded from coverage
Pre-Existing Conditions
Defined by Petplan as:
A medical condition which first occurred or showed clinical sign(s) before the effective date of this policy or which occurred or showed clinical sign(s) during the policy waiting period.
Petplan covers curable pre-existing conditions after 365 days. From Petplan's policy:
There is a 365-day exclusionary period for any curable medical condition that is observed, recorded, or identified up to 365 days prior to the original inception date of the policy or during the waiting period. A second 365-day exclusionary period will apply if the curable medical condition reoccurs within the first 365 days after the original inception date of the policy. If the same curable medical condition reoccurs during the second exclusionary period, then it will be excluded from coverage for the life of your pet.
Customer Service Hours
Email, live chat and phone: 24/7
Waiting Periods
XL Specialty Insurance Company issues all new Petplan policies. Below are the waiting periods for these policies.
15 days: Illnesses
15 days: Accidents
6 months: Cruciates and patellas

Can be waived if a vet examines your pet within 30 days of policy issuance and the vet notes explicitly that there's no indication of any knee problems. From Petplan's policy:

If your pet has received treatment or has shown clinical signs of a cruciate or soft tissue injury to one knee prior to the effective date of this policy or during the first 6 months of this policy, where no certificate of knee health has been provided as described in section V. h., then the other knee is automatically excluded from coverage.
What Does Petplan Cover?
Services included are not limited to this list and are subject to change.
| Covered by Petplan | Not Covered by Petplan |
| --- | --- |
| Injuries & accidents | Wellness & routine care |
| Illness | Preventative care |
| Non-routine veterinary exam fees & sick visits, including specialists and emergency care | Prophylactic teeth cleaning |
| Dental coverage for oral disease and injuries – including periodontal disease, extractions and advanced treatments such as root canal therapy | Non-curable pre-existing conditions |
| Behavioral treatment – including anxiety disorders such as travel and separation anxiety | Elective treatments e.g., tail docking, ear cropping (not recommended by a veterinarian to treat or diagnose an injury or illness) |
| Hereditary and chronic conditions | Breeding, pregnancy, whelping or treatment of offspring |
| Imaging (X-ray, MRI, CAT scan, ultrasound) | |
| Diagnostic treatment | |
| Prescription medications | |
| Cancer treatment | |
| Surgery & rehab | |
| Alternative, holistic and homeopathic treatments | |
| Curable pre-existing conditions | |
Is Hip Dysplasia Covered?
Petplan covers hereditary conditions, such as hip dysplasia, as long as there were no signs or symptoms before the policy or during the first 6 months that the policy is in effect.
Price Quotes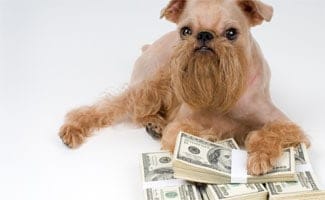 etplan has annual coverage limits of $2,500, $5,000, $10,000, $15,000, $20,000, $25,000 or unlimited. The lower the limit you select, the lower your monthly premium will be. However, we always recommend getting unlimited or the highest level possible within your budget because you never know what illnesses or injuries your pet may experience in one year.
Petplan offers $250 to $1,000 annual deductibles and 70%, 80% and 90% reimbursements. The higher your deductible and the lower your reimbursement, the lower your monthly premium will be. There may be more options available based on your unique circumstances so be sure to reach out to Petplan by phone at 800-237-1123 to explore possible customized plan options.
The cost of each policy is unique to your pet and depends on many variables, including your pet's age, breed, location, health conditions and more. Below are some sample quotes we've obtained from Petplan. Quotes are from December 2019.
Breed
Labrador Retriever
English Cocker Spaniel
German Shepherd
Yorkshire Terrier
Yorkshire Terrier
Yorkshire Terrier
Mixed Breed Cat
Age
2 years
8 years
4 years
6 years
2 months
2 months
2 years
Location
Florida
(zip code: 33134)
Illinois
(zip code: 60290)
California
(zip code: 90001)
New York
(zip code: 10001)
New York
(zip code: 10001)
Illinois
(zip code: 60290)
Washington D.C.
(zip code: 20001)
Price Per Month
$81.39
$110.00
$65.67
$95.84
$40.04
$24.28
$32.57
Reimbursement Level
80%
70%
90%
90%
90%
80%
80%
Annual Deductible
$250
$500
$500
$250
$250
$250
$250
Annual Limit
Unlimited
Unlimited
$2,500
$15,000
$15,000
$5,000
Unlimited
You can get personalized price quotes for your pet(s) from reputable companies, including Petplan. You can also visit our pet insurance quotes page to see how the cost of Petplan stacks up against the competition.
Transaction Fees
Petplan charges a $3.50 transaction fee for every monthly or quarterly payment. The quote given online includes this fee. There is no transaction fee for annual payments.
Coupon Code
Use coupon code
CYBER20A
to receive
up to 10% off + $35 Visa Gift Card
if you
sign up online
. Alternatively, call
800-237-1123
if you prefer to speak to a person.
Reimbursement Story
When her mother injured her back and landed in the hospital, Delaney, a 5-year-old Golden Retriever, took out her stress on the holiday décor. A belly full of garland later, Delaney needed X-rays, emergency surgery and medication to save her life. Luckily, Delaney's family had pet insurance and could say yes to the care their precious pup needed to make a full recovery.
Treatment Cost: $3,409
Petplan Reimbursed: $2,568
Final Cost For Pet Parents: $841
Customer Reviews
Want to know what real customers think? Read these positive and negative Petplan reviews for a better understanding of its customer service.
Positive Reviews
Petplan has been has been pretty amazing with my claims. I have a frenchie who has been insured with them since she was a puppy. Thankfully I didn't have to use it until she turned 7. She got a horrible case of pneumonia and they reimbursed me a very large sum of money and did it incredibly fast. Hopefully they keep this up. In addition i had an amazing experience with their customer service. His name was byron guinyard. He stayed on the phone with me for about an hour going over all my options and was incredibly knowledgable and helpful. If it wasn't for petplan I would not have been able to afford the care that my dog needed so I am thankful for them! – Lea M., Yelp 11/21/2019
I have a 3 year old cocker spaniel who has been unlucky in his short life and needed veterinary help in the form of both medical and surgical procedures. Petplan have been helpful if I needed help in completing a claim. They always deal promptly and payment is made swiftly through my bank account Their staff are always polite and pleasant and express their care about my dog and myself showing they understand how upsetting it can be when a pet is unwell. I would always recommend them to anyone. – Patricia B., TrustPilot 12/6/2019
Negative Reviews
I'd suggest staying away from this company. I filed a claim for our pup when she was having issues with glands. We had insurance with them from day one, 1st vet check up was clean on day one. Petplan is refusing to pay for the issues saying they were pre existing. How's that when we had insurance from day one of a puppy and a clean bill of health from day one? Company use to be good but has definitely taken a turn for the worse since my last pup. I'd recommend looking for other pet insurance company's. Our vet even said Petplan Pet Insurance – North America has been bad over the years. – Bill B., Yelp 11/18/2019
I have had pet insurance with Petplan for 5 1/2 years for my rescue dog Dexter. I have not made any claims during that time. I have paid them thousands of pounds. My dog then had to be treated for chocolate poisoning. Petplan refused to pay out until they had a full vet history from my current vet and my previous vet (from over 4 years ago). What possible relevance is the vet history to an incidence of chocolate poisoning. Avoid this company. – Jeff L., TrustPilot 12/5/2019
Do I Really Need Pet Insurance?
Pet insurance helps reduce out-of-pocket expenses when any significant medical event occurs in your dog's life. None of us ever plan for these unexpected events to occur, but pet insurance offers peace of mind when they do happen.
Worried about what your dog's eating when you're not looking? Perhaps Petplan can help you feel more protected. Check out the video below of how Petplan saved Spike's mom from paying out of pocket for his surgeries and therapy.
Petplan vs Other Companies
See what the key differences are between Petplan and other leading pet insurance companies.
Petplan vs Healthy Paws
Petplan has a shorter 15-day waiting period for hip dysplasia, while Healthy Paws is 12 months.
All Healthy Paws plans include unlimited claim limits, while Petplan offers claim limits ranging from $2,500 to unlimited.
Healthy Paws averages a 2-day claim repayment, while Petplan average 5 to 14 business days.
Compare Petplan and Healthy Paws
Petplan vs Pets Best
Petplan's underwriter (XL Specialty Insurance Company) has an A rating A.M. Best, while Pets Best's underwriter (American Pet Insurance Company) is unrated.
Pets Best has a shorter 14-day waiting period for hip dysplasia, while Petplan is 6 months.
Pets Best was consistently among the least expensive when we ran quotes, while Petplan was more towards the middle or high end.
Petplan vs Trupanion
Petplan pays out claims within 5 to 14 business days on average as opposed to the 60 days Trupanion allows.
Trupanion has a shorter 30-day waiting period for hip dysplasia, while Petplan is 6 months.
All Trupanion plans include unlimited claim limits, while Petplan offers $2,500 to unlimited claim limits.
What's Our Final Verdict On Petplan?
Visit Petplan's Website | Call: 800-237-1123
Although Petplan's pricing is higher on average compared to several top pet insurance providers, we think Petplan's unlimited annual coverage is tough to beat and certainly worth considering. We're also impressed with its stellar claim repayment reputation, which averages 5-14 business days.
Ultimately, whether you pick Petplan for your pet is up to you; however, here at Canine Journal, we always advocate some form of insurance. See how Petplan stacks up against other pet insurance companies in our comparison article.
Why are you considering Petplan?
Disclaimer: Information regarding insurance company offerings, pricing and other contract details are subject to change by the insurance company at any time and are not under the control of this website. Information published on this website is intended for reference use only. Please review your policy carefully before signing up for a new pet health insurance contract or any other contract as your unique circumstances will differ from those of others who may be used for example purposes in this article.
Disclaimer: The information provided through this website should not be used for diagnosing or treating a health problem or a disease. It is not a substitute for professional care. If you have or suspect you may have a health problem, you should consult your health care provider.
Disclaimer: This website contains reviews, opinions and information regarding products and services manufactured or provided by third parties. We are not responsible in any way for such products and services, and nothing contained here should be construed as a guarantee of the functionality, utility, safety or reliability of any product or services reviewed or discussed. Please follow the directions provided by the manufacturer or service provider when using any product or service reviewed or discussed on this website.