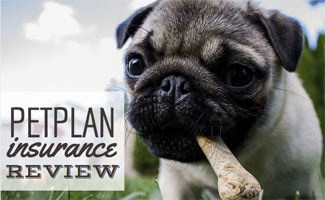 Petplan is among the most reputable pet insurance companies due to its outstanding customer service and excellent coverage. However, many competitors have stepped up in recent years.
Why do we think Petplan still deserves your consideration? Read our review to see why you might choose Petplan, especially if you're signing up as a new customer or adding a new pet.
Visit Petplan's Website | Call: 800-237-1123
Petplan
Pros
Healthy pet credit (15% discount for each consecutive 12-month policy period without a claim, up to 30% max discount)
No lifetime or per-condition payout limit
BBB rating: A+ (under its incorporated name, Fetch, Inc.)
App available to submit claims via iOS and Android
Covers the exam fees for sick visits ($50-$250 on average)
Your pet is covered when they travel with you in the U.S. or Canada
Covers up to $1,000 in VirtualVet visits over video chat, call, or text
Cons
No multi-pet discount
Several policyholders complain that they aren't covered until they prove that their pet is healthy with updated medical records, but once they do that, Petplan covers any future eligible injury or illness
Dogs must have annual health and dental check-ups for coverage to apply. Failure to do so may mean your dog won't get insurance coverage until that checkup is done.
Only covers CCL (ACL) on a second leg if the first leg remains healed for 12 months (if your pet received treatment for a cruciate or soft tissue injury to one knee before policy inception, then the other knee is automatically excluded)
Sample quotes were higher than competitors
No wellness plan available
Claims repayment averages 22 days, although it allows up to 30 days
Alternatives To Petplan
While Petplan has a lot to offer, it did not make it into our top three picks for best pet insurance providers. Our experts have analyzed over a dozen pet insurance providers. Check out our pet insurance reviews to learn more about this year's top-ranked companies.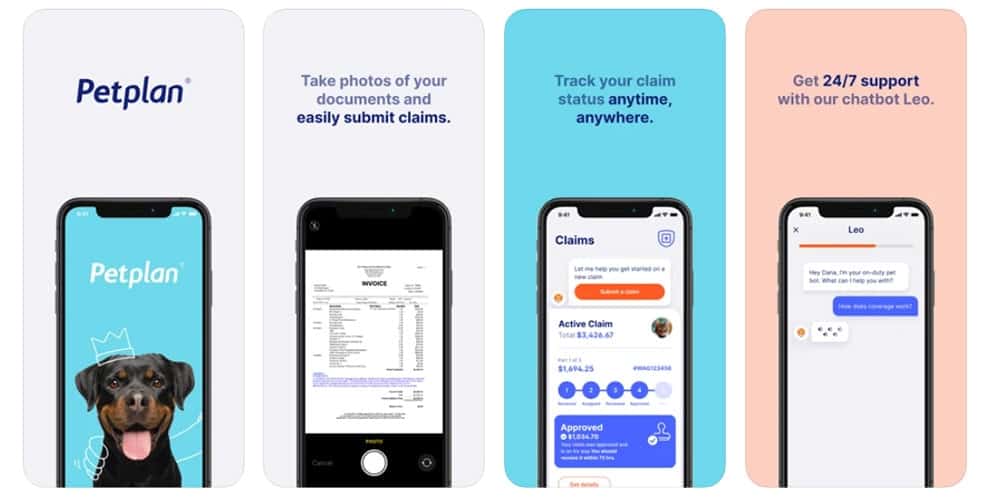 Key Features
Underwriter: XL Specialty Insurance Company
Offers a bilateral exclusion (a condition or disease that affects both sides of the body) for injuries/conditions of cruciate ligaments — if one side were pre-existing, the policy would exclude the other if injured
Claims process:

Must submit claims within 90 days following treatment via the mobile app, online, fax, email, or mail (however, not encouraged currently due to Petplan employees working remotely due to COVID-19)
PetVetDirect reimburses the veterinarian directly
Claim repayments may take up to 30 days but averages 22 days for check (direct deposit may get your money back to you 5 to 10 days faster)
Check and direct deposit are both available for reimbursement

30-day free look period (similar to a money-back guarantee)
Healthy pet credit: For each 12-month period between renewal offers that your pet goes without a paid pet insurance claim reimbursement, Petplan will apply a 15% Healthy Pet Credit to your policy premium, up to a 30% maximum total credit. So your premiums might actually decline over time.
Policies of $15,000 annual limit or more offer additional coverages:

The cost of advertising and paying a reward for a stolen or lost pet
The reasonable cost of boarding your pet at a licensed kennel or cattery while you're in the hospital as a result of your own sickness, disease, or bodily injury
Reimbursement for the price you paid for your pet if your pet is stolen or goes missing during the policy period and is not found
Reimbursement for the price you paid for your pet if your pet dies or has to be put to sleep by a vet during the policy period, as a result of injury or illness
Reimbursement for any travel and accommodation costs you cannot recover if you have to cancel or cut short a vacation during the policy period because your pet is injured or shows the first clinical sign(s) of an illness while you are away or up to 7 days before you leave, and as a result requires immediate lifesaving vet treatment

10% discounts available for: animal shelter or humane society, corporate group benefit plan, medical services pet, strategic partner (e.g., AARP) , veterans and serving military, veterinary clinic staff, and students
Includes coverage for COVID-19 in pets should a Petplan protected pet be diagnosed with the virus
Covers VirtualVet visits up to $1,000 per policy year with no co pay or deductible
Some of the most common claims submitted by Petplan customers are:
Offers pre-approval of estimates/procedures in advance of treatment
Note: Walmart Pet Insurance is managed by Petplan. Walmart is not an insurer but is marketing pet insurance on behalf of Petplan, the company that will service policies. If you wish to get a Petplan policy quote, we'd recommend buying directly through Petplan to eliminate the middle man.
Exam Period
Petplan requires vet exams to establish your pet's baseline of health.
Must occur within 6 months before or 30 days after enrollment for any age animal
If your pet hasn't had a vet exam within 60 days prior to the policy's effective date, any medical condition(s) observed or recorded during the next vet exam will be excluded from coverage
Pre-Existing Conditions
Defined by Petplan as:
A medical condition which first occurred or showed clinical sign(s) before the effective date of this policy or which occurred or showed clinical sign(s) during the policy waiting period.
Petplan covers curable pre-existing conditions after 365 days. From Petplan's policy:
There is a 365-day exclusionary period for any curable medical condition that is observed, recorded, or identified up to 365 days prior to the original inception date of the policy or during the waiting period. A second 365-day exclusionary period will apply if the curable medical condition reoccurs within the first 365 days after the original inception date of the policy. If the same curable medical condition reoccurs during the second exclusionary period, then it will be excluded from coverage for the life of your pet.
Customer Service Hours
Email, live chat, social media, and phone: Monday-Friday 8am-8pm EST; Saturday 10am-6:30pm EST; Sunday Closed
Waiting Periods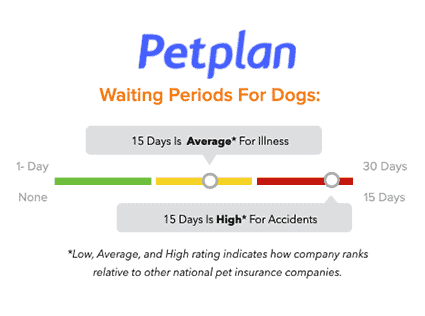 XL Specialty Insurance Company issues all new Petplan policies. Below are the waiting periods for these policies.
15 days: Illnesses
15 days: Accidents
6 months: Cruciates and patellas

Can be waived if a vet examines your pet within 30 days of policy issuance and the vet notes explicitly that there's no indication of any knee problems. From Petplan's policy:

If your pet has received treatment or has shown clinical signs of a cruciate or soft tissue injury to one knee prior to the effective date of this policy or during the first 6 months of this policy, where no certificate of knee health has been provided as described in section V. h., then the other knee is automatically excluded from coverage.

6 months: Hip dysplasia
What Does Petplan Cover?
Please know that none of the pet insurance providers in our comparison cover pre-existing conditions or cremation and burial costs. All of them cover the following items when deemed medically necessary: x-rays, blood tests, ultrasounds, cat scans, MRIs, rehabilitation, specialized exams, surgery, hospitalization, emergency care, specialty care, hydrotherapy, chronic conditions, cancer, diagnostic treatment, alternative/holistic therapy, and euthanasia. However, there may be limitations to this coverage, so please check your policy.
| Condition | Covered By Petplan |
| --- | --- |
| Exam Required To Set Health Baseline | |
| Behavioral Therapies | |
| Exam Fees | |
| Wellness Care Available For An Extra Fee | |
| Non-Routine Dental Treatment | |
| Hereditary Conditions | |
| Congenital Conditions | |
| Prescription Medication | |
| Breed, Whelping, Pregnancy | |
| Cosmetic Procedures (e.g., Tail Docking, Ear Cropping, Dew Claw Removal) Unless Medically Necessary | |
Price Quotes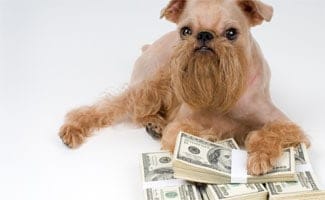 Petplan has annual payout limits of $5,000, $15,000, or unlimited. The lower the limit you select, the lower your monthly premium will be.
Petplan offers $250, $300, and $500 annual deductibles and 70%, 80%, and 90% reimbursements. The higher your deductible and the lower your reimbursement, the lower your monthly premium will be. There may be more options available based on your unique circumstances, so be sure to reach out to Petplan by phone at 800-237-1123 to explore possible customized plan options.
The cost of each policy is unique to your pet and depends on many variables, including your pet's age, breed, location, health conditions, and more. Below are some sample quotes we've obtained from Petplan. Quotes are from December 2020.
Breed
Labrador Retriever
English Cocker Spaniel
German Shepherd
Yorkshire Terrier
Mixed Breed Cat
Age
2 years
8 years
4 years
6 years
2 years
Location
Florida
(33134)
Illinois
(60411)
California
(90001)
New York
(10001)
Washington D.C.
(20001)
Reimbursement Level
80%
70%
90%
90%
80%
Annual Deductible
$250
$500
$500
$250
$250
Annual Payout Limit
Unlimited
Unlimited
$5,000
$15,000
Unlimited
Price Per Month
$113.84
$147.12
$66.82
$95.84
$34.02
You can get personalized price quotes for your pet(s) from reputable companies, including Petplan. You can also visit our pet insurance quotes page to see how our cost scenarios for Petplan stacks up against the competition.
Monthly vs Quarterly vs Annually Payments
Petplan offers discounts if you pay for more premiums upfront. For example, in one quote we ran we were given the following prices:
$60.21 per month
$173.71 quarterly ($57.90 per month)
$680.83 annually ($56.74 per month)
As you can see, you can save $41.69 by opting to pay annually vs monthly. This isn't uncommon for companies to charge transaction fees, but they do typically itemize the fee out during the payment process so you can see that you're being charged for it.
Coupon Code
There are no Petplan promo codes at this time.
Sign up online to receive the best possible price from Petplan
. Alternatively, call
800-237-1123
if you prefer to speak to a person.
Reimbursement Stories
When her mother injured her back and landed in the hospital, Delaney, a five-year-old Golden Retriever, took out her stress on the holiday décor. A belly full of garland later, Delaney needed X-rays, emergency surgery, and medication to save her life. Luckily, Delaney's family had pet insurance and could say yes to the care their precious pup needed to make a full recovery.
Dog: Delaney, 5-year-old Golden Retriever
Diagnosis: Foreign Body Ingestion
Treatment Cost: $3,409
Petplan Reimbursed: $2,568
Final Cost For Pet Parents: $841
After finding a sizable lump under his fur, Mr. Bear's vet thought it could be a melanoma. He operated, and the mass removed was cancer. The operation was successful. Mr. Bear's parent filled out Petplan's reimbursement form, the vet filled out the relevant portions and attached the medical history, and we got the check for 80% of the cost of the operation, less the deductible, within a few days.
Dog: Mr. Bear, 5-year-old male Lab-Chow mix
Diagnosis: Cancerous Growth, Broken Nail
Treatment Cost: $1,095.65
Petplan Reimbursed: $476.52
Final Cost For Pet Parents: $619.13
Customer Reviews
Want to know what real customers think? Read these positive and negative Petplan reviews for a better understanding of its customer service.
Positive Reviews
I signed all 3 of my pets (dog and 2 cats) up for petplan coverage when they were babies. My male cat had a urinary blockage requiring surgery. It was an expensive surgery and a relief to have it covered. A year later he was diagnosed with large cell lymphoma. The diagnosis and treatment were very costly. It was a relief to have all of his care and medications covered. I received payments often in a few days. I was thankful to have this coverage during an otherwise trying time. Petplan made the whole process of claims submission clear and easy so that I could just focus on getting my cat the care he needed. – Elana L., Yelp 9/6/2020
Fantastic service from Pet plan with 2 different cats in December. Payment extremely prompt and claim form was easy to complete. Thank you – Gillian T., Trustpilot 12/31/2020
Negative Reviews
Bastards. Covid has destroyed this company's ability to function properly, as well as communicate to customers clearly and fairly. Been with them over 9 years…about a year before covid hit their service began getting bad: long hold times, no call backs, long processing times. In this past year it got worse……they haven't adapted to the ongoing crisis. Now you will wait easily 20- 30 minutes on hold just to speak with someone. Also their systems are failing and not processing claims well. They're trying to screw us out of $300 I'm trying to reach them to explain their error, but it's impossible to reach them on the phone or email. This will be our last year using Petplan. – Steve S., Yelp 12/29/2020
The absolute worst. 8 years insured our pets with them with no claims and the moment we claimed for a serious condition they tried to find any little thing to void our policy. Avoid at all costs. Their customer service is appalling. – Maria & Alex, Trustpilot 12/30/2020
Frequently Asked Questions
Here are some frequently asked questions regarding Petplan pet insurance from our readers.
How Do I Cancel Petplan Policy?
You can cancel Petplan insurance by calling 1-800-240-1875 or by emailing advance written notice of cancellation to customeradvocate@gopetplan.com or mailing to Petplan Pet Insurance 3805 West Chester Pike, Suite 240, Newtown Square, PA 19073.
If you notify Petplan within the 30 days from the effective date shown on the declarations page, and you haven't submitted a claim, Petplan will refund the premium. After 30 days, Petplan will return the pro rata premium based upon the date of termination of the policy.
If you'd like a replacement for your Petplan insurance policy, take a look at our pet insurance reviews to see which pet insurance companies we've selected in our top three.
Do I Really Need Pet Insurance?
Pet insurance helps reduce out-of-pocket expenses when any significant medical event occurs in your dog's life. None of us ever plan for these unexpected events to occur, but pet insurance offers peace of mind when they do.
Worried about what your dog's eating when you're not looking? Perhaps Petplan can help you feel more protected. Check out the video below of how Petplan saved Spike's mom from paying out of pocket for his surgeries and therapy.
Petplan vs Other Companies
Interested in seeing how Petplan stacks up against other popular pet insurance companies? We've written comparison articles for you to see how Petplan and other leading pet insurance companies compare in coverage, customer service and reputation, claim repayment timeline, plan customization, and price.
What's Our Final Verdict On Petplan?
Visit Petplan's Website | Call: 800-237-1123
Petplan's pricing is higher on average compared to several top pet insurance providers. Additionally, we're slightly disappointed with its claim repayment average, which is currently 22 days for check or 5 to 10 days faster via direct deposit. However, we think Petplan's detailed coverage is tough to beat and certainly worth considering.
Ultimately, whether you pick Petplan for your pet is up to you; however, here at Canine Journal, we always advocate some form of insurance. See how Petplan stacks up against other pet insurance companies in our comparison article.
Why are you considering Petplan?