How do we keep this site running? This post may contain affiliate links — the cost is the same to you, but we get a referral fee. Compensation does not affect rankings. Thanks!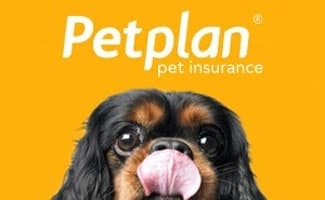 After an exhaustive review of nearly a dozen top pet insurance companies on the market today, Petplan came in third place among the pack! Why is Petplan among our top picks for best pet insurance? Keep reading to see exactly what all the Petplan reviews rave about!
This in-depth review will cover Petplan pet insurance and show you why Petplan is a terrific option for pet owners by examining coverage, customer reviews, cost, and comparing the services to other pet insurance providers. Use Petplan Discount Code "CanineJournal" to save a total of 10% off a new policy!
Call: 800-237-1123
Review Overview
Customer Service & Reputation
Timeliness of Claim Payment
Petplan has great customer service, making their reputation phenomenal. There are few exclusions in their policies but overall they're a great pet insurance company. Why are they #3? Ultimately, it came down to price. Healthy Paws and Pets Best offers similar coverage and typically Petplan is more expensive than them for similar coverage. The change in underwriters in 2016 also raised prices for current customers, which has increased some complaints for Petplan.
Who is Petplan?
Petplan is among the top pet insurance providers in the United States and is headquartered in the U.S. in Philadelphia, Pennsylvania. The U.S. based company is the sister company of Petplan UK, the world's oldest and largest pet insurance provider and with over 40 years of experience, allowing Petplan to provide a level of coverage at a cost lower than most newer pet insurance companies can. They are licensed in all fifty states and the District of Columbia, as well as all provinces in Canada except Quebec. This is important to note because not all pet insurance companies cover all states.
Petplan also enjoys the stability and strength of the A+ S&P rated XL Specialty Insurance Company, as their underwriting partner. Currently, Petplan is used by various shelter and humane societies including the North Shore Animal League of America and the Humane Society of the United States. Partners of the Petplan pet insurance group include: Allianz, the North Shore Animal League of America, Esurance, Morris Animal Foundation and Pets for Patriots. All of these companies have a passion for pets and help Petplan to provide affordable but quality pet insurance.
What is Covered by Petplan?
Here is a list of services that Petplan does and does not cover as of January 2017.
| Covered by Petplan | Not Covered by Petplan |
| --- | --- |
| Surgeries | Pre-existing conditions |
| Hospitalization | Vaccinations |
| Cancer | Routine teeth cleaning |
| Prescription medications | Spay/neuter procedures |
| Diagnostic treatment and testing (x-rays, blood tests, imaging, etc.) | Wellness visits (preventive care exams or office visits) |
| Injuries & accidents | |
| Illness | |
| Non-routine veterinary exams & visits, including specialists & emergency | |
| Hereditary & chronic conditions | |
| Dental (non-routine) treatment | |
| Congenital conditions | |
| Emergency care | |
| Alternative treatment | |
| Behavioral therapies (optional coverage) | |
Should I Insure My Pet with Petplan?
With so many pet insurance providers available it can be difficult to distinguish one from another. Let's look at why Petplan might be the right insurance solution for you and your furry family members. But, before you choose just one company, be sure to run price quotes with our top three companies or ALL companies that meet your criteria to find the best coverage for the best price.
Hereditary and Congenital Condition Coverage
Pet insurance isn't just for accidents and unexpected illnesses, although those are enough to invest in pet insurance. Hereditary and congenital conditions can also be costly during the life of your pet, but the vast majority of pet insurance providers do not cover these types of conditions without additional surcharges or riders on the policy. Petplan offers coverage for hereditary and congenital conditions as a standard inclusion on their policies without riders or additional charges. This includes hip dysplasia.

Hip Dysplasia Coverage
Hip dysplasia is one of the most common hereditary conditions found in nearly 100 breeds of dog (from little Pugs to large Labrador Retrievers) but it is most common in large breed dogs, affecting 1 in 5. This common ailment can cost pet owners anywhere from $1,200 (yearly) to $15,000 to treat depending on the severity and course of treatment selected. Yet hip dysplasia is rarely covered by most pet insurance policies and when it is, they typically charge additional and hefty fees. Not Petplan. Petplan covers hereditary conditions such as hip dysplasia as long as there were no signs or symptoms prior to the policy or during the policy waiting periods.
Chronic Condition Coverage
Chronic health conditions can be another significant concern for pet owners interested in purchasing insurance for their pet. Many policies will not cover chronic conditions and those that do implement maximum pay out limits for the lifespan of the pet, ensuring that lifetime coverage is denied. Petplan however, offers coverage for chronic conditions. The only provision to this coverage is that the chronic condition should not be pre-existing and should not have occurred during the initial waiting period of the policy. Under the "covered for life guarantee," Pet Plan offers coverage for life for chronic conditions so long as the pet policy remains in good standing.
Alternative and Holistic Therapy
Although alternative and holistic treatments are becoming more common in veterinary medicine, many pet insurance plans do not recognize them and charge additional riders or fees for coverage. Petplan is more progressive in this aspect and offers coverage for both alternative and holistic therapy without additional cost as long as a licensed veterinarian performs the treatments.
Pet Prescription Medication Coverage
Prescription medications are costly and unfortunately not every pet insurance policy offers full coverage for all medications. Petplan offers prescription drug coverage as a standard.
Pet Exam Fee Coverage
In the event of an accident or illness your veterinarian will want to perform an exam to fully assess the health of your pet. Depending upon the pet insurance plan you have in place for your pet, this exam fee may or may not be covered. In the case of Petplan, vet exam fees for unexpected emergencies are covered by policies. This Pet Plan insurance feature also ensures that exams performed by veterinary specialists are covered under the policy.
Pet Insurance Enrollment Fees
Pet Plan recently added an enrollment fee of $25 (in most states) but backs it up with a 30-day money back guarantee, so long as no claim has been filed in that thirty-day period. Most companies in this category charge a one-time enrollment or annual renewal fee.
Underwriter Rating
In the insurance world, a third-party underwriter ensures the policies are financially sound and can be fulfilled should a claim be filed. Pet parents can feel confident because Petplan is now underwritten by XL Specialty Insurance Company (XL Catlin), a global casualty and property insurer group with a great reputation and an A+ rating from S&P Global Ratings. This new relationship (launched June 1, 2016) also allows for more flexibility in creating policies that are unique for each pet and pet parent's needs and budget, however, premium pricing seems to have climbed since this introduction of these new policy options.*
* We recommend that you always get a quote from at least two companies before choosing an insurer to get the best coverage for the best price.
Pros

Cons

Covers exam fees for emergencies and accidents as well as some hereditary, chronic conditions and congenital conditions that are not covered by most other plans
High customer satisfaction
There is a 5% discount for users purchasing their insurance plan online
Customizable plans (monthly cost adjustable based on coverage amount, deductible and reimbursement selections)
Covers prescription medications
No lifetime or per condition claims limit
BBB accredited with an A+ rating under their incorporated name, Fetch, Inc.
Live chat, which is a rare feature
Claims are typically paid within 5-14 days although they allow up to 30 days
App available to support claims via iOS and Android

Complaints of high premium prices for new customers and premium increases for existing customers to be higher than competitors
In order for coverage to apply you must take your dog to the vet within 48 hours of noticing symptoms of an illness or injury
A number of policyholders complain that Pet Plan delays payment on claims (often due to a short upfront waiting period as a new customer) and requires extensive proof of treatment documentation
Dogs must have annual health and dental check ups in order for coverage to be applied. Failure to do so may mean your dog won't get insurance coverage until that check up is done.
Only covers CCL (ACL) on a second leg if the first leg remains healed for 12 months
Customers state it is more expensive than Healthy Paws for unlimited annual claims
Routine vet exams and office visits are not covered (aka wellness exams)
Petplan Insurance Reviews
Want to know what real customers think? Read these positive and negate Petplan reviews to give you a better understanding of their customer service.
Positive Reviews
This insurance is everything! There are real people and they are super nice and helpful! They even have an app to file claims and I got a check within 2 weeks of my appointment. Highly recommend!! – Vahlen E., Yelp 5/27/2015
After hearing how much Petplan has helped others and their pets, I recently purchased a plan for my puppy. I noticed some of my information wasn't showing properly on the website/app and I recently spoke with Gina B. who helped me correct this information. She was very helpful and punctual, which I am thankful for! – Bianca D., Yelp 2/14/2017
Negative Reviews
Total Scam. Stay away. Disorganized, They don't communicate with you and then they deny everything. Save your money and put your $30/month in to a saving account. – Lillie B., Yelp 3/21/2014
Be very careful going with this company. They are trying to claim my pet has a pre-existing condition when my veterinarian wrote and letter explaining how it is not and they will not reimburse me… SCAM!!!! They pay vets to just say whatever they want so they do not have to reimburse you when boarded veterinarians at specialty hospitals say it isn't pre-existing. Don't waste your time appealing either. – Greg, Consumer Affairs 11/3/2016
The Cost of Petplan Pet Insurance Policies
The cost of your Petplan pet insurance policy varies depending on a variety of factors such as the plan you select, the deductible you choose and the reimbursement percentage of your plan. As a client of Petplan you are able to customize your Petplan coverage to suit your needs.
Annual Coverage Allowances
As mentioned, there is a new option to choose from a wide range of coverage offerings by Petplan. Your annual coverage limit can start as low as $2,500 but the upper limited it truly unlimited. The higher the limit, the higher you should expect your price to be for the premium. Keep in mind this is the max amount that Pet Plan will pay out to you for any vet bills in any given year so make sure it is high enough to cover the financial and physical risks you are hoping to insure against.
Reimbursement
As with human insurance plans, Pet Plan pet insurance plans come with a variety of reimbursement options. Depending upon your financial means as well as your pets overall health, you may choose a higher or a lower deductible plan. Currently, Petplan offers 70%, 80% and 90% reimbursement plans. A plan with an 80% reimbursement means that the insurance plan will cover 80% of the cost of an incident and the policyholder will pay the remaining 20%. Please keep in mind that with all pet insurance plans, the current norm is for pet owners to pay the full vet bill but then submit your claim to the insurance company to be paid back at your policy's reimbursement level.
Deductibles
Regardless of which of the Petplan Insurance coverage and reimbursement rates you select, you will also have the option to select your deductible. There is a range of deductible amounts to choose from, ranging from $100 to $2,500. These deductibles can be applied on an annual or per condition basis for your pet. This means that if your pet has two veterinary visits for the same condition within the policy year you will pay the deductible for your policy only once for this condition – even if you file three claims for the same condition. Deductibles are taken after your policy co-pay has been applied.
An Example of a Petplan Insurance Claim
Assuming that you purchase a plan for your dog with a $10,000 annual coverage limit, $100 deductible and 90% coverage, let's take a look at a potential claim filing.
Your dog has just broken his tooth and requires dental surgery. Under your plan your dog is entitled to $10,000 in reimbursement, but this does not mean that if your dog's tooth extraction costs $10,000 that you will receive this amount. Specific conditions under your plan receive policy limits—the maximum your dog's policy will pay out for a particular condition or procedure. Let's assume your dog's tooth extraction costs $400 and under your policy that full amount is covered. Petplan will pay 90%, after you pay your $100 deductible and the 10% that you are responsible for over an above the 90% deductible insured by Petplan. In this example, Petplan will reimburse you $270 for the tooth extraction.
Compare Pet Insurance Costs
Get personalized price quotes from three companies when you fill out just one short form or visit our Pet Insurance Quotes page to see how the cost of Petplan stacks up against the competition.
Coupon Code
Use coupon code CanineJournal to receive an additional 5% discount (10% total if you sign up online). Alternatively, if you call 800-237-1123 you will automatically get the additional 5% discount! You can also visit our dedicated Petplan promotions page to discuss current offers.
Which Pet Insurance Plan is Right for You?
Although there are only three coverage plans available to pet owners via Petplan for their pet's insurance coverage, there are also three options for co-pay and three options for deductible cost. This combination provides a much larger number of possibilities when it comes to providing for your pet's medical needs. There are a number of factors to take in to consideration when deciding which Petplan health insurance policy is the best for you and your dog.
Consider Cost & Coverage
When talking pet insurance, the question we most often hear is, "How much does that cost?" Yes, pet insurance is an added monthly expense, but one that can save you significantly in the event of a major health issue. Chances are, over the course of a pet's average 7-12 year life span, your pet will have at least one medical incident or health issue. (Consider that many dogs and cats now live well into their teens!) The right question to ask yourself: "Are you getting the right amount and kind of coverage for your pet within your budget?"
The Maximum Benefit
While customer satisfaction rating is a big selling point for many pet owners when it comes to pet insurance, it is also important to consider which provider and which plan provides the maximum benefit for cost. If, for example you have a dog that is fairly young and generally healthy with few hereditary concerns, you may feel comfortable with a lower coverage plan with a higher deductible and a lower co-pay percentage. If, however, you have a dog with a chronic condition such as skin allergies or diabetes, you may find that the higher coverage plans are worth your investment based on the number of medications or treatments your pet requires.
Veterinarian Acceptance
While human medical insurance companies only work with certain practices or doctors, pet insurance works differently. There are no "in-network" or "out-of-network" issues to worry about, and you don't need a referral or approval to see the licensed veterinarian of your choice. The client (you) pays up front for the full cost of the veterinary services and then files a claim directly with Petplan. This claim is processed and the client is reimbursed directly by Petplan. If you have questions about your coverage, call Pet Plan to see if you're covered before a (non-emergency) procedure or treatment is done on your pet. Bottom line, aside from providing you itemized receipts to file claims, your vet's office will probably have very little to do with your pet insurance provider.
Petplan Insurance Reviews: Compare Petplan To Other Leading Pet Insurance Providers
Visit our dog insurance reviews page to see a comprehensive comparison of the leading insurance providers for pets.
What is Your Dog Eating?
Worried about what your dog is eating when you're not looking? Perhaps Petplan can help you feel more protected. Check out this video below, this dog loves to try everything!
Why You Should Get Pet Insurance for Your Dog
Ultimately, whether you choose to use Petplan for your dog is up to you; however, here at Canine Journal we always advocate some form of insurance. Did you know 41% of pet owners are worried they wouldn't be able to pay for their pet's emergency medical bills? Pet insurance helps to reduce out-of-pocket expense when any significant medical event occurs in your dog's life. None of us ever plan for these unexpected events to occur but pet insurance offers a peace of mind when they do happen.
Do you have pet insurance today? Why are you considering Petplan?
Disclaimer: Information regarding insurance company offerings, pricing and other contract details are subject to change by the insurance company at any time and are not under the control of this website. Information published on this website is intended for reference use only. Please review your policy carefully before signing up for a new pet health insurance contract or any other contract as your unique circumstances will differ from those of others who may be used for example purposes in this article.