To sustain this free service, we receive affiliate commissions via some of our links. This doesn't affect rankings. Our review process.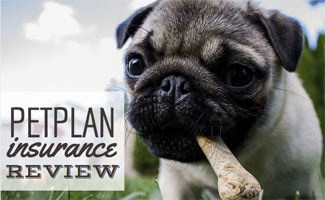 Petplan was our #1 pick for pet insurance for several years in a row due to its outstanding customer service, excellent coverage and low prices. However, competitors stepped up and offered more coverage for less money, pushing Petplan down to third place.
In 2016, Petplan changed its underwriter, which caused a whirlwind of complaints from existing customers. Complaints revolve mainly around premiums increasing drastically and in some cases even doubling for existing customers.
Why do we think Petplan still deserves your consideration as a pet insurance provider? Read our review to see why you should still consider Petplan, especially if you are a new customer.
Visit Petplan's Website | Call: 800-237-1123
Article Overview
Key Features
Underwriter: XL Specialty Insurance Company (XL Catlin)
Vet exams are required to establish your pet's baseline of health

Must occur within 60 days before or 30 days after enrollment for any age animal
If your pet has not had a vet exam within the 12 months prior to the effective date of the policy, any medical condition(s) observed or recorded during the next vet exam will be excluded from coverage
Pets older than 6 should be seen within 1 month of the effective date of the policy to establish a baseline of health

6-month waiting period for cruciate ligaments and patellas can be waived if the pet is examined by a vet within 30 days of policy issuance and the vet specifically notes that there is no indication of any knee problems:

From Petplan policy: However, coverage will be afforded if your pet is examined by a veterinarian within the first thirty (30) days of the policy and the medical record specifically notes your pet does not have any pre-existing conditions relating to the knees, subject to the waiting period. But if this isn't done and then there is a knee problem then the other knee gets excluded too.

Pre-existing conditions defined by Petplan: A medical condition which first occurred or showed clinical sign(s) before the effective date of this policy or which occurred or showed clinical sign(s) during the policy waiting period.
Has a bi-lateral exclusion for injuries/conditions of cruciate ligaments, if one side was pre-existing the policy will exclude the other if injured
Claims must be submitted within 90 days following treatment via the mobile app or claims form
Set to launch in the third quarter of 2018 is Petplan Pay+, which allows Petplan to pay vets directly
Covers miscellaneous items like advertising lost pets, losing your pet, cancelled vacation due to pet illness (exclusions are possible)
Claim repayment may take up to 30 days, but are typically paid within 5 to 14 days
30-day free look period (similar to a money back guarantee)

Petplan covers curable pre-existing conditions after 365 days
Petplan Review
Pros
There is a 5% discount for users purchasing their insurance plan online
Covers advertising lost pets, losing your pet, cancelled vacation due to pet illness, etc.
No lifetime or per condition claims limit
BBB rating: A+ (under its incorporated name, Fetch, Inc.)
Claims are typically paid within 5-7 days although it allows up to 30 days
App available to support claims via iOS and Android
Covers the exam fees for sick visits ($50-$250 on average)
No claims credit (2% discount for each consecutive 12-month policy period without a claim, up to 10% max discount)
Cons
Complaints from existing customers of premium increases being drastically higher than competitors
In order for coverage to apply you must take your dog to the vet within 48 hours of noticing symptoms of an illness or injury
A number of policyholders complain that Petplan delays payment on claims (often due to a short upfront waiting period as a new customer) and requires an invoice from your vet
Dogs must have annual health and dental check-ups in order for coverage to apply. Failure to do so may mean your dog won't get insurance coverage until that checkup is done.
Only covers CCL (ACL) on a second leg if the first leg remains healed for 12 months (if your pet received treatment for a cruciate or soft tissue injury to one knee before policy inception, then the other knee is automatically excluded)
Customers state (and our sample quotes show) it is more expensive than Healthy Paws for unlimited annual claims
No wellness plan
$3 credit card processing fee for monthly and quarterly payments
What Is Covered By Petplan?
Here is a list of services that Petplan does and does not cover as of May 2018.
| Covered by Petplan | Not Covered by Petplan |
| --- | --- |
| Injuries & accidents | Wellness & routine care |
| Illness | Preventative care |
| Non-routine veterinary exam fees & sick visits, including specialists and emergency care | Prophylactic teeth cleaning |
| Dental coverage for oral disease and injuries – including periodontal disease, extractions and advanced treatments such as root canal therapy | Non-curable pre-existing conditions |
| Behavioral treatment – including anxiety disorders such as travel and separation anxiety | Elective treatments e.g., tail docking, ear cropping (not recommended by a veterinarian to treat or diagnose an injury or illness) |
| Hereditary and chronic conditions | |
| Imaging (Xray, MRI, CAT scan, ultrasound) | |
| Diagnostic treatment | |
| Prescription medications | |
| Cancer treatment | |
| Surgery & rehab | |
| Alternative, holistic and homeopathic treatments | |
| Curable pre-existing conditions | |
Coupon Code
Use coupon code CanineJournal to receive an additional 5% discount (10% total if you sign up online). Alternatively, if you call 800-237-1123 you will automatically get the additional 5% discount! You can also visit our dedicated Petplan promotions page to discuss current offers.
Compare Pet Insurance Costs
Petplan has annual coverage limits of $2,500, $5,000, $10,000, $15,000, $20,000, $25,000 or unlimited. The lower the limit you select, the lower your monthly premium will be. However, we always recommend getting unlimited or the highest level possible within your budget because you never know what illnesses or injuries your pet may experience in one year.
Petplan offers $250 to $1,000 annual deductibles and 70%, 80% and 90% reimbursements. The higher your deductible and the lower your reimbursement, the lower your monthly premium will be. There may be more options available to you based on your unique circumstances so be sure to reach out to Petplan by phone at 800-237-1123 to explore possible customized plan options.
Below are some sample quotes we've obtained from Petplan. Quotes are from May 2018.
Breed
Labrador Retriever
English Cocker Spaniel
German Shepherd
Yorkshire Terrier
Yorkshire Terrier
Yorkshire Terrier
Mixed Breed Cat
Age
2 years
8 years
4 years
6 years
2 months
2 months
2 years
Location
Florida
(zip code: 33134)
Illinois
(zip code: 60290)
California
(zip code: 90001)
New York
(zip code: 10001)
New York
(zip code: 10001)
Illinois
(zip code: 60290)
Washington D.C.
(zip code: 20001)
Price Per Month
$87.73
$110.00
$65.67
$95.84
$40.04
$24.28
$34.05
Reimbursement Level
80%
70%
90%
90%
90%
80%
80%
Annual Deductible
$250
$500
$500
$250
$250
$250
$250
Annual Limit
Unlimited
Unlimited
$2,500
$15,000
$15,000
$5,000
Unlimited
You can get personalized price quotes for your pet(s) from 3 companies when you fill out just 1 short form. You can also visit our Pet Insurance Quotes page to see how the cost of Petplan stacks up against the competition.
Transaction Fees
Petplan charges a $3 transaction fee for every monthly or quarterly payment. This fee is included in the quote you are given online. There is no transaction fee for annual payments.
Hip Dysplasia Coverage
Hip dysplasia is one of the most common hereditary conditions found in many large breed dogs, but can also be found in small dogs too. Surgery for hip dysplasia can cost $1,700 to $4,500 depending on your dog's specific case. That doesn't include any medication or rehab that may be needed after the surgery is complete.
Did you know 41% of pet owners are worried they won't be able to pay for their pet's emergency medical bills? Petplan covers hereditary conditions such as hip dysplasia as long as there were no signs or symptoms prior to the policy or during the 15-day waiting period.
Waiting Periods
New Petplan policies are issued by XL Specialty Insurance Company. Below are the waiting periods for these policies.
5-days: Accidents
15-days: Illnesses
6-months: Cruciates and patellas
Petplan Insurance Reviews
Want to know what real customers think? Read these positive and negative Petplan reviews to give you a better understanding of its customer service.
Positive Reviews
I found the solution to the healthcare crisis. Health insurance needs to use the Petplan model. Car insurance should follow suit. Seriously our puppy would not still be kickin' if we did not have Pet Insurance. It's a great feeling to not have to worry about the $ and concentrate on his care. The freedom to make choices without considering cost. The ability to save for a wedding while Zuul is sick. So anyway I'm totally sold on it. Wouldn't leave home without it. If you're considering it just pull the trigger. – Justin B., Yelp 3/31/2018
I am a happy member of the Petplan insurance family! Anytime I have a claim, I'm always treated with respect, kindness, and concern for both me and my pitbull Pippy. I want to commend [name redacted] today for being able to quickly and efficiently update my payment information (fraudulent charges had forced me to close my existing one). Because I am so pleased with Petplan, I certainly did not want there to be an issue for my premiums to them!!! Thanks, Petplan, for always being here to help me get through tough situations with a smile! – Robin H., Trust Pilot 4/27/2018
Negative Reviews
Total rip off company. When you make claims they take several weeks to scrutinize and then find way to deny claim. They also raise rates for arbitrary reason, such as moving. – Bob B., Yelp 3/8/2018
Their phone staff is either poorly trained or dishonest. I hope the former. I asked what do you pay after meeting the deductible? I was told 80? Of everything else. The correct answer is " after meeting the deductible for each illness or occurrence " we pay 80%. So I rushed to have some growths removed before the end of the year when my dog was still recovering from an allergic reaction to some medication..Because of this misinformation, I rushed to have growths removed that turned out to be malignant before the end of the year while he was still recovering from an allergic reaction to meds. It could have waited three weeks. Do not rely on anything they tell you. Read ALL the writing. BUT you can't even rely on that… My renewal letter said my premium would be $ 644.00 but they charged my credit card $210.00 which makes my premium $820.00. When I called they said their March 8th letter to me was wrong so they charged me the right amount because they made an error and my premium should have gone up. I am stuck with these disreputable people now because we now know that what my dog has been struggling with since the beginning of December is Valley Fever. I am waiting to see how they try to deny the claim. So is my Vet. So be careful with these people. I was cautioned early on by by a tech at a different vet's office about their unwillingness to pay claims. We will see this coming year. Last year they disallowed some and really hiked up my premiums so just ck with some vets. – Anne S., Trust Pilot 3/22/2018
What Is Your Dog Eating?
Worried about what your dog is eating when you're not looking? Perhaps Petplan can help you feel more protected. Check out this video below, this dog loves to try everything!
Why You Should Get Pet Insurance For Your Dog
Visit Petplan's Website | Call: 800-237-1123
Pet insurance helps reduce out-of-pocket expense when any significant medical event occurs in your dog's life. None of us ever plan for these unexpected events to occur but pet insurance offers peace of mind when they do happen.
Ultimately, whether you choose to use Petplan for your dog is up to you; however, here at Canine Journal we always advocate some form of insurance. See how Petplan stacks up against other pet insurance companies in our comparison article.
Do you have pet insurance? Why are you considering Petplan?
Disclaimer: Information regarding insurance company offerings, pricing and other contract details are subject to change by the insurance company at any time and are not under the control of this website. Information published on this website is intended for reference use only. Please review your policy carefully before signing up for a new pet health insurance contract or any other contract as your unique circumstances will differ from those of others who may be used for example purposes in this article.
Disclaimer: The information provided through this website should not be used for diagnosing or treating a health problem or a disease. It is not a substitute for professional care. If you have or suspect you may have a health problem, you should consult your health care provider.
Disclaimer: This website contains reviews, opinions and information regarding products and services manufactured or provided by third parties. We are not responsible in any way for such products and services, and nothing contained here should be construed as a guarantee of the functionality, utility, safety or reliability of any product or services reviewed or discussed. Please follow the directions provided by the manufacturer or service provider when using any product or service reviewed or discussed on this website.