To sustain this free service, we receive affiliate commissions via some of our links. This doesn't affect rankings. Our review process.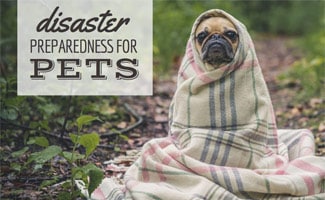 When natural disasters strike, you have lots to care for and consider. In addition to making sure you met your own needs, it's essential not to forget about your pets too. Remember, if a storm, hurricane, tornado or other possible threat is dangerous for you, it's also a hazard for your pet.
So if you are evacuating your home, be sure to bring your furry, scaly or other textured pet along with you. And if you hunker down, make sure you're stocked up on supplies so you're on the run you're ready to survive. Learn how pet disaster preparedness can save your best friend's life.
June Is National Pet Preparedness Month
June is National Pet Preparedness Month, educating pet owners on ways to be prepared for an emergency when one arises. The timing is key since summer is the start of hurricane season along with increased wildfires, tornadoes and more.
We at Canine Journal are committed to spreading awareness for how to keep pets safe and out of harm's way year-round. In September we celebrate National Preparedness Month, and with the abundance of tropical storms during this time, it couldn't be timelier.
Emergency Preparedness For Pets
In a PetFirst survey of 50,000 pet parents, 50% said they worry about their pet in a natural disaster, yet less than a third have a pet first aid kit1. While having an extra supply of food is a good idea, you'll need more than you think, especially if you don't have power or access to a vet.
Below are some tips and things you should consider for emergency preparedness for dogs, cats, other small domestic animals. This is not a comprehensive list and needs vary on the animal, so these are just some guidelines.
What To Include In A Pet First Aid Kit?
At a minimum, you'll want to have these items ready to go at a moment's notice.
The ASPCA suggests food for 3-7 days (including a travel can opener and bowls)
The Humane Society recommends 1 gallon of water per person and animal (depending on size) for at least 5 days plus an extra gallon for cleaning. You might consider a dog water bottle which has a built-in dispenser for drinking on the go.
Medications and medical records in a waterproof container or bag.
Pet first aid kit and a pet first aid book to educate yourself on how to do basics such as cleaning a wound, making a splint and how to perform CPR on dogs.
Harness with reflective material to see in the dark.
ID Tag with your current cell phone number or better yet a GPS collar to track them if you get separated. You'll also want to have photos and detailed descriptions of each pet in case one gets lost.
Detailed feeding instructions and vet's contact information in case you need to board or place them in foster care. Download ASPCA iOS App to store all this info electronically along with additional advice on the go.
Bags to collect pet waste (or plastic grocery bags work fine) and litter, litter box and litter scoop if you have a cat
Other Useful Items To Include
Space and circumstance willing, these are also good to have available:
Grooming items (hairbrush, clippers, shampoo) plus paper towels and disinfectant wipes as there can be dirty and damp conditions especially during hurricanes and flooding
Blankets or towels for warmth and dryness.
A dog life jacket in case you have to evacuate via water and your pup needs assistance swimming or staying afloat.
Flashlight and batteries to help you navigate during a power outage.
For snakes, gerbils or other small reptiles, pillowcases for transportation.
Don't forget about horses, chickens and rabbits and their special needs too!
Emergency Preparedness Checklist For Pets
When you're in panic mode you might not always have the clearest head so having a list to reference ensures you won't let anything slip through the crack! To help you remember what to pack, we put together this handy checklist so you can quickly and easily remember what to grab in case an emergency arrives.
Print this out today and put it on your fridge so you know what to pack up if an urgent matter presents itself.
Source: CanineJournal.com
To share this infographic on your site, simply copy and paste the code below:
Pets In Need During Disasters: Facts & How You Can Help
As we've seen from the previous natural disasters (including the devastation in Houston after Hurricane Harvey's life-threatening flooding and in the Caribbean after Hurricane Maria tore through a handful of islands in the Atlantic before making its way up the U.S. east coast in the summer of 2017), there tends to be an influx of shelters rescuing abandoned or missing pets.
In fact, between late August and the end of 2017, the ASPCA alone assisted nearly 37,000 animals affected by Hurricanes Maria & Irma and the wildfires in Northern California2. Richard Grsyeen, Ed.D., the senior director of disaster response for ASPCA notes that during relief efforts, the pet population equals about 52 to 59% of the human population. This means there's one pet for every 2 people to keep track of in an emergency situation.
Luckily there are organizations that step up to help find warm, happy homes for the thousands of displaced dogs, cats and other pets. If you are in a surrounding area of a natural disaster, consider reaching out to your local shelter to find out ways you can help. In addition to adoption, supplies and volunteer are always needed in rescue efforts and fostering pets temporarily.
And no matter where you live, you can donate money to assist in the efforts on the ground. There are hundreds of animal rescue organizations and one that has shelters in many areas around the country is The ASPCA. Check on their website to find a shelter near you. Red Rover is another organization who provides an emergency safety net for animals, offering shelter and care for animals displaced by natural disasters. And if there's a favorite animal welfare charity that you support please let us know with a comment below!
Build Your Own Pet First Aid Kit (Video
Here are some tips from the American Red Cross and be sure to check out our article dedicated to pet first aid kits.
Pets Are Our Family
Pets count on us for safety, so it's up to us to take care of them during disasters. The best way to keep them safe is to prepare ahead of time. That's why disaster preparedness for pets is so important. Be proactive now while you still have electricity and gather the items up into a bag so you're ready for any situation. If your dog does get into harm's way here are some useful articles including and treating a poisoned pup and how pet insurance can help you save money if there's an emergency.
What essential items did we forget in our pet disaster prep kit?

Sources: [1] PetFirst Pet Insurance 2019 Survey , [2] Domestic Preparedness
We are a participant in the Amazon Services LLC Associates Program, an affiliate advertising program designed to provide a means for us to earn fees by linking to Amazon.com and affiliated sites.
Disclaimer: This website contains reviews, opinions and information regarding products and services manufactured or provided by third parties. We are not responsible in any way for such products and services, and nothing contained here should be construed as a guarantee of the functionality, utility, safety or reliability of any product or services reviewed or discussed. Please follow the directions provided by the manufacturer or service provider when using any product or service reviewed or discussed on this website.