How do we keep this site running? This post may contain affiliate links — the cost is the same to you, but we get a referral fee. Compensation does not affect rankings. Thanks!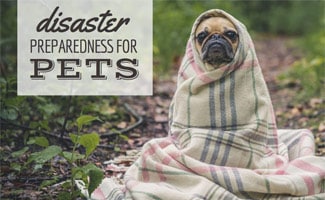 If disaster strikes you need to worry about your pets in addition to yourself. Remember that if it's dangerous for you, it's also dangerous for your pet. So if you are evacuating your home, be sure to bring your furry, scaly or other textured pet along with you. But it's also important to have their essentials on standby to take with you so you're ready to run and survive. Learn how pet disaster preparedness can save your best friend's life.
Emergency Preparedness for Pets
Below are some tips for emergency preparedness for dogs, cats, snakes and other animals. Be sure to add to this list any specifics your pet may need in case of an emergency. (We realize that depending on your pet these supplies may not be the best fit so we consider these guidelines for you to start with.)
The ASPCA suggests food and water for 3-7 days (including can opener and bowls)
Medications and medical records
Bags to collect waste (plastic grocery bags work fine)
Photos and descriptions of each pet in case one gets separated from you
Vet's contact information
Grooming items (hair brush, nail clippers, shampoo)
Paper towels and disinfectant
Blankets or towels
Pillow cases (to transport snakes – if you have them)
Emergency Items for Cats
If you have a cat, you may also want to include these important products, especially if you plan to escape to a temporary rescue shelter:
Litter (if you have a cat)
Litter box (if you have a cat)
Litter scoop (if you have a cat)
Emergency Preparedness Checklist for Pets
To help you remember what to pack, we put together this handy checklist, complete with photos so you can quickly and easily remember what to grab in case an emergency arrives. Print this out today and put it on your fridge so you know what to pack up if an urgent matter presents itself.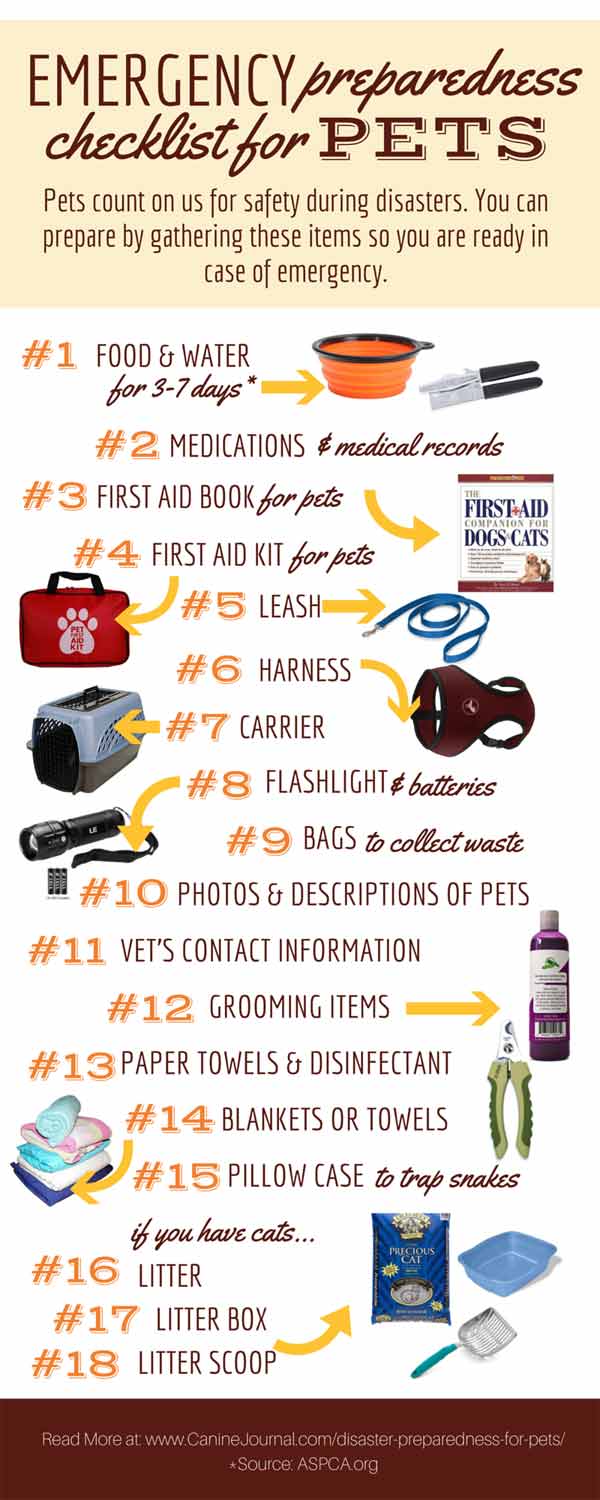 To embed this infographic on your site, just copy and paste this code:

What to Include in a Pet First Aid Kit?
Here are some tips from the American Red Cross on where to start with building your pet first aid kit.
ASPCA Mobile App to Help You Prepare
The ASPCA recently came out with a mobile app to help you prepare your pets in times of emergency. It will store your pet's veterinary and vital statistic information so you will have it on the go, provide tips and news on emergency situations that may affect you and your family, and help you find your pet if they go missing. We think this is a must have tool for all pet owners.
Pets Are Our Family
Pets are our family members too. They count on us for safety, so it's up to us to take care of them during disasters. The best way to keep them safe is to prepare ahead of time. That's why disaster preparedness for pets is so important. Print off the infographic above and gather the items up into a bag so you're prepared to look after your pet in an emergency situation.
What essential items did we forget in our pet disaster preparedness kit?
We are a participant in the Amazon Services LLC Associates Program, an affiliate advertising program designed to provide a means for us to earn fees by linking to Amazon.com and affiliated sites.