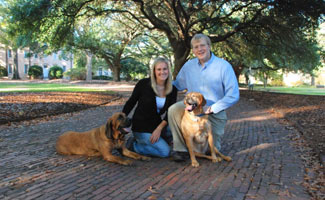 Emmie Craig is currently a social worker and graduate student living in Columbia, South Carolina. Outside of the work and school gigs, Emmie is a part-time blogger and full-time mother of two senior canines – Murphy (lab-mix) and Jack (bloodhound). Emmie is a Kansas transplant and on a sunny day can be found sipping a glass of wine with friends.
Chances are if you're a fan of CanineJournal.com, you consider your canine one of the family. One of the many reasons I love dogs is that just as we love their company, the feeling is mutual. They need socializing and can suffer from separation anxiety. In fact, dogs in multiple-pet households are sick less often, live longer, and are generally happier animals. I interpret that as the green light to always have a pair of pooches.
As a 27-year-old mother of elderly dogs, I have slowly begun to accept the unavoidable truth that my babies are all grown up. When we first switched our boys to senior dog food, I was emotional (well, I cried) and as a social worker my first instinct was, "Pet stores really should have support staff on hand for this kind of thing!" I know I'm not the only one who has underestimated how emotional this transition would be.
Depending on breed and size, most dogs enter their golden years between five years (for larger breeds/dogs) and 10 years (for smaller breeds/dogs). Luckily, dogs are living longer and healthier lives thanks to the TLC of their owners and vets. All tender, loving care aside, dogs will inevitably one day show signs and symptoms of aging.
Signs and symptoms of aging in Elderly Dogs
Graying fur, especially around the muzzle
Thinning coat
Lumps and bumps (a result of a slipping immune system)
Less interest in food, play, children, and other dogs
Tire more easily
More irritable
Less tolerant of extreme temperatures
Stiff or sore joints
Loss of hearing, vision, and/or sense of smell
Increased frequency in using the ladies' or gentlemen's room
Increased separation anxiety
Health Concerns
More prone to dehydration
Kidney and liver disease
Diabetes
More frequent intestinal issues
More than 50% of dogs over the age of 10 get cancer (AVMA)
Recommendations
I recently suggested to my husband that we install an elderly mobility system to help our dogs get on and off the bed. While he didn't completely reject the idea, here are some more practical and professional recommendations:
Brush 'em: Regular brushing can prevent dry skin and can help you find any lumps.
Clean 'em: Keeping their teeth clean will help prevent bad breath and risk of heart disease caused by tooth decay.
Let 'em be: Older dogs may become spooked, confused, and frustrated more easily as their hearing fades. Do not disturb them while sleeping and do not approach them from behind.
Pamper 'em: A soft, warm bed can provide relief for achy joints. Keep their bed in a comfortable location that's not too hot or too cold. Consider ramps or steps, and carpet runners on slick floors to reduce slipping. Removing obstacles from the floor will reduce anxiety and keep those with fading sight from bumping into things. Older dogs appreciate routine, so avoid rearranging their things.
Dine 'em: Reduce fat and calories, offer food in smaller servings and more frequently. Add wet food or water to dry food and heat to enhance its aroma.
Work 'em: Regular, light exercise not only helps maintain a healthy weight but can minimize behavioral problems.
Check 'em: Visit your vet regularly. Talk to them about diet, supplements, vaccinations, and medications.
With their sweet eyes that look at us with years of wisdom and say "I've loved you my whole life," it's nice we can return the love and give our furry friends that extra care they deserve.
Sources: AKC, ASPCA, WebMD, AVMA
Tagged With: Aging, Cancer