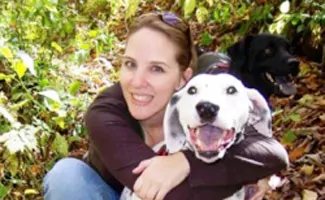 Women and dogs share a very tight bond. This is not news to husbands or boyfriends that have been banished to the sofa because the dog has sprawled on the man's side of the bed while he was brushing his teeth. It was not always this way. A couple of hundred years ago, when prairie skirts were not just a fleeting fashion trend, dogs rose before dawn and trotted off with the man to hunt, herd or do draft work all day. The dog would return home on tired legs to sleep and eat in the barn, or if he was really lucky, grab a snooze near the fire.
Today's pampered pets spend most of their time with the nurturing sex. Dogs act as exercise motivators, stress relievers, non-judgemental listeners and support systems (Hey, you look fantastic in sweatpants!) Add the protection element, and men may worry they will be replaced by a well-bred German shepherd.
Dog Worries when Her Relationship Status Changes
Single, married or post break-up, women are bonding with their dogs like never before. Sarah Rodgers of Vero Beach, Florida, was married two years ago and is now mother to one-year old son Jax. Her dog, Porter, a leggy Rhodesian Ridgeback mix, was five years old when Jax was born. Sarah's concerns were not about her newbie parenting skills or her dog's relationship with the baby. She worried instead about how Porter felt about all the changes. "I did everything with Porter before we had the baby", Sarah says. "Now he gets the shorter end of the stick, so I'm always looking to give the dog some special time".
Indeed, Porter has blossomed since the baby came, and assumes a protective role when husband Derek is away on business. "When my husband is gone, Porter knows he shouldn't sleep up on our bed. If I am even slightly anxious or sad, he is right there with his nose wedged under my arm." Sarah's dog may be exceptionally intuitive. During the last days of her pregnancy, he was stuck to her like glue. "Three days before I went into labor, Porter would follow me with a worried expression. When I sat down, he would press himself against me, even placing his head on my belly." Only the lack of opposable thumbs kept Porter from donning a smock in the delivery room and passing out cigars.
The Mom and Dog Dynamic – A Psychological Study
The bond between mothers and dogs is supported by results of an Italian study from the Institute of Psychology at the University of Milan suggesting the behaviors of mothers toward human infants have been co-opted for interacting with other social partners, namely, the dog. Part of this wonderful connection occurs because dogs are great observers of our behavior and of the mother/child dynamic in particular. When the dog acts kindly toward the child and receives praise for this effort, he is motivated to stay close to the child and insert himself into parenting duties. Some mothers report their dogs acting as baby monitors, poking them with purpose when the baby wakes from a nap. Others describe their dogs propping up toddlers, tiny hands grasping fur and skin as they learn to walk. The dog is then showered with more praise, more attention and more treats. This is precisely the way women motivate young children and adult men, and it works most of the time.
Tagged With: