To sustain this free service, we receive affiliate commissions via some of our links. This doesn't affect rankings. Our review process.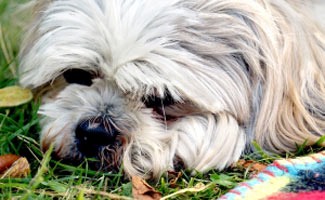 This question for our Pet Doc comes from Emily in San Diego.
My dog's name is: Toots
Breed: Imperial Shih Tzu
Age of pet: 15
My Dog Is Throwing up Undigested Food. What Do I Do?
Get 3 Free Pet Insurance Quotes
My dog appeared to be overloaded with too much dog food (not people food). And then tossed it all. All of it. My dog is throwing up undigested food! But now she's looking to eat again – maybe because it did not actually get digested before you vomited? This is the first time she's really ever thrown up.
When Did Toots Start Throwing Up?
First time today about 45 minutes after eating her dinner of Hills Brothers AD (very rich), approximately 1/4 to 1/3 can. She had eaten her Nature's Recipe 1/3 cup about 2 or 3 hours before.
How Has Her Situation Changed?
The throwing up just happened today. My concern is that she wants to eat, but I don't want her to throw up all over again. What do I feed her or do I? It has appeared to improve her "bellyache".
Answer From Our Pet Doc
Hi Emily. Thanks for contacting us about Toots. The short answer on what I would recommend is to fully assess how Toots looks to you overall. Would you know she was sick if you didn't see her vomit? If the answer to this question is yes, then I recommend you see your local veterinarian for advice. If she is otherwise normal, then try withholding food for 12-24 hours. Slowly introduce her food after that time and reassess. If there is no change after 24 hours or any further decline at anytime, then seek the help of a local veterinarian. Hope this helps and let us know how everything goes. Good luck!
Ask the Pet Doc!
Is your pet throwing up undigested food? Or having another problem? Do a search in our community to see if your question has been answered. If it hasn't, ask the Pet Doc!
Disclaimer: Information regarding insurance company offerings, pricing and other contract details are subject to change by the insurance company at any time and are not under the control of this website. Information published on this website is intended for reference use only. Please review your policy carefully before signing up for a new pet health insurance contract or any other contract as your unique circumstances will differ from those of others who may be used for example purposes in this article.
Disclaimer: The information provided through this website should not be used for diagnosing or treating a health problem or a disease. It is not a substitute for professional care. If you have or suspect you may have a health problem, you should consult your health care provider.
Disclaimer: This website contains reviews, opinions and information regarding products and services manufactured or provided by third parties. We are not responsible in any way for such products and services, and nothing contained here should be construed as a guarantee of the functionality, utility, safety or reliability of any product or services reviewed or discussed. Please follow the directions provided by the manufacturer or service provider when using any product or service reviewed or discussed on this website.