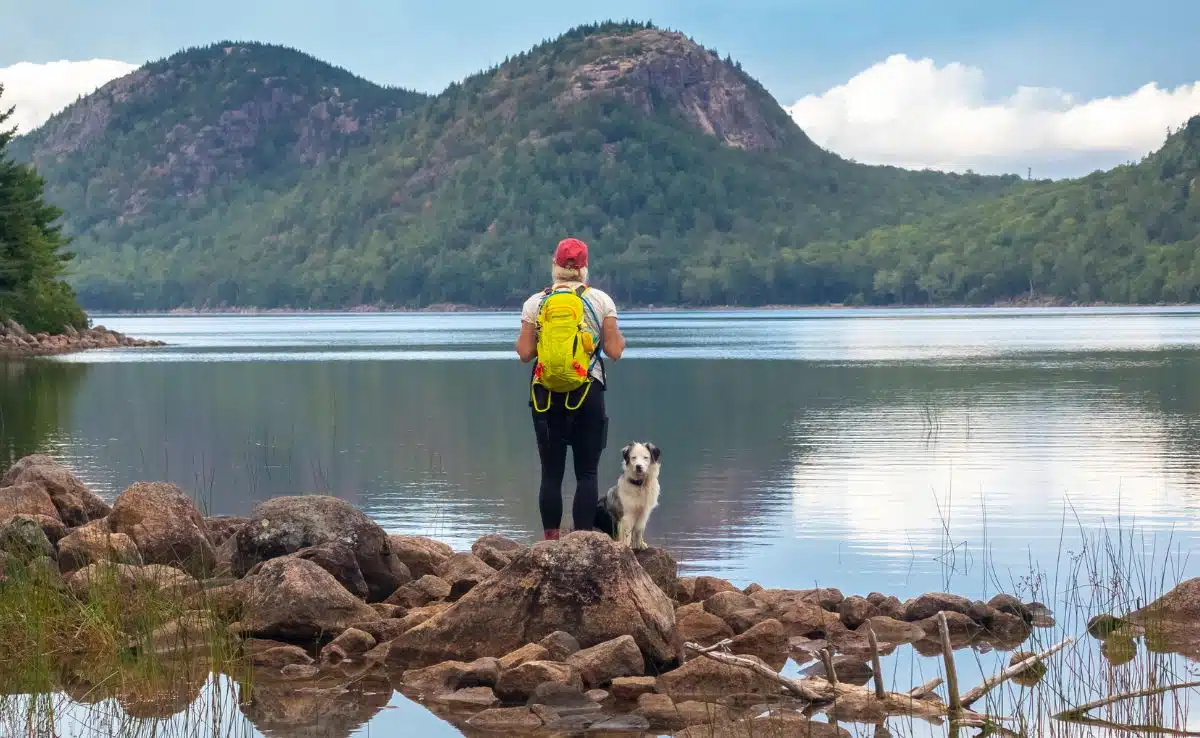 Although Maine is usually thought of as a feline-loving state thanks to your beloved native Maine Coon cat, dogs are also immensely popular pets in the Pine Tree State. From exploring beaches, lakes, and hiking trails to boating tours and craft breweries, there are countless activities to do with your pup in Maine. Unfortunately, these adventures can sometimes lead to accidents or exposure to parasites or illnesses.
Fortunately, pet insurance can help you get the medical care your furry friend needs without having to worry about how you're going to afford expensive, unexpected vet bills. We've researched the best pet insurance in Maine and offer expert advice about purchasing a policy to help you and your pup.
What Are The Most Popular Dog Breeds In Maine?
A dog's breed is one of the determining factors for your pet insurance policy cost. Below is a ranking of the five most popular dog breeds in Maine, as voted by Mainers. Not surprisingly, they're all larger breeds that can withstand harsh New England winters better than some smaller breeds popular in other areas of the U.S.
Labrador Retrievers
Golden Retrievers
German Shepherds
Australian Shepherds
Siberian Huskies
How Much Is Pet Insurance In Maine?
Pet insurance pricing is based on your pet's details (e.g., age, breed, location, etc.). According to NAPHIA (North American Pet Health Insurance Association), the average monthly premium for an accident and illness dog insurance policy in the U.S. is $53.34 ($32.25 for cats).
Since prices vary based on where you live and your pet's unique characteristics, the best way to determine how much it would cost you is to complete our quick pet insurance quote form below and get real estimates for your pet from several top providers. This allows you to see how companies compare price-wise. With most companies, you can also adjust your monthly premium to meet your needs better. Reducing the deductible, reimbursement percentage, and annual payout can lessen it to better fit a lower budget.
Once you have your customized price quotes, you may wonder how coverage varies among the different providers. Our pet insurance comparison includes multiple charts to help you see key differences between coverage, waiting periods, age limitations, and more.
How Pet-Friendly Is Maine?
Mainers love their furry sidekicks, and it shows. More than 63% of you own pets. In the U.S., your state ranks first in terms of animal protection laws and the second most pet-friendly state.
And researchers at Sperling's Best Places found Portland as the #1 most dog-friendly city in the U.S. Rankings were based on such factors as breed restrictions and the number of pet stores, dog parks, hiking trails, veterinarians (and more) per 100,000 residents.
What Are Some Dog-Friendly Activities In Maine?
Here are just a few popular places to take your dog in Maine. The Pine Tree State is full of pet-friendly lakes, nature preserves, hiking trails, boat cruises, restaurants, breweries, and more.
Portland, ME – In the Greater Portland area, there are many pet-friendly hotels and resorts and over 60 dog-friendly restaurants, cafes, and breweries. You can also take your pup to the city's public beach or on trolley, train, and boat tours.
Bar Harbor, ME – Hiking or camping at Acadia National Park is a must-do with your pup, or take a nature cruise of Frenchman Bay. Island Explorer bus tour shuttles are also dog-friendly. And don't miss Bark Harbor, a cute pet boutique.
Beaches – Dozens of Maine's beaches welcome dogs on or off-leash. Some favorites include Goose Rocks Beach in Kennebunkport, Wells Beach and Drakes Island Beach in Wells, and several in South Portland.
State Parks – Popular dog-friendly state parks with incredible wildlife and views include Wolfe's Neck Woods, Moose Point, Camden Hills, Vaughn Woods, and many more. For a challenge, hike the northern part of the Appalachian Trail in Baxter State Park with your pup.
What Are The Waiting Periods For Maine?
Waiting periods typically vary by each pet insurance provider. However, Maine has adopted a Model Law for pet insurance which attempts to standardize each state's regulations. The Model Law has a standard for waiting periods that all companies must follow.
This means that if you live in Maine, waiting periods probably don't need to be a deciding factor for you since all companies offer the same waiting periods for your state.
*Waiting periods for California, Maine, and Mississippi are as follows:
Accidents - 0 days
Illnesses - 14 days
Cruciate Ligament Conditions - 30 days
Routine Care - 0 days
Pet Insurance Claim: Cost And Reimbursement From A Maine Customer
Below is a real-life pet insurance claim from a Healthy Paws pet insurance customer in Maine.
Location: York, ME
Condition: IVDD (Intervertebral Disc Disease)
Total Vet Cost: $6,027
Reimbursement: $5,324
Amount Customer Paid: $703
Should I Get Pet Insurance?
As with human health insurance, the answer to this question comes down to your personal finances. Many of us can afford a reasonable monthly payment versus unexpected enormous vet bills. Pet insurance helps you manage your budget to ensure you don't have to choose between your dog's necessary health treatment and your wallet. Find out more about why pet insurance is worth considering.
Tagged With: Pet Insurance By State, Reviewed By Insurance Agent