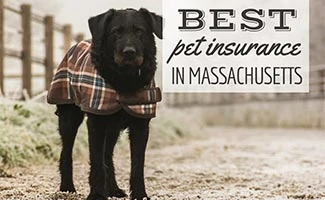 Despite the cold, snowy winters in Massachusetts, the state is relatively pet-friendly. With Boston's cobblestone streets, seaside beaches in Cape Cod, and mountainous hikes in the Berkshires, this New England state has a diversity of options. But what should you expect when you insure your dog in Massachusetts to secure peace of mind should an accident or illness occur?
All of our top-ranked pet insurance providers offer coverage in Massachusetts. Your monthly premium is based on your dog's breed, zip code, pre-existing conditions, and more. We've provided some information and stats for you to consider before signing up with a company.
Most Popular Breeds In Massachusetts
One of the most significant factors determining the cost of a pet insurance policy is your dog's breed. Below is a list of the most popular dog breeds in Massachusetts.
Labrador Retrievers
Golden Retrievers
German Shepherds
Boston
These are the most popular dog breeds in Boston, MA.
Cockapoo
French Bulldog
Labradoodle
Cavalier King Charles Spaniel
Havanese
How Much Could Pet Insurance Cost In Massachusetts?
Pet insurance pricing is based on your pet's details (e.g., age, breed, location, etc.). According to NAPHIA (North American Pet Health Insurance Association), the average monthly premium for an accident and illness dog insurance policy in the U.S. in 2022 was $53.34 ($32.25 for cats).
Since prices vary based on where you live as well as your pet's characteristics, the best way to determine how much it would cost you is to complete our quick pet insurance quote form and get estimates from top pet insurance providers. This allows you to see how companies compare price-wise. With most companies, you can also adjust your monthly premium by lowering the deductible, reimbursement percentage, and annual payout to make it better fit your budget.
Once you have your customized price quotes, you may wonder how coverage varies among the different companies. Our pet insurance comparison includes multiple comparison charts to help you see key differences between coverage, waiting periods, age limitations, and more.
Which Places In Massachusetts Are Pet-Friendly?
Boston is among the most pet-friendly cities in Massachusetts based on the 100 largest U.S. cities. It ranks 67th for pet friendliness, 85th for pet budget*, 40th for pet health & wellness**, and 35th for outdoor pet-friendliness***. Boston ranks 97th for having the fewest veterinarians per capita.
If you're in Massachusetts and looking for a place where your dog can come with you, consider one of these locations.
Berkshires
Cape Cod
Martha's Vineyard
Nantucket
Provincetown
Cambridge (Home of Harvard University & MIT)
Plymouth
Salem
Gloucester
*Pet budget was determined by considering vet care costs, minimum pet-care provider rate per visit and dog insurance premiums.
**Pet health and wellness was determined by considering veterinarians per capita, pet caretakers per capita, animal trainers per capita, pet businesses per capita, dog-friendly restaurants per capita, share of pet-friendly hotels, dog-friendly shops per capita, pet meetup groups per capita, doggie daycare and boarding establishments per capita, pet-friendliness of rental markets, average home square footage, share of single-family detached homes, share of homes with one or fewer occupants per room, animal shelters per capita and strength of animal protection laws.
***Outdoor pet-friendliness was determined by considering weather, dog parks per capita, park land as a share of the city area, walk score, dog-friendly trails per capita and dog shows per capita.
Massachusetts Dog Laws
A statewide law in Massachusetts requires dogs to be on a leash in public.
Dogs are allowed on beaches in Massachusetts during the off-season if they are on a leash. Rules vary by the beach, so check local regulations for dates, hours, and other restrictions.
Live animals are not allowed indoors at food establishments in Massachusetts. However, some restaurants allow pets outdoors on patios as long as they are leashed.
Pet Insurance Claim: Cost & Reimbursement From Massachusetts Customer
Below is a real-life pet insurance claim from a Healthy Paws customer in a community 45 minutes north of Boston.
Location: Tyngsborough, MA
Condition: Vomiting
Total Vet Cost: $2,800
Reimbursement: $2,520
Amount Customer Paid: $280
Should I Get Pet Insurance?
Sadly, a pet's health can change unexpectedly. Your dog can go from jumping and kissing your face to limping and throwing up in an instant. That's why pet parents buy pet insurance — so it is there for you when emergencies arise. This allows you to focus on treatment and giving love instead of worrying about the cost. Learn more about why pet insurance may be worth it for your family.
Tagged With: Pet Insurance By State, Reviewed By Insurance Agent