To sustain this free service, we receive affiliate commissions via some of our links. This doesn't affect rankings. Our review process.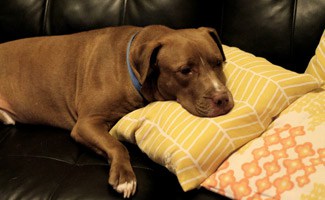 This question for our Pet Doc comes from the concerned owner of a 2 year old German Shepherd named Reily.
My Dog is Vomiting – What Could be the Cause?
Reily has just gone into heat (whether that's a factor or not I do not know). Yesterday she threw up twice. Both times there was nothing in the throw up. Today I woke up because I heard Reily puking again!
This time there was a few chunks of bones in there. I partially think this is due to me changing her food and not easing her stomach into it? Which I did the other day. She had been eating Iams proactive health large chunks for large breeds and we bought the wrong kind by accident – Iams proactive health mini chunks.
So she did have a bag of mini chunks and I switched it back to the large ones right before
the puking began. Or maybe the new pigs ears I introduced her to the other day, which she had two of, is having an effect? Or maybe her vomiting is caused by her being in heat?
The problem now is that she doesn't eat when I put her food down.
Out Pet Doc Responds: What To Do When Dog Vomits?
Thanks for the question and sorry to hear that Reily isn't feeling well. It can be a tricky thing to determine the exact cause of a problem like vomiting in a dog sometimes. You mentioned in your question a few things that could potentially be the underlying issue.
Don't Feed Your Dog Cooked Animal Bones
First, has Reily ever reacted this way during previous heat cycles? Many female dogs respond differently to their individual cycles but the behavior is typically consistent. Second, what kind of bone was in the vomit? This is very important. Dogs should NOT eat any kind of cooked animal bones. They can cause obstruction, perforation of bowel, and simply generalized nausea. Uncooked bones are generally okay, but they can still cause problems in some dogs. There are too many safe and tasty dog treats out there to feed animal bones these days. Some dogs also don't do well with rawhide bones either.
Can a Change in Diet Cause Your Dog to Vomit?
The sudden change in diet that you described doesn't sound very serious and I wouldn't normally think this small change would be a problem, but all dogs are individuals and some are less tolerant of diet changes than others. The pig ears could be the culprit as well. Typically what causes the upset stomach when there are diet changes is the change in the protein or carbohydrate in the dog food or treat.
This could be a change from beef to chicken, corn to potato, or simply a different makeup and distribution of the ingredients. Most dogs do well with 12-24 hours of fasting for a sudden bout of nausea. This fasting should be followed by slowly reintroducing the normal diet in small amounts for a day or two. Keep in mind that this applies to otherwise healthy pets that aren't showing signs of discomfort, lethargy, or dehydration.
If your pet has a poor appetite, lethargy, vomiting and/or diarrhea, then it is best to make a trip to see your local veterinarian. Ask yourself about Reily's bowel movements. Have they been normal? Is there any straining or loose stools? Let us know what happens and good luck!
Disclaimer: The information provided through this website should not be used for diagnosing or treating a health problem or a disease. It is not a substitute for professional care. If you have or suspect you may have a health problem, you should consult your health care provider.
Disclaimer: This website contains reviews, opinions and information regarding products and services manufactured or provided by third parties. We are not responsible in any way for such products and services, and nothing contained here should be construed as a guarantee of the functionality, utility, safety or reliability of any product or services reviewed or discussed. Please follow the directions provided by the manufacturer or service provider when using any product or service reviewed or discussed on this website.