Uh oh, your next-door neighbor's house just got broken into. Sound the alarm! You're probably looking for ways to deter burglars, so your home isn't the next target.
Ruh-roh (cue the Scooby-Doo voice), and you might be looking to your furry friend as a possible helper in this new security mission. But before you throw Fido in front of the gun (literally or figuratively), let's take a step back and explore various ways to protect your home from burglary.
Guard Dogs Need Protecting Too
If you're looking for a guard dog, several breeds will do an excellent job of protecting your home. From German Shepherds (a confident and obedient breed) to Rottweilers (smart and loyal, yet highly protective), these guard dogs can be quite a threat to potential intruders. However, if your dog a beloved family member (like mine is), you don't want to put her at the forefront of your protection plans.
Let's explore ways to protect your dog in the case of a break-in rather than putting them directly in harm's way. Sure the dog can bark to scare away potential burglars, and they may even nip at the heels of an intruder, but an armed burglar is no match for your faithful companion.
Home Security Systems Are Your Best Form Of Defense
To protect your home, your family and your pet, it would be worth considering the installation of a home security system. Don't worry. This doesn't have to be as complicated as in days past. Pushy salespeople don't have to come to your home, and no one needs to be scheduled during your work hours to install things mysteriously behind your walls.
You can install it yourself along with the help of a reputable national security company such as Frontpoint. They can walk you through the installation process on the phone. The systems use mostly wireless sensors, which makes it easy to do yourself.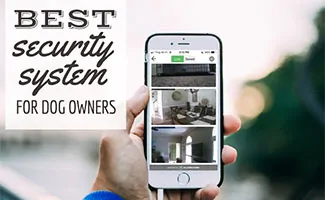 They can also put special precautions in place since your pets may be home at times when your security system would be armed. Tell them if you have a pet, so they can set your system up correctly to protect your furry companion along with your home.
Or you can have it professionally installed by a company such as Vivint. We've compared the best home security systems for pet owners and encourage you to learn more about them.
So adding a home security system can kill two birds (no pun intended) with one stone:
Your pet is protected from harm while you're away since the presence of a security system deters burglars.
Your home will be safer.
Bonus: In addition to a monitored alarm system, you also receive the peace of mind of early detection in the case of smoke, fire, carbon monoxide, flooding or other emergencies in your home (depending on the equipment you install). These allow you to react quickly and minimize any permanent damage while also keeping your dog safe from harm.
Neighborhood Watch
As a last precaution, don't forget to get to know your neighbors. They are likely to be the ones who will notice first if something is wrong at your home. They can also help look after your home when you are on vacation or away at work.
And a good dog-loving neighbor may even be willing to pet sit for you while you're away! Oh yeah, and receiving an invitation to their parties and barbecues is not a bad perk either. A trusted neighbor is a valuable gem, especially in today's fast-paced world.
Burglar Deterrent Tips
So now that you've decided to get a family-friendly guard dog, to install a monitored home security system and to get to know your neighbors, those burglars had better watch out! But of course, there are more tips to deter burglars.
Tagged With: