To sustain this free service, we receive affiliate commissions via some of our links. This doesn't affect rankings. Our review process.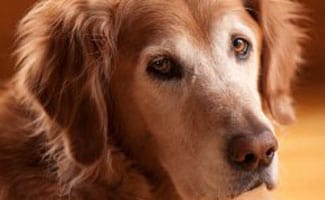 We have made great advances in veterinary medicine. New diagnostic tests and improved treatments have given veterinarians more power in their pursuit of preventing and treating illnesses in our pets. Improved client education and client willingness to provide better care for their animals has also given rise to more geriatric patients being seen at veterinary hospitals across the country. Age is not a disease but it predisposes our pets to more disease. Everyday I meet someone who tells me their dog has slowed down or has more trouble getting up and down in the last few years. There are numerous reasons for older animals to slow down with age and one of the most prevalent and common is canine arthritis or canine osteoarthritis.
What is Canine Osteoarthritis?
Canine Osteoarthritis is a noninflammatory degenerative joint disease. Arthritis can be characterized by the degeneration of cartilage, boney proliferation resulting in bone-on-bone contact within and/or around affected joints, and synovial membrane changes. Degenerative Joint Disease (DJD) is a common problem in geriatric pets and in a clinical setting can be commonly interchanged with osteoarthritis. DJD can be as mild as hearing the click of a knee or as severe as a crippling case secondary to chronic hip dysplasia. We as owners and veterinarians are doing such a great job of keeping our animals healthy otherwise that it is not uncommon for pets to be euthanized due to the poor quality of life brought about by a severe case of crippling arthritis.
How Can I Tell if My Dog Has DJD?
How do you know your pet may be suffering from a case of degenerative joint disease? The most common client complaint I hear is the slowing down of their animal. Some dogs may not be able to execute the stairs as they once did or may have trouble when getting up from a lying position. Maneuvering on slick floors, hopping in and out of vehicles, or jumping up and down from furniture may be problem situations for affected animals. Most of these dogs are older dogs, but canine osteoarthritis is also a disease that may affect younger dogs as well depending on their individual circumstances.
What Are the Symptoms of Canine Osteoarthritis?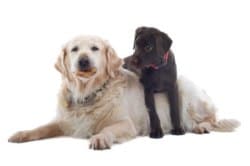 Predisposing factors may include older age, traumatic injuries, birth defects, or even post operative complications from orthopedic surgery. Symptoms may include stiff or rigid posturing and/or walking, reluctance to exercise, swollen joints, or nothing more than a clicking or popping sound coming from the affected joint or joints. The severity of the symptoms and how they affect the dog's quality of life will often be the sole determining factor in how your veterinarian may elect to handle the problem. Many animals with chronic arthritis have loss of muscle mass and increased weakness due to the decreased use of the affected limb or limbs. Dogs with arthritis tend to warm out of the discomfort and stiff gait much as any person with a bad joint would as well.
What Do I Do if I Think My Dog Has Osteoarthritis?
The first thing to do if you notice your dog exhibiting any of these symptoms on a regular basis is to consult your local veterinarian. He or she will be able to determine if the symptoms you are seeing are in fact due to a case of joint disease or arthritis and not another underlying problem. In many instances making a diagnosis will require a thorough medical history, examination, radiographs, or even bloodwork. A diagnosis of degenerative joint disease or osteoarthritis warrants further evaluation to determine the underlying cause of the problem, such as, hip dysplasia, patellar subluxation or any other predisposing condition.
The underlying problem may or may not be able to be corrected or need to be corrected depending on the individual situation and severity of the case. The primary goal of treatment is always to make the dog as comfortable as possible in the safest manner possible.
Is Surgery Necessary?
DJD is classically a nonsurgical orthopedic problem, but there are some surgical procedures such as arthrodesis and various joint stabilization techniques that your veterinarian may suggest if appropriate.
What Kind of Medications Are Necessary?
Medications are almost always going to be a part of the treatment plan. Medications that may be prescribed include non-steroidal anti-inflammatory drugs (NSAIDs), joint supplements (glucosamine, chondroitin sulfate), and other medications aimed at pain control. These medications should be used as directed by your veterinarian as there can be severe side effects, including death, associated with their misuse.
Weight Loss Treatment for Canine Osteoarthritis
Another part of the treatment plan may include a weight loss plan for your dog. The extra weight carried by these dogs translates into extra force being applied to the already diseased joints resulting in further discomfort. I have personally seen a few of my patients come off of medication altogether or at least able to be managed on a minimal dosage of medication after an ideal weight has been achieved. Again, the goal of treatment is to help alleviate completely or partially the discomfort your dog is feeling secondary to the joint disease.
Canine Osteoarthritis – The Bottom Line
Canine Osteoarthritis
is a common disease encountered by many dogs young and old. It results in pain and discomfort that can potentially be crippling to the pet depending on the severity. Symptoms may include a stiff gait, reluctance to exercise, trouble getting up and down, muscle loss and weakness, and trouble executing steps or stairs. There are good treatment options to consider once a diagnosis of arthritis is made that may include surgery, medications, and a weight loss plan. Please consult your veterinarian if you think your dog may be exhibiting the signs of osteoarthritis.
You may just put a little pep back in his or her step 🙂
Current Treatments for Canine Osteoarthritis
Updated on August 17, 2012
Hydrotherapy
Hydrotherapy is a newer alternative medicine approach to treating the discomfort that many dogs feel from arthritis. Hydrotherapy allows dogs to build up muscle mass without suffering pain and inflammation that can occur through traditional means of exercise. Many veterinary clinics and orthopedic centers have hydrotherapy tanks that feature a treadmill at the bottom of a tank. Dogs are placed in the tank using a walk up ramp, this ramp is pulled up and the tank is sealed and filled with warm water. The warmth of the water helps to alleviate pain and the level of the water helps to support the weight of the dog as the treadmill begins to move slowly. Hydrotherapy should always be overseen by a veterinarian or an orthopedic surgeon to ensure that no injury is caused by the hydrotherapy process.
Acupuncture
Acupuncture is another non-traditional type of treatment for canine osteoarthritis. Holistic veterinarians or mixed practice veterinarian clinics practice acupuncture in the same way that doctors practice acupuncture on people. Small needles are inserted in to areas of inflammation and pain and left for a designated period of time, usually anywhere from 10 to 30 minutes. Many pet owners find that acupuncture works well for their arthritic pet. This option is frequently used for elderly pets or pets that are not suited to medications that could cause organ damage or sickness.
Adequan
Adequan is an injectable medication that is used to support the cartilage in your dog's joints. Most commonly this medication is injected in to the muscle of the affected joint where it helps to keep the cartilage intact and healthy so that the bones of the joint do not rub against each other causing pain. Adequan is a somewhat unique medication in the field of canine osteoarthritis and has so far proven to have remarkable results. Aside from occasional burning at the injection site there have been fewer side effects related to this drug than to other arthritis drugs. This is a prescription only medication and should not be administered without a veterinarian's supervision.
Deramaxx
Deramaxx is a commonly prescribed non-steroidal non narcotic anti-inflammatory. This drug falls in the coxib class and is used to reduce inflammation that accompanies canine osteoarthritis. Deramaxx is also used to control pain and inflammation that commonly accompany post operative periods and with injuries commonly associated with pain and inflammation such as torn ligaments. In some cases, as with most of the non-steroidal anti-inflammatory drugs, Deramaxx can cause a number of potentially serious or fatal side effects. These side effects, although rare have been known to occur in dogs of all ages and include: damage to the digestive system, damage to the kidneys, gastrointestinal ulcers, digestive upset such as vomiting or diarrhea or blood in the stool. If any of these side effects are noted the medication should be ceased and your veterinarian should be called. This is a prescription only medication and should not be administered without a veterinarian's supervision.
Glucosamine Chondroitin
Glocosamine Chondroitin is a commonly prescribed joint supplement for dogs that have canine osteoarthritis. This supplement is often found in combination with a supplement called MSM which can also be beneficial for dogs experiencing joint pain. The purpose of Glucosamine Chondroitin is to lubricate the joints to allow for more fluid motion. Human beings also commonly ingest Glucosamine Chondroitin supplements to help with symptoms of arthritis although it is important only to feed your ailing dog a canine supplement to ensure that you are not overdosing your pet. Most joint supplements that contain glucosamine chondroitin are sold over the counter at pet stores nationwide and come with few side effects. The most commonly seen side effect from these types of supplement is diarrhea caused by richness of added ingredients in supplements.
Metacam
Metacam is another non-steroidal anti-inflammatory medication that is used to treat both inflammation and pain in dogs. Additionally, this medication has shown to reduce fevers in ailing dogs. Metacam is a liquid medication and is not recommended for dogs aged 6 months or younger. Metacam should not be used in animals that have liver disease, kidney disease or heart disease and should not be used in late term pregnant animals. It is important to notify your veterinarian of any other medication your pet is on since Metacam can interact with other medications. Side effects that have been seen with this medication include: fatigue, bloody stools, weight gain, yellowing eyes, difficulty breathing, seizures, headaches, constipation and dizziness. These side effects do not occur with all dogs but owners should keep an eye out for warning signs. This is a prescription only medication and should not be administered without a veterinarian's supervision.
Rimadyl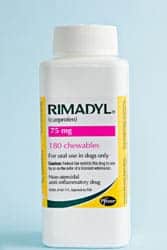 Rimadyl is a 24 hour non-steroidal anti-inflammatory that is frequently used to treat pain and inflammation due to arthritis, orthopedic surgery or soft tissue surgery. Rimadyl is designed to inhibit cyclooxygenase COX-2, which generates prostaglandins involved in inflammation. This is the first NSAID to have been approved for canine use in the United States. Side effects with this medication are the same as side effects seem with Deramaxx and Metacam and any potential side effects should be noted and reported immediately to a veterinarian. This is a prescription only medication and should not be administered without a veterinarian's supervision.
Previcox
Previcox is yet another prescription non-steroidal anti-inflammatory drug that is used to control pain and inflammation that results from canine arthritis. This is a fast acting medication and is also designed to inhibit inhibits COX-2 which is responsible for pain and inflammation without damaging COX-1 which is believed to play a part in normal bodily functions. Previcox should not be combined with any other NSAID's, aspirins or corticosteroids unless advised by a veterinarian. Side effects that have been seen with some dogs taking Previcox include: vomiting, diarrhea, black or tarry stools, seizures, lethargy, aggression, yellowing of the eyes, skin or gums, change in urination habits, change in drinking habits, change in skin and unexpected weight loss. If you notice any of these side effects contact your veterinarian immediately. This is a prescription only medication and should not be administered without a veterinarian's supervision.
Disclaimer: The information provided through this website should not be used for diagnosing or treating a health problem or a disease. It is not a substitute for professional care. If you have or suspect you may have a health problem, you should consult your health care provider.
Disclaimer: This website contains reviews, opinions and information regarding products and services manufactured or provided by third parties. We are not responsible in any way for such products and services, and nothing contained here should be construed as a guarantee of the functionality, utility, safety or reliability of any product or services reviewed or discussed. Please follow the directions provided by the manufacturer or service provider when using any product or service reviewed or discussed on this website.