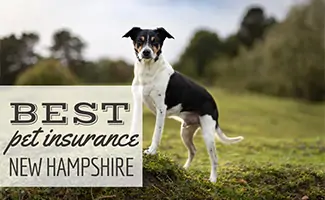 New Hampshire has sizable granite formations and quarries, which is why its nickname is the Granite State. Also known as the White Mountain State, NH has the highest peak in the Northeastern United States. This state is a blast to explore with your best furry friend with various topography.
However, that doesn't mean your dog is less vulnerable to experiencing a medical emergency. Find out if you should get pet insurance for your pooch and which company may be best suited for you.
Most Popular Breeds In New Hampshire
Your dog's breed is one of the significant factors used to determine your policy's cost. Here are the most popular dog breeds in New Hampshire.
Labrador Retrievers
German Shepherd Dogs
Golden Retrievers
How Much Does Pet Insurance In NH Cost?
Pet insurance pricing is based on your pet's details (e.g., age, breed, location, etc.). According to NAPHIA (North American Pet Health Insurance Association), the average monthly premium for an accident and illness dog insurance policy in the U.S. is $53.34 ($32.25 for cats).
Since prices vary based on where you live as well as your pet's characteristics, the best way to determine how much it would cost you is to complete our quick pet insurance quote form and get estimates from top pet insurance providers. This allows you to see how companies compare price-wise. With most companies, you can also adjust your monthly premium by lowering the deductible, reimbursement percentage, and annual payout to make it better fit your budget.
Once you have your customized price quotes, you may wonder how coverage varies among the different companies. Our pet insurance comparison includes multiple comparison charts to help you see key differences between coverage, waiting periods, age limitations, and more.
Which Places In New Hampshire Are Pet-Friendly?
New Hampshire ranks 25th as the most pet-friendly state in the country. There are 3.9 pet shelters and 2.7 pet-friendly restaurants per 100,000 residents, and 52% of Granite Staters are pet owners.
Here are some pet-friendly places for dogs in New Hampshire:
White Mountain National Forest – Located along the breathtaking Kancamagus Highway from Lincoln to Conway, your dog can join you for a scenic hike as long as they are on a leash. This is a popular route to see what's left of the Old Man of the Mountain rock profile.
Settlers' Green Outlet Village – Many of the 60+ stores at this outlet mall in North Conway are dog-friendly and have stickers on the door inviting you and your dog inside to shop.
Conway Scenic Railroad – Hop aboard one of the trains through the Mount Washington Valley and Crawford Notch. You can bring your well-behaved, leashed dog with you at no extra cost.
Pet Insurance Claim: Cost & Reimbursement From New Hampshire Customer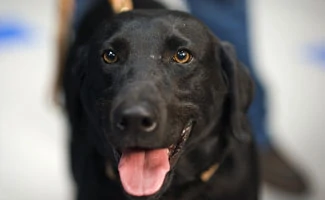 Below is a real-life pet insurance claim from a Healthy Paws customer in NH.
Location: Nashua, NH
Condition: Double ACL surgery & physical therapy
Total Vet Cost: $8,016
Reimbursement: $7,114
Amount Customer Paid: $902
Should I Get Pet Insurance?
Good health isn't a guarantee for any of us, including our dogs. Humans and dogs alike experience accidents and illnesses, requiring medical attention and possibly treatment. Fortunately, it is possible today to get both human and pet health insurance to protect us from emergencies, as long as we sign them up for it in advance.
Pet insurance can help cover your unexpected vet bills. This means you don't have to choose between your bank account and the health of your pet. Learn more about why pet insurance may be worth it for your family.
Tagged With: Pet Insurance By State, Reviewed By Insurance Agent