To keep the lights on, we receive affiliate commissions via some of our links. Our review process.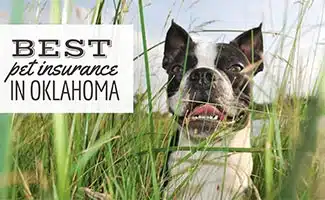 Known for its yummy food, famous singers, and Native American heritage, Oklahoma is a great state to live in. And having a dog to enjoy life with in the Sooner state is the cherry on top. You want the best for your dog, and that's why you're looking into pet insurance. Your dog is lucky that you care so much about their health and wellbeing.
Purchasing a pet insurance policy for your dog can provide peace of mind when disaster strikes. All of our top-ranked pet insurance providers offer coverage in Oklahoma, so you have many options to choose from.
Pet Insurance Ranking
Best
Overall
Best For Young Pets
Best No-Cap Payouts
Best
Coverage
Best
Value
Best
Newcomer
Company
Policy Price (avg)
Variable
Variable
Variable
Higher
Lower
Average
Policy Coverage
Extensive
Extensive
Limited
Extensive
Extensive
Limited
Customer Service & Reputation
Good
Good
Excellent, Stable
Excellent, Stable
Excellent, Stable
Uncertain, New
Claim Processing (avg)
7-14 Days
5-6 Days
2 Days
5 Days
3 Days
2 Days
Vet Direct Pay Option
Plan Customization Options
Many
Many
Restricted
Many
Many
Many
 
Get A Quote
Get A Quote
Get A Quote
Get A Quote
Get A Quote
Get A Quote
 
Read Review
Read Review
Read Review
Read Review
Read Review
Read Review
Most Popular Dog Breeds In Oklahoma
A dog's breed is one of the determining factors for your pet insurance policy cost. Below is a ranking of the three most popular dog breeds in Oklahoma.
Labrador Retrievers
German Shepherds
Bulldogs
Oklahoma City
These are the most popular dog breeds in Oklahoma City, OK.
Australian Cattle Dog
Chihuahua
Pitbull
How Much Does Pet Insurance Cost In Oklahoma?
Pet insurance pricing is based on your pet's details (e.g., age, breed, location, etc.). According to NAPHIA (North American Pet Health Insurance Association), the average monthly premium for an accident and illness dog insurance policy in the U.S. in 2022 was $53.34 ($32.25 for cats).
Since prices vary based on where you live and your pet's characteristics, the best way to determine how much it would cost you is to complete our quick pet insurance quote form and get estimates from top pet insurance providers. This allows you to see how companies compare price-wise. With most companies, you can also adjust your monthly premium by lowering the deductible, reimbursement percentage, and annual payout to make it better fit your budget.
Once you have your customized price quotes, you may wonder how coverage varies among the different companies. Our pet insurance comparison includes multiple comparison charts to help you see key differences between coverage, waiting periods, age limitations, and more.
Which Cities In Oklahoma Are Pet Friendly?
Oklahoma as a state could improve on its overall pet friendliness, ranking low at 41 out of the 50 U.S. states. But it ranks high for pet shelters per 100,000 residents (4.2), and overall, 65% of residents are pet owners.
Below are the most pet-friendly cities in Oklahoma based on the 100 largest U.S. cities. Note: Cities that fall outside of Oklahoma were excluded from this table.
| | Most Pet-Friendly Cities | Pet Budget* | Pet Health & Wellness** | Outdoor Pet-Friendliness*** |
| --- | --- | --- | --- | --- |
| Tulsa | 27 | 15 | 58 | 50 |
| Oklahoma City | 32 | 7 | 61 | 85 |
*Pet budget was determined by considering vet care costs, minimum pet-care provider rate per visit, and dog insurance premiums.
**Pet health and wellness was determined by considering veterinarians per capita, pet caretakers per capita, animal trainers per capita, pet businesses per capita, dog-friendly restaurants per capita, dog-friendly shops per capita, pet meetup groups per capita, doggie daycare and boarding establishments per capita, pet-friendliness of rental markets, average home square footage, share of single-family detached homes, share of homes with one or fewer occupants per room, animal shelters per capita, and strength of animal protection laws.
***Outdoor pet-friendliness was determined by considering weather, dog parks per capita, parkland as a share of the city area, walk score, dog-friendly trails per capita, and dog shows per capita.
Pet Insurance Claim: Cost And Reimbursement From Oklahoma Customer
Below is a real-life pet insurance claim from a Healthy Paws customer in Oklahoma.
Location: Tulsa, OK
Condition: Eye rupture
Total Vet Cost: $2,564
Reimbursement: $2,208
Amount Customer Paid: $356
Should I Get Pet Insurance?
Pet insurance provides peace of mind knowing you'll never have to choose your wallet over your dog's health. We all know that the health status of a loved one can change quickly, which means increased stress and worry. Thankfully, pet insurance takes the burden away from you financially so you can focus on your pup's health instead of your bank account. Learn more about why pet insurance is worth considering.
Tagged With: Pet Insurance By State, Reviewed By Insurance Agent