As a fellow Iowan, I know what it means to grow up in the Hawkeye state. Iowa is more than a flyover state filled with corn, pigs, and cows. We're "Iowa nice," and that extends to our pets too. We want what's best for our cats and dogs, which means purchasing a pet insurance policy. Let's dig in and find the best pet insurance company in Iowa for your pet.
Most Popular Dog Breeds In Iowa
A dog's breed is one of the determining factors for your pet insurance policy cost. Below is a ranking of the three most popular dog breeds in Iowa.
Labrador Retrievers
German Shepherds
Golden Retrievers
How Much Does Pet Insurance Cost In Iowa?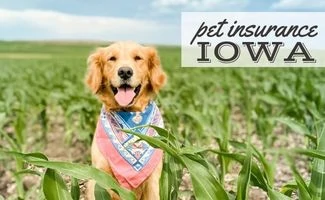 Pet insurance pricing is based on your pet's details (e.g., age, breed, location, etc.). According to NAPHIA (North American Pet Health Insurance Association), the average monthly premium for an accident and illness dog insurance policy in the U.S. is $53.34 ($32.25 for cats).
Since prices vary based on where you live as well as your pet's characteristics, the best way to determine how much it would cost you is to complete our quick pet insurance quote form and get estimates from top pet insurance providers. This allows you to see how companies compare price-wise. With most companies, you can also adjust your monthly premium by lowering the deductible, reimbursement percentage, and annual payout to make it better fit your budget.
Once you have your customized price quotes, you may wonder how coverage varies among the different companies. Our pet insurance comparison includes multiple comparison charts to help you see key differences between coverage, waiting periods, age limitations, and more.
What Are Some Pet-Friendly Places In Iowa?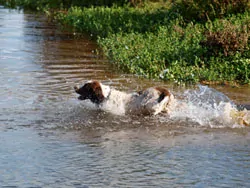 These are some popular pet-friendly places to take your dog in Iowa, but there are many more besides this list.
Lakes – Rathbun and Salorville are great places to bring your dog with you. Go boating, camping, and enjoy the outdoors with your dog.
Breweries – If you're in the Des Moines area, take a stroll around Gray's Lake with your dog and relax in the shade at MacRae Park. Then hop over to Confluence Brewing Company for a cold beer on the deck. Even if you live outside the capital city, we bet a local brewery is not too far away from you and your pup either, and many are dog-friendly (but check first to be sure).
State Parks – Ledges State Park has some great hikes for you to bring your dog on and some areas to cool off in the water too.
There are also many dog parks, pet bakeries, and pet spas throughout the state for you to plan the perfect day with your pooch. You can even go through the drive-thru and get a special treat for your pup at Scooter's, Dairy Queen, Starbuck's, and more.
Pet Insurance Claim: Cost And Reimbursement From Iowa Customer
Below is a real-life pet insurance claim from a Healthy Paws customer in Iowa.
Location: Council Bluffs, IA
Condition: Cruciate Ligament
Total Vet Cost: $5,000
Reimbursement: $4,400
Amount Customer Paid: $400
Should I Get Pet Insurance?
Pet insurance can provide you with a sense of security during dark times. One minute, you're playing fetch in the backyard with your dog, and the next, she's not putting weight on one of her legs. Your dog's health status can change quickly, which means the balance in your bank account is susceptible to change as well, as you deal with a pet emergency. Learn more about why pet insurance is worth considering.
Tagged With: Pet Insurance By State, Reviewed By Insurance Agent