How do we keep this site running? This post may contain affiliate links — the cost is the same to you, but we get a referral fee. Compensation does not affect rankings. Thanks!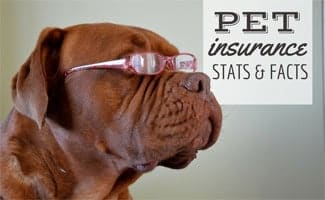 Pet insurance industry growth is going gangbusters and can likely be attributed to the increasing cost of veterinary care and the increasing stature of pets in the family unit. Also, the cost (aka insurance premium) remains super affordable for most plans. We review the major players in pet insurance every quarter and thought it'd be fun and helpful for our readers to see the commonalities and stats rather than always focusing on what makes each company different. Below are some pet insurance trends that fascinated us and we think may surprise you too.
38 Pet Insurance Statistics & Facts
The #1 reason pet owners buy pet insurance is that they, "Want to make decisions about my pet's health care without worrying about whether or not I could afford the procedure."
91% of U.S. pet parents consider their pets to be family members and 81% consider their pets as equal members of the family
50% of pet insurance policyholders file a claim each year
35% of pet insurance claims are for chronic conditions (ongoing issues with recurring vet bills)
Less than 1% of pet parents have pet insurance even though healthcare costs are increasing faster than human healthcare
Pet insurance is one of the fastest growing voluntary employee benefits
No pet insurance company covers pre-existing conditions, which is why you should cover your pet sooner rather than later
Dog owners spend an average of $257 per year on routine vet expenses and $474 per year on surgical vet visits
Allergies/atopy is one of the most common pet insurance claims for dogs
In 2015, 1.6 million pets in the U.S. and Canada were insured which is a 12% increase from 2014
Pet insurance premiums in 2015 were $774 million, a 17.2% increase from 2014
In 2015, annual premiums averaged $464 per pet in the U.S. for accident and illness plans
Accident-only average premiums for dogs have increased from $156.60 (2013) to $159.26 (2014) to $164.16 (2015)
In 2016, $15.95 billion was spent on vet care for pets in the U.S.
Vet care in America is estimated to reach $16.62 billion in 2017
In 2017, 68% of U.S. households (84.6 million homes) own a pet
85% of all insured pets are dogs, while only 15% are cats
Comparing pet insurance rates online can save up to 26% on your plan
Every 2.5 seconds a pet receives emergency care in the U.S.
A pet owner is given a vet bill of more than $1,000 every 6 seconds
Every year, 1 in 3 pets need emergency vet care
1/3 of dogs get cancer, which can cost more than $10,000 and sometimes up to $20,000
The average pet insurance enrollment age for a pet is 3 1/2 years
The annual cost of owning a dog averages $1,843
Owning a pet has many health benefits including heart disease prevention, stress reduction and lowering blood pressure
Owners spend an annual average of $474 on dogs for surgical vet visits ($245 for cats)
Sick pets who visit the vet cost owners $204 per year for dogs ($244 annually for cats)
Emergency vet visits cost owners $349 per year dogs ($154 for cats and $471 for horses)
Owners spend an average of $102 per year for heartworm medication for dogs ($65 for cats)
Flea and tick control products cost an average of $85 per year for dog owners ($77 for cat owners and $102 for horse owners)
Routine vet visits cost $257 on average for dogs ($182 for cats and $549 for horses)
Dog owners visit the vet an average of 2.7 times per year (2.2 for cat owners)
Routine physicals are the most popular service at the vet
Purebred dogs are at an increased risk for health issues opposed to mixed breed dogs
The most unhealthy dogs:

Cocker Spaniel
German Shepherd
Bulldog
Golden Retriever
Saint Bernard
Basset Hound
Labrador Retriever
Rottweiler
Newfoundland
Miniature Poodle

Dog breeds with the least health problems:

Mixed Breed Dogs
Australian Cattle Dog
Beagle
Border Collie
Siberian Husky

The 5 most common dog illnesses:

Skin Allergies
Ear Infections
Non-Cancerous Skin Mass
Skin Infections
Arthritis

The 5 most common cat illnesses:

Bladder or Urinary Tract Disease
Dental Disease
Chronic Kidney Disease
Vomiting
Excessive Thyroid Hormone
How Much Does Pet Health Cost Infographic
We put together some of the top pet health stats above in an informative infographic for you to visualize some of these facts.

To embed this infographic on your website, just copy and paste the code below:
Video: How Much Does Vet Care Cost?
This video summarizes some of these stats in visual form, feel free to watch and share with others who you might think could benefit from learning these facts about pet health and its cost.
95% of Americans consider their pet to be a family member, so why don't you have pet insurance?
Sources: American Pet Products, InsuranceNewsNet, NAPHIA, Pet Life Today