To sustain this free service, we receive affiliate commissions via some of our links. This doesn't affect rankings. Our review process.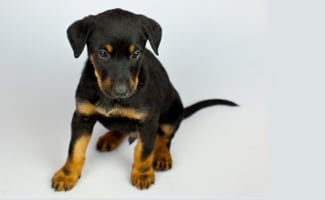 There are a number of "what if" situations that may arise shortly after or even a few months after bringing home your new puppy. Most what if scenarios never happen or if they do the resolutions to the problems are easy with a visit to the vet, a little puppy training or simply some patience. Not all what if's are as easy to cope with. Below we will take a look at a few of these situations and some puppy tips to help you get through these challenging yet super fun times.
What If My Puppy is Poorly Behaved?
One of the most commonly asked questions and most frequently worried about concerns for new puppy owners. Puppies are like children and require education, patience and stimulation. The best puppy tip for preventing it from misbehaving is to ensure that he or she is tired out. Tiring out a puppy does not take much, a couple of short walks (after the puppy has completed their shots) and a few games should tire them out and leave them sleeping for most of the day.
There are times when misbehaving is more than problem chewing however. Examples of this type of behavior are signs of aggression and dominance. These types of behavior should be addressed immediately and if they are more than you are prepared for as an owner, you should consult a professional behaviorist as soon as possible. This type of behavior is usually not seen in very young dogs; however, in some cases it can become evident and it is crucial to put a stop to it immediately to avoid the same behavior from the dog when they are fully grown.
In most instances when this type of dominant behavior is seen it is the result of an imbalance in the natural hierarchy in the home. This frequently happens when one human treats the new puppy like a child and gives them the impression that they are human and more important than other family members. Treatment for this type of behavior should be active in which you and your dog are learning causes of behaviors and ways to avoid them. This puppy tip will make sure you stay the Alpha dog in your home.
What if My Puppy Has Worms?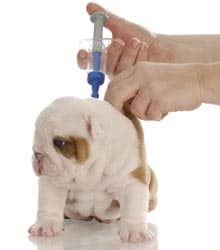 Seeing worms in your new puppy's stool (or worse, crawling from their bottom) can be very disconcerting. In some cases new puppy owners think that this means their dog is unhealthy and should be given up or traded for another puppy. The fact of the matter is however, that a considerable percentage of puppies have worms. Treating worms is a simple and affordable process that any veterinarian can take care of quickly. A puppy with worms is not unusual and it does not mean that your new puppy is very sick, it simply means that they need to be de-wormed.
What if My Puppy Has Parvo?
Parvo is a very devastating disease particularly to young puppies. If your puppy if very young and has not been outdoors then the chances are that they contracted the disease from the mother. If the puppy has been outside however, it is possible that they could have contracted the disease from another dogs feces. If you are confident that your puppy with parvo has not been exposed to the disease elsewhere it is important to notify the puppy's breeder, the shelter or the rescue where you obtained the dog. In order to obtain a diagnosis you have likely already sought medical attention, if you have not sought medical attention for your dog this should be your first concern. The sooner you seek medical help, the better chance your puppy will have at combating the disease.
Why is it important to contact the breeder, shelter or rescue? Parvo is an extremely contagious disease that is also fatal to many young dogs or dogs with compromised immune systems. It is crucial that anywhere that your puppy has been in contact with other dogs or left fecal traces, be notified that they could be contaminated with Parvo. More than likely if you dog contracted parvo as a puppy from it's mother, your breeder will already be aware of the situation and in most instances will offer veterinary care. If, for some reason, your breeder is not already aware of the disease being present, they can go on to treat their dogs and contact other puppy owners.
What if My Puppy Has Another Illness or Disease?
One of the biggest concerns that new puppy owners have is that their new puppy will contract a terrible or incurable disease or illness. This type of thing is not a common occurrence. There are instances however, where as a puppy owner you will be faced with treating a puppy that does have an illness or disease. In these cases you should always consult your veterinarian first to ensure that the welfare of your puppy is taken care of. Secondly, a top puppy tip is to notify the previous caretakers of the puppy as in the Parvo example noted above. In some cases, where a disease has been passed from a mother to the puppy it is also important for breeders to be aware of the situation so that they can treat the mother or in the case of things like hip dysplasia, avoid breeding her in the future.
In some instances the breeder may offer to pay towards medical treatment or offer to exchange the puppy for one from another litter. It may seem unthinkable to "exchange" a beloved family member, but in some instances where the dog was to have a job that would be impeded by their illness, exchanging the dog for another is a valid option.
Don't Be Scared
Despite the "what if's" listed above, it is important not to be scared or to believe that these circumstances are going to happen to you. For most new puppy owners there will be bumps along the road but these bumps will be small and you will be able to overcome them with patience and a good veterinarian. In fact, these puppy tips should help you be better prepared when and if they do become a concern. If you happen to be one of the few who experience the larger bumps, know that these too can be overcome but it is crucial to have a knowledgeable veterinarian to help you through the process.
Disclaimer: The information provided through this website should not be used for diagnosing or treating a health problem or a disease. It is not a substitute for professional care. If you have or suspect you may have a health problem, you should consult your health care provider.
Disclaimer: This website contains reviews, opinions and information regarding products and services manufactured or provided by third parties. We are not responsible in any way for such products and services, and nothing contained here should be construed as a guarantee of the functionality, utility, safety or reliability of any product or services reviewed or discussed. Please follow the directions provided by the manufacturer or service provider when using any product or service reviewed or discussed on this website.