To sustain this free service, we receive affiliate commissions via some of our links. This doesn't affect rankings. Our review process.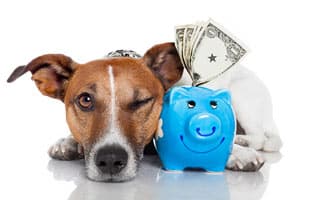 Healthcare — whether it's for humans or animals — has become outrageously expensive, thus making pet insurance an attractive alternative for owners to avoid high veterinary bills. Pet insurance helps protect your pet and wallet from the rising cost of care.
Article Overview
Why Are Veterinary Costs Rising?
Increased vet costs can be attributed to a number of different things.
Vet School Is Expensive
Veterinarians graduate with sometimes hundreds of thousands of dollars in student loans. They need to get paid enough to pay off their debts in addition to the typical costs (food, housing, etc.).
Dogs & Cats Used To Be Outdoor Animals
Dogs and cats have become part of our families, which means many of them have been placed inside our homes instead of outside. In the past, when animals got sick, the common solution was to euthanize them.
Today, pet parents will spend thousands of dollars to cure their sick pet's ailments or heal their wounds. This means vet care is becoming more common because people are taking their pets to the vet for more treatment.
Expensive Operating Costs For Vets
The veterinarian, or person, who owns the clinic has many expenses to keep the practice running including:
Clinic staff such as vet techs, receptionists, kennel attendants and other veterinarians
To keep the staff, owners must offer competitive salaries and benefit packages
The building must be up to government rules and local ordinances
The cost for equipment and supplies (syringes, gauze sponges, surgical equipment, etc.) for pets is identical to the costs for humans
Many clinics have in-house pharmacies, which means they money is spent paying drug manufacturers and distributors
Specialist Care
Just as we humans sometimes have issues that can no longer be properly managed by a general practitioner, so do our animals. Our pets can now be referred to board-certified oncologists, ophthalmologists, dermatologists and neurologists. With advanced care comes advanced knowledge, and with higher knowledge comes higher fees.
How Much Is Vet Care?
Below are 10 stats on how much vet care can cost pet owners.
Dog owners spend an average of $257 per year on routine vet expenses and $474 per year on surgical vet visits1
A pet owner is given a vet bill of more than $1,000 every 6 seconds2
1/3 of dogs get cancer, which can cost more than $10,000 and sometimes up to $20,0002
The annual cost of owning a dog averages $1,8433
Cat owners spend an annual average of $245 for surgical vet visits and $182 for routine visits1
Sick pets who visit the vet cost owners $204 per year for dogs ($244 annually for cats)3
Emergency vet visits cost owners $349 per year dogs ($154 for cats and $471 for horses)3
Owners spend an average of $102 per year for heartworm medication for dogs ($65 for cats)3
Flea and tick control products cost an average of $85 per year for dog owners ($77 for cat owners and $102 for horse owners)3
Routine vet visits cost $549 for horses3
We've got an entire article dedicated to pet insurance statistics and even made this short video to help sum up some of the big takeaways.

How Can Pet Insurance Help?
Pet insurance works similar to how health insurance works. When you get sick, your insurance is there to make sure you don't clean yourself out financially while taking care of yourself. It works the same for your pet. Instead of having to dig deep into savings to cure your four-legged family member, you can rest easier knowing that pet insurance will cover some of the cost of the treatment.
Accidents Happen
With many pet insurance plans, you're guaranteed that just because this fluke occurred, you're not going to be left to pick up the pieces, and the check, alone. Make sure though when you're checking out potential policies that the one you're interested in does indeed offer accident protection, and you are prepared to cover the deductible.
Certain Breeds Have Health Issues
You may love your English Bulldog, but that doesn't mean you can wish away their hip dysplasia, cardiac disease or respiratory disease. You can protect yourself against the odds. Many pet insurance policies offer protection against hereditary and congenital conditions, so you're financially covered.
Basic Care Costs Increase With Age
Human healthcare costs increase with age, and it's the same for our pets. Prepare for their senior stage by starting your pup off with a policy in their earlier years, and looking for a company that won't increase monthly premiums as your pet ages. While not all companies will guarantee not to hike the price on your senior pup, some will. To learn more about which pet insurance company is best for your pet, visit our Pet Insurance Comparison Article
When Pet Insurance Isn't An Option
We get it, pet healthcare is still a luxury for many animal owners in the U.S. While we strongly suggest trying to find a policy that fits your needs and budget, we do understand that sometimes, pet insurance is just not an option. Not to mention if your pet already has pre-existing conditions that won't be covered.
Whether you're able to cover your pet under a policy, or you just want to keep your insured pup healthy with preventative measures, here are a few tips for taking the edge off rising vet costs.
Start An Emergency Fund
An emergency cash stash can keep you from financial hardship should an accident or sudden illness happen. Set aside money as you can, and you'll feel less stressed when it comes time to actually use it. You may even want to create a pet health savings account where you automatically save $20 a month "just in case."
Buy Quality Food
As the saying goes, "You are what you eat." The same is true for your pet. Feed them highly processed foods, and you'll reap the unpleasant reward from that decision in the vet's office. Spend a little more on better food, and you're much less likely to pay unwanted vet visits — and bills.
Use Free Clinics
Several times a year, vets may offer free clinics where they nix appointment fees. It's a great time to schedule your pet's vaccinations and annual check-ups. If your vet doesn't provide this service, check with your local Humane Society or animal control; they should be able to offer you a list of available options.
Order Pet Meds Online
For non-life threatening prescriptions, try using an online pet pharmacy for your pet's prescription needs. Learn more about safe practices when ordering pet medications online.
Spay/Neuter
This should really be the first item on the money-saving list. By spaying or neutering your pet, you not only save the cost of caring for an unplanned litter of pups down the road, you also don't contribute to the thousands of animals already crowding our shelters and streets in need of a home.
Also, non-neutered males can develop prostate issues as they age. By neutering your pup, you're able to beat these odds and not contribute to the overcrowding of shelters. We think it's a win-win.
Prevention Is Key
We've explored why the cost of veterinary care is rising, and ways that you can keep your costs down in the event your pet needs medical care. However, whether you choose to cover your pet with insurance or not, the key to a long, happy life with your 4-legged family member is prevention.
Regular wellness exams, quality food and spaying/neutering can go a long way in preventing unnecessary health issues in your pup.
Do you have any vet money-saving ideas to share?
Sources: [1] American Pet Products, [2] InsuranceNewsNet, [3] Pet Life Today
Disclaimer: Information regarding insurance company offerings, pricing and other contract details are subject to change by the insurance company at any time and are not under the control of this website. Information published on this website is intended for reference use only. Please review your policy carefully before signing up for a new pet health insurance contract or any other contract as your unique circumstances will differ from those of others who may be used for example purposes in this article.
Disclaimer: The information provided through this website should not be used for diagnosing or treating a health problem or a disease. It is not a substitute for professional care. If you have or suspect you may have a health problem, you should consult your health care provider.
Disclaimer: This website contains reviews, opinions and information regarding products and services manufactured or provided by third parties. We are not responsible in any way for such products and services, and nothing contained here should be construed as a guarantee of the functionality, utility, safety or reliability of any product or services reviewed or discussed. Please follow the directions provided by the manufacturer or service provider when using any product or service reviewed or discussed on this website.