To sustain this free service, we receive affiliate commissions via some of our links. This doesn't affect rankings. Our review process.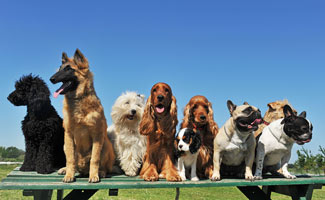 We've gathered insurance quotes for many different types of pets, breeds and ages and reported them here in comparison tables. Please keep in mind that your pet, especially if they are older and/or have pre-existing conditions, will not necessarily fit perfectly into this pricing model.
We also want to mention that customer service and coverage are important factors to consider, not just cost alone. Lastly, we encourage you to obtain quotes from our top pet insurance companies to give you an idea of what your monthly premiums might be. We've made an easy-to-use quote form below to help you.

Get 4 Free Pet Insurance Quotes
Article Overview
Pet Insurance Reviews & Quote Examples
This article is a companion to our best pet insurance article, which provides pet insurance comparisons, pros, cons and reviews for the major pet insurance providers. You'll also find our winners for the top 3 best pet insurance carriers in that article.
A Note On Pricing
Some pet insurance providers charge transaction fees and/or one-time policy setup fees, which we've included in our tables. Transaction fees involve charges each time you pay for your pet's insurance premium. You can reduce the number of transaction fees by paying quarterly, semi-annually or annually.
Additionally, the quote you receive is likely going to increase as your pet ages due to vet costs rising in your location. You should expect annual increases for any pet insurance provider.
Dog – Black Lab Pet Insurance Quote
3-year-old (Birthday: 4/30/2015)
Neutered male
No microchip, multi-pet discount or pre-existing conditions
Charlottesville, Virginia (zip code 22901)
Quote is from December 2018
Dog – Mixed Breed Dog (45 lbs.) Pet Insurance Quote
5-year-old (Birthday: 4/1/2013)
Spayed female
No microchip, multi-pet discount or pre-existing conditions
Indianapolis, Indiana (zip code 46201)
Quote is from December 2018
Dog – Standard Poodle Pet Insurance Quote
6-month-old (Birthday: 6/1/2018)
Neutered male
No microchip, multi-pet discount or pre-existing conditions
Fresno, California (zip code 93605)
Quote is from December 2018
Cat – Mixed Breed, Medium-Hair Domestic Cat Pet Insurance Quote
4-year-old Mixed Breed (Birthday: 4/1/2014)
Spayed female
No microchip, multi-pet discount or pre-existing conditions
Cook County, Illinois (zip code 60169)
Quote is from December 2018
13 Reader Submitted Pet Insurance Reimbursement Stories
Chief: 3-Year-Old Male Border Collie
Conditions: N/A
Trupanion protected since: 2010
Plan details: 90% coverage, no limit
Veterinary bills (since being covered): $50,000
Reimbursement: $40,000
Between the emergency vet, ambulance, hospitalization, and rehab/physical therapy, Chief has accumulated about $50,000 in vet bills. I have been pleased to become an unofficial spokesman for Trupanion because I am so impressed with their level of concern and service throughout the ordeal, and I believe that all dog owners would benefit from hearing the story.
I signed up with Trupanion when Chief was a small puppy, probably about 3 months old, based on a recommendation from my vet. My last dog had incurred some enormous vet bills in the last two years of her life and it seemed prudent to investigate pet insurance while Chief was still young and healthy. I was skeptical that their coverage would be as good as what they advertised (90% coverage, no limit). When the vet hospital told me that it would cost $10,000/week to care for Chief with no guarantee that his condition would improve, I fully expected Trupanion to point out some fine print in our agreement that would limit their exposure. Quite the contrary! They were unbelievably supportive and assured me that they would cover 90%, and that I should do whatever was needed to help Chief. They even told me to add a small extra ($6/month) to my policy when we were discharged from the ICU to cover the cost of rehab and physical therapy, which has run into the thousands. I fully believe that Trupanion is a wonderful company populated with people who care deeply about animals.
Bruiser: 11-Year-Old Male Papillion
Conditions: Cancer
Trupanion protected since: August 2010
Plan details: N/A
Veterinary bills (since being covered): Well over $48,500.
Reimbursement: $34,323.95
When I contacted Trupanion after the surgery and spoke to my wonderful claims adjuster and other member of the staff and advised them that Bruiser required chemotherapy and over 20 cycles of radiation, I was told it would be covered. I have to be honest, Trupanion covered all of Bruiser's surgery, chemotherapy, 22 cycles of radiation and all follow-up testing and treatment since Bruiser has been in remission well over 2 year and 7 months without issue. They make me feel like Bruiser and I are not clients but family and are truly concerned that he remains cancer free.
Baxter: 7-Year-Old Collie Mix
Conditions: Cancer (Nerve Sheath Tumor at base of his tail that was initially determined to be inoperable and fatal)
Healthy Paws Pet Insurance protected since: 2013
Plan details: Annual deductible $100; Reimbursement level options of 90%
Veterinary bills for this treatment: $21,559
Reimbursement: $18,100
The video tells this story better than I could ever try… a true victory for Baxter and his parents thanks to the financial assistance of Healthy Paws when faced with terminal cancer that was initially deemed inoperable. But, the parents did their own research to find an innovative surgery that saved Baxter's life.
Robbie: 6-Year-Old Male Lab Mix
Conditions: Soft tissue injuries, Arthritis, Hypothyroid, Growth on face (bacterial)
Trupanion protected since: August 2012
Plan details: N/A
Veterinary bills (since being covered): $7,949.84
Reimbursement: $6,726.58
I adopted Robbie on 9/18/12, he had been picked up as a stray, and I adopted him through the city animal shelter near my house. I made an appointment for him right a way to get an exam, and vaccines. And enrolled him with Trupanion, which turned out to be a really good thing, because Robbie turned out to be a bit of a lemon.
In October, I was driving and Robbie slid out of the seat of my car when I slammed on my brakes. He was limping, so I took him in to get x-rays and get checked out. Luckily there were only soft tissue injuries. Invoice total: $504.40, Trupanion covered $409.41
A month later, I noticed Robbie was limping on his front leg. I took him in again and he was diagnosed with arthritis in is right elbow. Invoice total: $647.48, Trupanion covered $538.18
12/14/12 we returned to the vet for a medication refill as Robbie was still limping. Invoice total: $34.80, Trupanion covered $61.02
On 1/31/13 I took Robbie in to see a board certified surgeon at a specialty practice to evaluate his continued limping. The vet was suspicious that Robbie's elbow might have a fractured coronoid process and he recommended a CT scan. First we did blood work prior to the CT scan. Invoice Total: $190, Trupanion covered $90
On 2/7/13 the actual CT scan was performed by a board certified radiologist. Invoice Total $963, Trupanion covered $866.70
On 2/8/13 we had another medication refill, and vaccine booster. Invoice Total $101.19, Trupanion covered $73.97
On 2/20/13, another medication refill. Invoice Total $159.20, Trupanion covered $143.28
On 2/28/13 Robbie had Arthroscopic surgery on his left elbow. They found he had no cartilage left in his elbow, which was causing the pain when he walked. Invoice Total $3,380, Trupanion covered $3,042
On 3/12/13, another refill of supplements. Invoice Total $33.90, Trupanion covered $30.51
On 3/14/13, at Robbie's two-week recheck with the surgeon, Robbie started physical therapy to help with his rehab. He had laser therapy as well as underwater treadmill and started on a series of injections for arthritis. Invoice total: $543, Trupanion covered $488.70
On 4/6/13 Robbie had a refill of medication, and blood work to monitor his organ function while he was on the pain meds. Invoice Total: 341.50, Trupanion covered $307.35
On 4/15/13 I noticed a growth on Robbie's face, that turned out just to be a small infection, but since I had the insurance I took him in to get checked out. Invoice Total: $110.84, Trupanion covered $55.21
On 4/24/13 another prescription refill for Robbie's elbow. Invoice Total: $19.60, Trupanion covered $17.64
On 5/14/13 Robbie had a couple of days of diarrhea, and then started vomiting. I took him in, they did some blood work, and an x-ray, then he got some medication, and some special dog food, and a refill of his flea medication. Invoice Total: 511.51, Trupanion covered $332.23
On 5/15/13 Robbie's blood work from his diarrhea visit showed that he was also hypothyroid, so he started on medication for that. Invoice Total: $17.80, Trupanion covered $16.02
On 5/25/13, I let Robbie out to go potty early in the morning, and through the kitchen window I saw Robbie eat something in the backyard. Knowing I had the insurance, I didn't hesitate to take him straight to the emergency clinic. We figured out after the fact that one of my neighbors was getting ready to barbeque on Friday night when a crow stole the raw meat off of his BBQ, and flew off with it, dropping it in my backyard, where my dog found it the next morning. What dog would turn down a raw steak with seasonings on it already? Thus our trip to the emergency clinic where, after a quick x-ray, he was forced to vomit his steak back up. Invoice Total: 372.62, Trupanion covered $254.36
While I might have adopted a lemon from the shelter, I love him very much. He comes to work with me at Trupanion every day, and I am so glad that I enrolled him with Trupanion Pet Insurance as soon as I got him. It means that I can confidently tell the veterinarian that I want to do whatever the very best thing for my dog is, and I don't have to worry, or even think about the cost!
Bartlet: 9-Year-Old Male Mixed-Breed Dog
Conditions: Chronic dermatitis, GI issues
Petplan protected since: Jan. 2010
Plan details: $100 deductible (per condition, annually); 100% reimbursement
Veterinary bills (since being covered): $8,301.8
Reimbursement: $6,243.33
In December 2012, my dog Bartlet started breaking out in sores all over his skin. After many vet visits and tests, a dermatologist finally diagnosed him with an autoimmune disorder that will require lifetime care. In three months, I spent over $4,000. Knowing I have insurance to cover his care takes a huge burden off me. I don't have to think twice when the vet recommends another medication or blood test. I can afford to provide my dog the best vet care. Reimbursement checks usually arrive within two weeks. My vet files the claim for me so there's no added paperwork for me. Petplan reimburses based on the actual vet charges, not a schedule of benefits that doesn't come close to reality. The deductible is per disease, so I only had to meet it once and all follow ups for his skin disease are covered in full. I chose the $100 deductible with 100% reimbursement. Premiums are much cheaper with a higher deductible vs. a lower reimbursement. Their premiums were in line with the other top insurance plans.
Lucy: 3-Year-Old Female Mixed-Breed Dog & Tommy: 4-Year-Old Male Mixed-Breed Cat
Conditions: Chronic allergies, dermatitis; Chronic urinary conditions
Petplan protected since: Sept. 2011
Plan details: $50 deductible (per condition, annually); 100% reimbursement
Veterinary bills (since being covered): $1,237.22 (Lucy), $5,176.90 (Tommy)
Reimbursement: $897.72 (Lucy), $4,880.98 (Tommy)
Petplan is by far the best money I have spent in my life. I have had Petplan for a few years now, and last year our cat Tommy needed a very costly surgery that we couldn't have afforded on our own. Without the surgery, he would have needed to have been put down. Our dog Lucy also has several chronic problems, including food allergies, seasonal allergies, chronic skin issues, chronic ear infections. Petplan is peace of mind for me, and I will be a lifetime customer. It is the best investment I've made, and makes me feel great to know that I can care for my pets when they are ill. Their customer service is always friendly and helpful, and I have yet to have a check take more than two weeks to arrive from submission to arrival.
April: 2-Year-Old Female Miniature Pinscher
Conditions: Osteomyelitis, hepatic microvascular dysplasia
Petplan protected since: July 2011
Plan details: $200 deductible (per condition, annually); 100% reimbursement
Veterinary bills (since being covered): $5,844.14
Reimbursement: $4,821.40
April first fell ill more than a month ago. It took some time, some patience, and a good deal of discomfort on April's part for the vet to rule out many conditions before she got results back from the lab at Cornell which suggests that she does not have a portosystemic shunt, but rather hepatic microvascular dysplasia (H-MVD). The test results came back 10 days ago, and since last Thursday she has been feeling considerably better. She socializes more with the other dogs and her appetite is almost back to normal. Her water consumption, a huge source of worry for us, has returned to something approximating normal, and her sleep is interrupted by pain only a couple of times per week now, rather than nightly, as it had been.
We are grateful to our vet and her skilled staff, for such great and patient and tenacious care. Equally importantly, we are most grateful to Petplan for the help covering her veterinary and medication bills. Our investment in her policy, and one for her brother, provide us not only with peace of mind, but with the resources to keep her, her brother, and her three sibling sisters healthy. Without this extraordinary benefit, we would be in a position to offer only rudimentary care, and we would be obliged to discontinue rescuing dogs, even those without congenital medical challenges.
Oliver: Male Mixed-Breed Puppy
Conditions: Parvo
Trupanion protected since: December 2012
Plan details: 90%, no limit
Veterinary bills (since being covered): N/A
Reimbursement: $4,288.89
Having lost our 13 year old collie in May, we had spent the summer thinking of a new friend for our retiree household. We dropped by the shelter and there he was! Our new friend.
We went back home to think it through but were at the shelter when it opened on Monday, December 3rd. On Tuesday, we took him to Hill Creek Veterinary Hospital in Pittsboro, NC and "Oliver," our bouncing baby boy, was given a clean bill of health. He received his worming and rabies shot in addition to the immunization and worming he had received at the shelter.
During our visit, Dr. Ammerman suggested a 30-day promotion of Trupanion pet insurance. She said it was easy to try, required no contract or credit card.
On Wednesday, Oliver reacted to a second worming pill and as the vet had warned, vomited. However, on Thursday, Oliver developed diarrhea and lethargy and by afternoon was diagnosed at Hill Creek with Parvo disease.
On Saturday, we transferred him to the Veterinary Specialty Hospital in Cary which had the needed 24/7 care and there he remained in isolation for over a week. He was given wonderful care and round-the-clock hydration and medication. He was ever so sick and looked at us with woefully sad eyes as we watched through the glass window of his confused world.
Here is the miracle part. He survived and is an extraordinarily smart, active, basically healthy, lovable puppy that is quite spoiled!
Now for Trupanion's role in Oliver's care. The rapid progression of this devastating disease from shelter to isolation and treatment was looked at by the company's claims review group and after a thorough review, his care was deemed covered by our insurance. The many folks at Trupanion and Hill Creek were incredibly kind and helpful. We had elected to provide for his care without financial consideration but imagine our delight when we received the check for 90% of his medical expense. We have since taken an extended policy and have peace of mind that the miracle will continue.
Jed: 6-Year-Old Labrador Retriever
Conditions: Torn cruciate ligament
Petplan protected since: Nov. 2011
Plan details: $200 deductible (per condition, annually); 90% reimbursement
Veterinary bills (since being covered): $4,751.15
Reimbursement: $3,296.74
I read in fetch! magazine how Petplan insurance saved many pet parents from costly vet expenses and wanted to write and tell you how thankful we are to have had Petplan insurance for our 6-year-old Black Lab, Jed. In January 2013, Jed started to limp, so we took him to the vet. We were told that he had ruptured his cruciate ligament in his right rear leg and needed TPLO surgery. Not good news, so we scheduled his surgery for February. Two weeks before Jed was to have surgery, I was laid off from work. I have to say, knowing that Petplan was there to help with Jed's surgery expense was a life saver. I never doubted purchasing his insurance four years ago after we adopted Jed. Petplan makes the claims process easy, and reimbursement is quick. I recommend Petplan to all our friends and family.
Lindy: 4-Year-Old Female Goldendoodle
Conditions: GI problems, mass removal, pyoderma/ear infection
Petplan protected since: Sept. 2009
Plan details: $100 deductible (per condition, annually); 100% reimbursement
Veterinary bills (since being covered): $3,541.12
Reimbursement: $2,803.49
Lindy, our four-year-old Goldendoodle, has been insured with Petplan since she was a puppy. In March 2013, Lindy needed an overnight stay in the animal hospital after a vomiting and diarrhea attack worsened. In filing the claim, naturally there is paperwork but it was not onerous. Reimbursement was prompt and accurate and all communication from Petplan was courteous. And Lindy's doing much better!
Connor: 6-Year-Old Male German Shepherd
Condition: Bloat (gastric dilatation-volvulus)
Petplan protected since: July 2009
Plan details: $200 deductible (per condition, annually); 80% reimbursement
Veterinary bills (since being covered): $2,944.94
Reimbursement: $2,311.89
We have Petplan insurance on our German Shepherd, Connor, and our Labrador Retriever, Roger. On December 10, 2012, Connor bloated. We rushed him to surgery with this life-threatening illness late that night. I filed the initial claim paperwork on December 12. It was an easy process: simply log in to your online account, chose which pet you want to file on. The forms required for each claim are pre-populated with your pet's name and other information. You take the appropriate form to the treating vet and they fax the form, plus the dog's medical records and bills to Petplan. I submitted the other form directly to Petplan. They communicate with you by e-mail if they need more information. To make a long story short, we received a check on January 16, 2013 for $2,311.89. The original bill was $2,944.94. We are very pleased with Petplan!
Walter: 2-Year-Old Male Great Dane
Conditions: Epilepsy, Nasal infection
Trupanion protected since: March 2011
Plan details: N/A
Veterinary bills (since being covered): $1,950
Reimbursement: $1,490
Walter was diagnosed with epilepsy at 10/months old. There were no warning signs; it's not common with his breed, and there's no known history of it in his lines. One Saturday evening we were all just hanging out at home, and he just had a seizure out of the blue. Over the next few months he had several more. We visited a neurologist, who advised we would potentially need an MRI and spinal tap to rule out neurologic issues. We tried antibiotics to rule out bacterial infections, and of course did blood work to be sure he hadn't accidentally eaten something poisonous. As a last step before the MRI (which was going to cost $2100 and had already been pre-approved for coverage by Trupanion), we tried an anti-seizure medication called Zonisamide. That was a year ago this month, and he now is mostly seizure free and has been officially diagnosed with epilepsy.
Mr. Bear: 5-Year-Old Male Mixed-Breed Dog
Conditions: Growth (turned out to be cancerous), broken nail
Petplan protected since: July 2010
Plan details: $200 deductible (per condition, annually); 80% reimbursement
Veterinary bills (since being covered): $1,095.65
Reimbursement: $476.52
My son is an EMS helicopter pilot based in California, and he has come across dozens of abandoned dogs. One of his rescues five years ago was a Lab-Chow mix puppy. We were visiting him a few weeks later, and it was love at first sight. He became a Pennsylvania dog, and he looked so like a little polar bear cub that we named him 'Mr. Bear.' He's 62 pounds of love and five pounds of fur! We got him microchipped, obtained a Petplan policy, found a very good vet, and have enjoyed him immensely.
In January 2013, we found a sizable lump under his fur, and the vet thought it might be a melanoma. He operated, and the mass he removed was cancer. The operation was successful, in that Mr. Bear has healed beautifully, and we hope all the cancer was removed. I got the Petplan reimbursement form, the vet filled out the relevant portions and attached the medical history, and we got the check for 80% of the cost of the operation, less the deductible, within a few days. Petplan has followed up with us, and will be reimbursing us for the follow-up care as well. If human insurance were as good, we'd be a lot healthier and happier!
Submit Your Insurance Story
Do you or someone you know have a pet insurance success story? Submit it to us, and maybe you'll see it added to this page!
Were you able to get a quote for your pet? How did it turn out?
Disclaimer: Information regarding insurance company offerings, pricing and other contract details are subject to change by the insurance company at any time and are not under the control of this website. Information published on this website is intended for reference use only. Please review your policy carefully before signing up for a new pet health insurance contract or any other contract as your unique circumstances will differ from those of others who may be used for example purposes in this article.
Disclaimer: The information provided through this website should not be used for diagnosing or treating a health problem or a disease. It is not a substitute for professional care. If you have or suspect you may have a health problem, you should consult your health care provider.
Disclaimer: This website contains reviews, opinions and information regarding products and services manufactured or provided by third parties. We are not responsible in any way for such products and services, and nothing contained here should be construed as a guarantee of the functionality, utility, safety or reliability of any product or services reviewed or discussed. Please follow the directions provided by the manufacturer or service provider when using any product or service reviewed or discussed on this website.