To sustain this free service, we receive affiliate commissions via some of our links. This doesn't affect rankings. Our review process.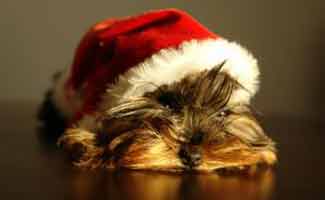 Pets notice everything – even the slightest change. Here are some easy to follow tips for keeping your dog calm during the busy holidays and year round. They know when something is up and want to make sure they are included in whatever exciting activity you have planned!
Every holiday season (and often throughout the year) brings its own share of activities. But some things always get your dog pretty excited… visiting guests, holiday decorating, lots more cooking than usual, changes in feeding schedules because you are gone so much (and yes, your pup wishes you were home more but what can they do?!?). All of this can turn your dog's normally calm and collected personality into a frustrated, frazzled, and, well, mischievous dog.
Calming Tips for Your Dog
There are things that you can do as a loving pet parent to minimize your pet's stress level and make life easier for the whole family:
Keep her on a regular schedule – this includes food and grooming
Limit the amount of travel that you do with your dog and, more importantly, without her
Limit the number of guests that come over to your house (and only bring over the nice ones who give belly rubs and treats please)
Don't leave those lovely wrapped presents out for your dog to "dig around in" because she will! And the decorations on the tree look like fun play toys so it might be best to keep them out of your pet's reach
Don't tempt your dog with table scraps, as much as your dog may beg, they are not good for pets so please do not tempt them with them
Do not bring other pets over to visit. Your dog has enough love to share with all of your guests, so there is no need for competitive stress in her own home!
Video: Naughty Dogs During Christmas
Watch this compilation video of boxers who might have ended up on Santa's bad list this year.
The easiest way to create a stress-free escape for your pet is to take them for regular walks and runs to reduce stress. Be sure to keep her close to you with a nice, strong collar and leash set in our favorite holiday colors! And if you're too busy to take him or her for a walk, consider using Rover or another pup sitting App to find reliable dog walkers in your area.
Your dog is sure to be the envy of every pet and pet owner as you share quality time together in style!
What tips do you have for keeping your pup calm?